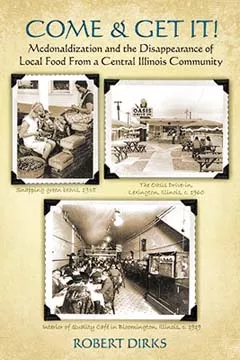 Come and Get It!
Could there be a more perfect moniker for the Illinois Stewardship Alliance's sixth annual Harvest Celebration on Sept. 16.? Those who come to the celebration always get a fantastic meal, prepared by top area chefs. This year, as well as Springfield's best, there are also phenomenal chefs from Bloomington and Champaign.
Here's this year's lineup:
August Mrozowski, chef/owner of Augie's Front Burner. Augie is the Grand Old Man of Springfield chefs. His father was chef at the now-defunct St. Nicholas Hotel; Mrozowski began helping his dad with the butchering when he was just 14, and he still cures and smokes the bacon and ham for the restaurant.
Michael Higgins, chef/owner of Maldaner's, was the first Springfield chef to source as much as possible from local farmers. These days he's also tending a rooftop garden above the restaurant (see my 8/9/12 IT column about Higgins' garden).
Jordan Coffey who, along with his co-chef and wife, Aurora, is the chef of American Harvest. The Coffeys' scrumptious, innovative menus, and the special dinners (often helmed by their line cooks) they host at least once a month, have brought a breath of fresh air to Springfield's dining scene.
Pastry Chef Cynthia Hinton, who will provide the evening's desserts, is selling her Bluestem Bakeshop in Elkhart and has begun working through my daughter Ashley Meyer's catering firm, RealCuisine. Now it's even harder for me to resist Hinton's tempting treats!
Thad Morrow, chef/owner of Champaign's Bacaro restaurant, is a longtime friend. But even if we'd never met him, my husband and I would still regularly drive to Champaign just to eat his wonderful cooking.
Ken Myszka, chef of Bloomington's Station 220, and co-owner of Epiphany Farms, is the newest of the group; his restaurant opened in 2011. I hadn't heard of him or his restaurant, but decided to check it out last week after seeing his name on the ISA's Harvest Celebration lineup. My meal was so extraordinary and what Myszka is doing is so special, there's not room to describe it here. But you can be sure I'll be writing about him and his projects soon.
In addition to getting wonderful food, those who come will also get to enjoy live music, a cash bar featuring local beer and wine, and a silent auction.
But "Come and Get It!" is more than a description of ISA's Harvest Celebration. It's also the title of ISU emeritus professor Robert Dirks' latest book, Come and Get It! The McDonaldization and the Disappearance of Local Food From a Central Illinois Community. Dirks is an emeritus professor of anthropology at Illinois State University, and will be the keynote speaker for ISA's Harvest Celebration.
I've known Dirks for several years, and have heard him speak. He's always been both entertaining and erudite, which is not an easy feat.
Come and Get It! was originally conceived as the script, or master text, for an exhibit of the same name at the McLean County Museum of History, located in the McLean County Courthouse in Bloomington's central square. Incidentally, the museum is a gem, one worth visiting even thought the Come and Get It! exhibit is over. The exhibit was the topic of my 6/9/11 column. Dirks has previously explored such food/nutrition topics as "The Historical Effects of Sugar, Rice, and Cotton Planting on Regional Food Traditions;" and "What Early Dietary Studies of African Americans Tell Us About Soul Foods."
The Come and Get It! project appealed to him because, as he says in the book's introduction, it would enable him "… to complement my historical grasp of American diet and nutrition nationwide by taking a detailed look at the history of a particular community, a place that in many ways has been typical of the country as a whole, and the Midwest in particular. Best of all, the project would break new ground. To my knowledge, never before has a comprehensive, holistic culinary history been written at the community level."
What makes Dirks' book and his talks more than dry statistics and facts are the anecdotes he relates as he traces the evolution of foodways in McLean County from 1820s pioneer days when virtually all food was obtained locally and all cooking done over an open fire outdoors or in a fireplace, to today when less than 4 percent of McLean County residents' consumables – as well as Americans' consumables nationally – come from local sources.
What Dirks means by "McDonaldization" has become known as the food-related application of a business term, "rationalization," that refers to the processes of manufacture, distribution and consumption. He writes, "Three precepts rule the fast-food (i.e. McDonaldized) menu: Serve things almost no one finds objectionable; serve dishes that have a good profit margin; serve fare so simple to make that even the most inexperienced cook can prepare it."
For those of us who think "McDonaldization" is a grim and sadly all-too-accurate term for America's dominent foodways, Dirks ends his book with a "Slow Food Coda." It's a look at the burgeoning and increasingly popular foodways that continue to develop in revolt against "McDonaldization." The chefs at the ISA's Harvest Celebration – and the ISA itself – will assuredly provide delectable expressions of that revolution.
Contact Julianne Glatz at realcuisine.jg@gmail.com.
The ISA's 6th annual Harvest Celebration will be at the Inn at 835 in Springfield 5-9p.m. Sept 16. Space is limited. It's advisable to get tickets as soon as possible. Tickets are $65 for members of ISA and $75 for non-ISA members. Call Dee at 217-528-1563 for tickets and/or more information.
Colcannon/Seeskraut
I hadn't expected Dirks' book to contain recipes. But it did, although they're not the book's focal point. Some are historical oddities that, seen in today's light, almost no one could – or would – make. Others are even more odd (at least to me), with their post-WWII mindset of putting together a can of this and a box mix of that and calling it a gourmet creation.
But others, such as the delectable Irish classic, colcannon, are reflections of the impact of immigrants as waves of different nationalities came to McLean County, and assimilated their culinary traditions into the area.
My grandmother, of German and a touch of Irish ancestry, made her own version of colcannon. But Nana called it seeskraut. She didn't have an exact recipe, and I'm not even sure that's how she spelled it, or if she'd ever needed to spell it. Regardless, I loved seeskraut; the combination of cabbage, onion (which she used instead of leeks) and creamy potatoes was ultimate comfort food.
I've modified my recipe somewhat from the one in Come and Get It! It calls for discarding the water in which the cabbage is cooked, then using fresh water to cook the potatoes. My grandmother, as she did with many of her vegetable dishes, used cabbage and potato cooking water to make the sauce, which provided additional flavoring and nutrition. But I doubt that was the reason she'd learned the technique from her mother; it's more likely that thriftiness was the issue. Nana's "seeskraut" is a bit looser than most colcannon recipes: It's not soupy thin, but has a velvety unctuousness less dense than mashed potatoes.
• 1 medium cabbage, quartered and cored
• 1 tsp. salt
• 3 large red wax potatoes, scrubbed, peeled if desired, and sliced.
• 2 medium leeks, white parts only, sliced
• 8 T. unsalted butter
• 2 T. all-purpose flour
• 1 c. milk, at room temperature
• 1/2 tsp. mace
• Salt and pepper to taste
Put the cabbage in a large pot, and add the salt and water to cover. Bring the cabbage to a boil over medium high heat. Let it gently boil until the cabbage is completely tender, about 10-12 minutes.
Remove the cabbage from the pot with a slotted spoon. Do not turn off the heat under the pan. When it is cool enough to handle, chop it into bite-size pieces or shreds and set aside.
Add the potatoes to the still boiling water and cook until they're completely tender, about 10 minutes. Remove them with a slotted spoon to a large bowl, and mash them, using a few spoonfuls of the cooking liquid as necessary. Set aside. Let the cooking water continue to boil until it is reduced by about half, then pour into a pan and reserve.
Separate the sliced leeks into rings and wash to remove any sand. Return the pot to the stove over medium heat. Add the butter and when it's melted, add the cleaned leeks and stir to coat them with the butter. Cook until the leeks are tender, 5-10 minutes.
Add the flour to the pot, and stir to mix so that no flour lumps remain. Cook for a couple of minutes, then pour in the milk and a half cup of the cooking liquid. Simmer the mixture, stirring frequently, until it is smooth and thickened.
Add the reserved cabbage and mashed potatoes to the pot, whisking so the potatoes dissolve into the mixture with no lumps. Add as much of the cooking water as needed to make it looser than mashed potatoes, but not soupy. Add the mace and season to taste with salt and pepper. Serve warm.
Makes approximately 6 servings.