Betsy Dollar, executive director of the Springfield Art Association (SAA), is committed to engaging local citizens in the arts in a myriad of ways. Summer art camps for youth, adult art classes, exhibitions of work by local artists, community art projects and the Edwards Place Fine Art Fair are just a few examples. Showcasing high-quality work by artists from outside our area is another way the Springfield Art Association brings art to the Springfield community. A stunning solo exhibition of paintings by Colorado artist Sally Elliott, Dissonant Harmony: A Life in Art, is on display at the Springfield Art Association through July 9.
"I am thrilled to finally have Sally's work featured in the M.G. Nelson Gallery," Dollar told Illinois Times. "Sally is a friend, and we have been discussing this retrospective for five years." Elliott was at the SAA for an opening reception June 3 and also gave a two-day workshop while here. Elliott is a native Coloradan who taught at the University of Colorado in both Denver and Boulder. Dollar first met Elliott in Boulder when Dollar was pursuing her MFA from the University of Colorado. That evolved into a longtime friendship. As a fellow artist, Dollar admires the powerful conceptual nature of Elliott's work.
"Sally's work is bold, graphic, beautifully composed across multiple panels, and deep with meaning," says Dollar. "On first glance it is fun; the longer you look at it, the more you see and derive. It has many layers of experience for the viewer."
A video at the entrance to the gallery provides insights to the artist's techniques and a glimpse into her home and the surrounding environment that inspires her work. She resides in the foothills above Boulder, encircled by nature. Elliott has been an artist her entire life; both her mother and grandmother were artists. She says that her paintings reflect images from her dreams, personal experiences and places she has visited. She collects things – art from other artists, family heirlooms and furnishings. These provide inspiration for her artistic style. Objects of personal significance are reflected in her paintings.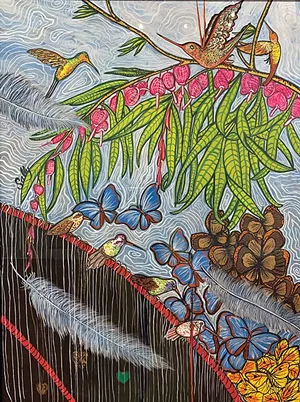 Elliott paints in bold colors, using gouache, which is opaque watercolor. The brightly colored paintings, adorned with butterflies, birds, feathers and other aspects of nature, are inviting and draw the viewer to take a closer look. Upon closer inspection the paintings reveal discordant themes of beauty and fear, memory and regret, exposure and concealment. Elliott notes that her compositions are generally unplanned, and the images have a stream-of-consciousness quality as she continues to add things as she paints. She may take three hours to paint a single feather. She's been painting like this for more than 30 years.
Elliott paints for herself, not the viewer. She lost her son to a sudden heart attack. As part of her healing, she started adding hearts to her paintings – whole hearts, broken hearts, separated hearts. "The human heart represents our soul, our passions and pain," says Elliott. Painting is spiritual for Elliott, and her paintings are extremely personal. Yet, her work is highly accessible and engaging, inviting viewers on their own unique journey.
Dissonant Harmony: A Life in Art is open to the public for free Monday-Friday, 9 a.m.-5 p.m. and Saturday 10 a.m.-3 p.m. through July 9, Springfield Art Association, 700 North Fourth Street, Springfield.
Karen Ackerman Witter is a frequent contributor to Illinois Times. As a former associate director of the Illinois State Museum and longtime member of the Springfield Art Association, she appreciates the many ways Betsy Dollar provides opportunities for the community to experience the visual arts.