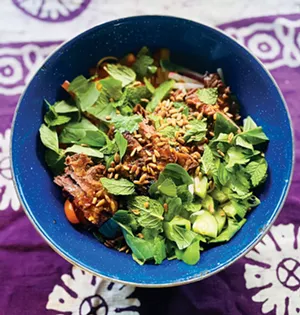 It's been fiercely hot here the last few days, and when the sun bears down on the metal roof of the school bus that we call home, the temperature inside often tops 100 degrees. On days like these, I try to minimize putting any more heat into the bus while making dinner. These cold Asian-inspired noodle salads are a great way to beat the heat. I've adapted these recipes so they can be made with ingredients that can be found in most grocery stores, so they're not strictly authentic.
Vietnamese-influenced Beef Noodle Salad
Serves 4
This dish is an adaptation of Bun Bo Xao, a Vietnamese beef noodle salad. This rice noodle salad is made with fresh herbs and vegetables and dressed in tangy dressing. It does require a bit of advance planning. The beef needs time to marinate and since it will be sliced and served cold, it can be grilled a couple days ahead and refrigerated. The greens and garnishes can also be prepared in advance and refrigerated. The noodles can be cooked a couple of hours ahead and kept at room temperature.
Ingredients
8 oz. dried rice vermicelli
2 cups leaf lettuce, gently torn into bite-sized pieces
2 cups fresh bean sprouts
1 cucumber, peeled, seeded and julienned
6 cherry tomatoes, halved
1/2 cup mint leaves
1/2 cup Thai basil leaves
2 tablespoons chopped roasted peanuts or toasted sunflower seeds
12 sprigs cilantro
For the beef and marinade:
1 1/2-inch piece ginger, peeled and grated
2 cloves garlic, minced or grated
¼ cup soy sauce
3 tablespoons light brown sugar
2 tablespoons fresh lime juice
1 tablespoon fish sauce
½ teaspoon freshly ground black pepper
¼ cup olive oil
1 tablespoon toasted sesame oil
1 lb. skirt steak
Kosher salt
For the dressing:
2 cloves garlic, minced
1 or 2 Thai bird chiles (or 1/2 jalapeño or serrano chile), seeded and minced
1 cup hot water
¼ cup light brown sugar
½ cup fresh lime juice
¼ cup fish sauce
Preparation
For the steak:
Whisk ginger, garlic, soy sauce, sugar, lime juice, fish sauce and black pepper in a small bowl until the sugar is dissolved. Whisk in the olive oil, then sesame oil. Transfer to a resealable plastic bag and add the steak. Refrigerate for at least 2 hours or overnight.
Prepare a grill for medium-high heat. (Or heat a grill pan over medium-high.) Remove the steak from the marinade and pat dry with paper towels. Season with salt. Grill for about 2 minutes a side, until lightly charred. Transfer to a cutting board and rest. Let cool and refrigerate. When ready to assemble the salad, cut against the grain into one-inch strips.
Make the dressing:
In a mortar and pestle, pound the garlic and chiles to a paste or finely mince with a knife. In a small bowl, combine the garlic and chile mixture with the hot water and sugar, and stir well. Add the fish sauce and lime juice. Let sit for at least 15 minutes before using.
Cook the noodles:
Bring a pot of water to a rolling boil. Add the rice vermicelli and, stirring often, cook until the strands are soft and white, but still resilient, 3 to 5 minutes. Rinse in a colander under cold water. Let the noodles drain in the colander for 30 minutes, and then set them aside for up to 2 hours, unrefrigerated.
To assemble the salads: Divide the lettuce, bean sprouts, cucumber, mint and basil among four salad bowls. Fluff the noodles with your fingers and place on top of the greens. Top the greens and noodles with the cold steak and cherry tomatoes, and garnish each bowl with the peanuts or sunflower seeds and cilantro. Serve the dressing on the side. Each diner can drizzle dressing over the salad and then toss the salad in the bowl.
Korean-style Cold Noodle Salad
This salad is based on bibim guksu, a cold noodle salad that's made with fresh vegetables and served with a spicy gochujang sauce. It is similar to bibimbap, but with noodles instead of rice. It is usually made with somyeon, thin Korean wheat noodles. If you can't find them, substitute soba noodles. On a hot summer's day, bibim guksu is an ideal one-bowl dish that requires minimal cooking so it won't heat up your kitchen.
Serves 4
Ingredients
8 ounces somyeon noodles
Lettuce, thinly sliced
¼ head red cabbage, thinly sliced
1 cucumber, peeled, seeded and julienned
1 carrot, julienned
1 Asian pear or Granny Smith apple, julienned
4 scallions, thinly sliced
2 hard-boiled eggs, peeled and halved
Napa or radish kimchi (optional)
Dressing:
4 tablespoons gochujang (Korean red chili paste)
4 tablespoons rice vinegar
2 tablespoons soy sauce
2 tablespoons honey
2 tablespoons light brown sugar
2 Tbsp toasted sesame oil
2 Tbsp toasted sesame seeds
Preparation:
Fill a pot with water and bring to a boil. Add the noodles and cook according to package instructions, until al dente. Drain in a colander and rinse with cold water.
To make the dressing, combine the gochujang, rice vinegar, soy sauce, honey, brown sugar, sesame oil and sesame seeds.
To serve, divide the noodles into salad bowls. Arrange the vegetables in neat piles around the perimeter of the bowls. Top with a hard-boiled egg half.
Japanese-influenced Cold Soba Noodle Salad with Ginger Lime Miso Dressing
Soba noodles are a type of Japanese noodle made from buckwheat. They are chewy and have a grainy texture and nutty flavor. If you are sensitive to gluten, check the label carefully. Some brands also contain wheat flour.
Serves 4
Ingredients
8 ounces soba noodles (2-3 bundles)
1 carrot, cut into a large dice
2 cups of shelled edamame, fresh or frozen
2 tablespoons soy sauce
Juice of 1 lime
2 tablespoons white miso
1 tablespoon mirin
1 tablespoon grated ginger
4 handfuls baby spinach
4 scallions, white and green parts, thinly sliced
Salt and black pepper, to taste
Toasted sesame seeds, for garnish
Preparation
Bring a pot of water to a boil and cook the carrots for 2 minutes, then add the edamame and cook 1 minute more. Remove with a slotted spoon and allow to drain. Add the noodles to the same pot and cook for about 4 minutes. Drain and rinse noodles under cold water.
Make the dressing: Whisk together the soy sauce, lime juice, miso, mirin and ginger.
Place the spinach in a serving bowl, followed by the noodles, carrots, radishes, edamame and scallions. Toss with the dressing. Season as needed with salt and pepper. Garnish with sesame seeds.
Peter sends greetings from Minneapolis, where restaurants are reopening at full capacity and the people want their sourdough bread. He is making 35 loaves a day.