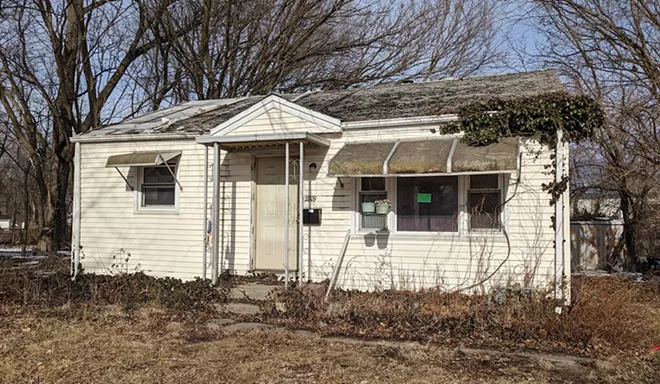 Eyesores can last years in Springfield.
Consider 2809 Poplar Avenue.
In lieu of shingles, a sheet of plastic is nailed to part of the roof. A green notice posted by city inspectors who declared the building unsafe has faded from the sun. Roxana Talley, who has lived next door for two decades, said that the last resident moved a couple years ago after spending the last year or so living in a shed in the backyard because the house wasn't habitable. When he turned 62, Talley says, he moved into a high-rise apartment in another part of town.
No one appeared in administrative court in July 2019, after the city found scores of problems and issued a citation. "Roof is tarped over," a building inspector wrote. "Shingles have failed gutter is falling off need to be repaired and tree growing on north side into roof system." When the city sued in Sangamon County in hopes of collecting $1,600 in fines and forcing repairs, a man at the premises told the process server that the owner of record had died in 1964.
That was in September 2019. Because the defendant was dead, the city dismissed its circuit court lawsuit in May of last year. No legal action is currently pending, although corporation counsel Jim Zerkle says that the city plans to start over again with a new administrative court case.
The house is across the street from Poplar Place, a troubled housing project dominated by boarded-up duplexes, overflowing garbage containers and private roads cratered by potholes. The city in 2014 cited the project's owner for dangerous streets. Seven years later, the case is pending in administrative court while an Iowa developer's plan to rejuvenate Poplar Place has fallen apart.
Tarah Cooper Wright, chief executive officer of a Chicago public relations firm that responded to queries posed to The Related Companies, owner of Poplar Place, said that the project's owner is "dedicated to providing affordable housing" and is working with Mayor Jim Langfelder, residents and community leaders. "We are in contact with the city and there are no outstanding building code violations," Wright, a former press secretary for former Chicago Mayor Rahm Emanuel, wrote in an email. "All past building code violations have been immediately addressed."
Nearly three miles west of Poplar Place, a tree has fallen through the roof of a vacant home near the intersection of First and Vine streets – Ward 7 Ald. Joe McMenamin says that he noticed it two months ago while delivering food to the needy. On Feb. 25, McMenamin asked deputy public works director Darryl Harris for a status report. "Please summarize any inspection reports and their timeline," the alderman wrote in an email. "Is the building on the registered list (of vacant structures with two or more code violations)?" After hearing nothing for four days, the alderman inquired again. This time, Harris wrote that he was waiting for "an updated response from our legal unit."
It's not clear why the public works department would need a lawyer to tell an alderman, or anyone else, the results of inspections or whether a problem building has been registered with the city, which has the power to force demolition if fixes aren't made within three years of initial registration. Activists with Inner City Older Neighborhoods complain that the city requires Freedom of Information Act requests to get inspection reports; they say that the city should put a searchable database on its website, with links to inspection reports, so that neighbors can quickly determine what the city is doing about houses no one wants on their block.
Demolitions have plummeted. In 2014, the city demolished more than 100 buildings; in 2019, the number fell to six. Harris has blamed lack of money. We'll do it for free, says Bret Scaggs, business manager for International Union of Operating Engineers Local 965, which once supplied heavy equipment and operators to tear down dilapidated houses before they collapsed on their own. "It's a seeded lot when we leave," Scaggs says. The union sees it as a training opportunity for apprentices.
In 2018, Scaggs says, the union, gratis, tore down 22 of the 23 buildings under demolition orders from the city, which pays such costs as disposal fees and asbestos abatement. The union remains willing to provide free labor and equipment, Scaggs says – there's a deal in the works for apprentices to tear down the former west branch city library on Washington Street, which is owned by Sacred Heart-Griffin High School. But the city, Scaggs says, hasn't lately asked for union help. "We just don't have a relationship with this administration," he says. "They don't reach out to us. They don't ask us for help."
Demolitions skyrocketed under former Mayor Mike Houston, who made revitalization of neighborhoods a linchpin of his campaign and his administration. He recalls or-else propositions with property owners: Either fix it or lose it, and it'll be cheaper in the long run for you to fix it. "We didn't want these properties just sitting there and continuing to deteriorate," Houston says. Part of the strategy, he recalls, was making Mark Mahoney, a former alderman, head of the public works department – after listening to constituents complain, Mahoney knew what folks cared about.
"We really needed to take the public works department apart and put it back together again," Houston says. "He did just that."
Contact Bruce Rushton at brushton@illinoistimes.com.