Sincere emotion saves CODA
Ruby Rossi is stuck. Her deaf parents have burdened her with the responsibility of being their bridge to the hearing world, requiring she translate all interactions with the hearing community. As Ruby enters her senior year of high school and sees her peers preparing to leave for college, her resentment grows, wondering if she will ever have a life of her own.
This is the central dilemma of Sian Heder's CODA, a genuine crowd-pleaser snatched up by Apple TV at the 2021 Sundance Film Festival for a record $25 million. It's easy to see why they wrote that check, as the film features a dynamic performance from newcomer Emilia Jones as Ruby. Fierce, sympathetic, and wholly appealing, you're in her corner from the start as she deals with her parents, her demanding music teacher (Eugenio Derbez) who sees greatness in her and an awkward crush on her music partner. The humor from Marlee Matlin and Troy Kotsur as Ruby's ever-randy mom and dad is a bit broad for me but there's no resisting the movie's heart and Jones' charisma. Be prepared to laugh and shed a tear or two. Streaming on Apple TV.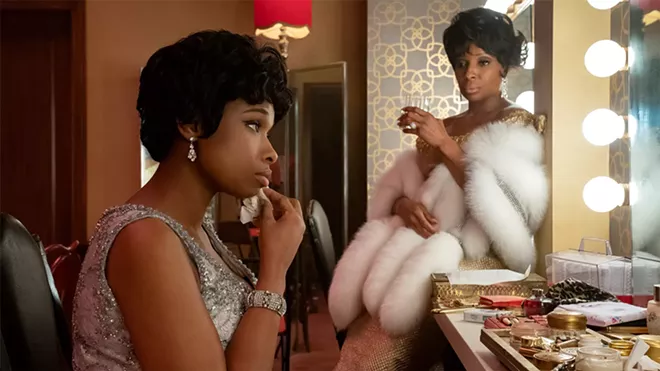 Respect hits all the wrong notes
A major misfire on nearly every level, Respect, the film biopic of Aretha Franklin, gets off on the wrong foot and stumbles about for nearly two-and-a-half hours. Fragmented and scattered, the movie comes off as a Cliffs Notes version of the singer's life, a project that leaves the viewers with more questions about her than it answers.
We first see Aretha at age eight, her domineering father (Forest Whitaker) making her perform like a show pony for invited guests, the film short on details as to why her parents are estranged. The story than leaps forward and all of a sudden Aretha has two children, she's signed to a record contract, she has to contend with an abusive husband and, of course, she has to deal with physical and substance abuse along the way.
It can't be helped that Franklin's life plays like a collection of tortured artist cliches, but the approach here is all wrong. Jennifer Hudson's by-the-numbers performance as the singer lacks the necessary passion and this, as well as the scattershot approach, ensures that we never really get to know the artist or what made her tick. In theaters.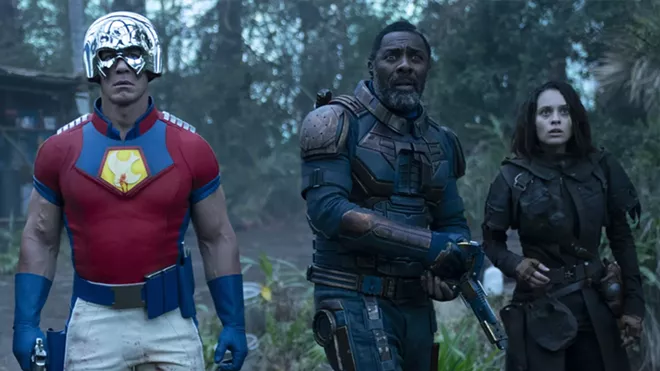 Squad a bloody mess
James Gunn's The Suicide Squad resembles a 1970s grindhouse B-actioner more than a big budget superhero epic, one of the many departures the director employs to distance his feature from David Ayer's critically reviled 2016 Suicide Squad. Familiar faces and new characters round out the titular team of super-criminals. Margot Robbie and Joel Kinnaman return as Harley Quinn and Colonel Rick Flag, joined by the ruthless mercenary Bloodsport (Idris Elba), the overly patriotic Peacemaker (John Cena), rodent manipulator Ratcatcher (Daniela Melchior) the disc throwing killer Polka-Dot Man (David Dastmalchian) and a walking Great White, King Shark (voice by Sylvester Stallone).
A rag-tag bunch to be sure, their mission is to quietly invade the country of Corto Maltese and kill a creature with the ability to wipe out humanity. The characters are more engaging and the mission more exciting, but the director shoots himself in the foot with an uneven approach. The gratuitous violence is a major misstep, while the film can't escape the repetitive nature so many superhero films fall victim to. Still, there are moments of wit and imagination sprinkled about, making it bearable, and at times, very entertaining. In the end, this cinematic mission is a mixed bag. In theaters.