David Metcalf grew up in and around MacMurray College. His father was a long-serving faculty member at the east- side Jacksonville institution, and his great-great-grandfather was one of the college's most successful presidents. When it came time to pick a college to attend, Metcalf naturally chose MacMurray.
But there won't be any more Metcalfs attending MacMurray, as the 174-year-old college officially closed on May 25 due to an untenable financial position. Now, when Metcalf passes his ancestor Joseph R. Harker's memorial on campus, he wonders what will become of his great-great-grandfather's legacy institution and its collections.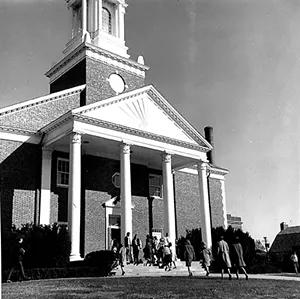 "I'm glad he's not around to see this, because he had high hopes that this institution would just go on forever and get better and better," Metcalf said. "His favorite Latin phrase and life motto was Aut inveniam viam aut facium, which means 'I will either find a way, or I will make one.'"
Unfortunately, MacMurray College's board of trustees couldn't find a way to get past declining enrollment and dwindling funds. But the board is making a way to preserve MacMurray's history and alumni loyalty, and Metcalf hopes that will allow Harker's memory to live on.
"He said the biggest thing that any college needs is friends, and by friends he meant donors," Metcalf said. "Not just alumni but big friends that can donate lots of money. He was able to do that for years, he was a master salesman of the college."
In the future, the college salesmen will be the members of the MacMurray Foundation and Alumni Association, a nonprofit corporation now being formed that aims to preserve the institution's history and to keep it relevant.
"We hope it will continue to bring MacMurray alumni, faculty and staff to Jacksonville to see MacMurray's living history, not just past history," said foundation chair and 1977 MacMurray graduate David Ekin. "And even though they may not graduate from MacMurray, MacMurray will be a part of future students' lives."
Ekin said the foundation will provide support for alumni activities, including annual homecomings like the one planned for the weekend of Oct. 10 in Jacksonville. It will also provide scholarships for descendants of MacMurray alumni or those who are interested in the former college's strong program areas such as deaf education, education, social work and nursing. First-generation college students may also benefit from foundation scholarships, Ekin said.
The foundation is also actively working to preserve the college's archival collections now housed in the Pfeiffer Library on campus. Ekin said discussions are underway for a possible long-term loan agreement for those materials with the Jacksonville Area Museum being developed in the old post office building in downtown Jacksonville.
"With the college closing, it is imperative that these resources not be lost so that alumni, researchers, faculty and families can still access them," Ekin said.
The Illinois Great Rivers Conference of the United Methodist Church archives that had been housed at Pfeiffer Library have been moved to Wesley United Methodist Church in Mt. Vernon, according to Great Rivers Director of Communication Ministries Paul Black.
The Methodist archives include the region's church histories, a large amount of information on the Rev. Peter Cartwright, and hymnals dating back to 1813. Rev. Dr. Beth Fender, a 1990 MacMurray graduate and Great Rivers employee, helped to coordinate the Methodist collection relocation.
"We have been surprised by some of the things that are meaningful to alumni."
Paula Pugh Romanaux of Petersburg, a 1974 MacMurray graduate, hopes that one large piece of the college's history can be preserved and enjoyed right where it is – the pipe organ that is the centerpiece of Annie Merner Chapel. Pugh Romanaux and like-minded alumni are concerned that the board of trustees may consider selling the valuable, built-in organ for parts.
"I have talked to many people about the possibility of purchasing Annie Merner Chapel and all of its contents, including the organ," Pugh Romanaux said. "There are about 40 of us that are interested in doing this."
"The organ was designed by one of the college's former professors, installed in 1952, and has never been changed except for tuning," Pugh Romanaux said. "It was designed by G. Donald Harrison and that instrument is probably the high point of his work. People from all over the world have come to play that instrument."
Pugh Romanaux took organ lessons on the device as a youth and said the instrument was designed specifically for the Annie Merner Chapel's acoustics.
"It has all of the colors and nuances of making a complete repertory of the organ," Pugh Romanaux said. "Hearing that instrument was one of the reasons I wanted to be an organist. I heard it being played, and it was in my soul."
Alumni concerned about the organ needn't worry, said MacMurray College President Beverly Rodgers, since it would require demolishing a good part of the chapel just to get it out. She said the board of trustees hopes that any buyer for the campus will continue to use the chapel and the organ to present music performances.
A huge musical instrument isn't the only piece of college history that concerns alumni. Rodgers said she's received several inquiries about the fate of a cross-stitched college seal, china place settings from the early 20th century, sports trophies, photographs and the large wooden mobile that for many years has hung from the two-story ceiling in the Gamble Campus Center.
"We are very conscious of the unique nature of many of our collections," Rodgers said. "We have been surprised by some of the things that are meaningful to alumni."
Rodgers is the 17th and final MacMurray president, and has been asked by the board of trustees to remain in her current role through Sept. 30 to oversee the disposition of the campus, its historical materials and its day-to-day maintenance until the buildings and grounds are sold. Most faculty and staff ended their service to the college on May 26, but several staff members have extended their work through June 30 to help get things in order for the potential sale of the campus.
"The rug got pulled out from under our feet."
The MacMurray board of trustees wants to sell the entire 60-acre campus at once. If it were to be sold piece by piece the process could go on for years and extend the defunct college's ongoing obligations, according to board chairman and 1990 MacMurray graduate John Nicolay.
"We have had very preliminary discussions with people who would maintain it as an educational institution," Nicolay said. "But the fact is, most area colleges are not in a position to expand and take over a campus like MacMurray's."
A campus sale won't satisfy all of the college's outstanding debts. So while the institution is working to preserve its historical collections, Nicolay said the school's fine art collection, including numerous paintings by MacMurray alumnus Nellie Knopf, is being readied for sale to raise needed funds.
"Most of the art collection falls into the category of assets, not historical pieces, and I think there will be a significant interest in that collection and those pieces will very likely go to someone who will care for and display them," Nicolay said.
The college's remaining endowments, some more than 100 years old, are also being reviewed to determine the agreement specifics that each donor made with MacMurray, Nicolay said.
Closing the 174-year-old college was nearly avoided, Nicolay said, and the sudden closure announcement made in late March this year was due to the fact that the board of trustees was working on a short-term rescue solution that only fell through at the last minute.
"There was an investor who was willing to do a purchase and lease-back of the dormitories, which is not uncommon in higher education, and that was our lifeline to survive and reorganize," Nicolay said. "An ill-timed news story discussing closure and the first hit of the coronavirus spooked the investor and when they pulled out, that was all she wrote."
"It might have bought us only another couple of years, but at least we could have lived to fight another day," Nicolay said. "We thought we had a plan, but the rug got pulled out from under our feet."
174 years of history
The Illinois Conference of the Methodist Episcopal Church established the Illinois Conference Female Academy along East State Street in Jacksonville in 1846. The early college founders included prominent clergy Peter Cartwright and Peter Akers. The first president was James Jaquess, a Methodist minister who met Abraham Lincoln when the latter was practicing law on the Illinois prairie. Later, Lincoln entrusted Jaquess with important behind-the-scenes missions during the Civil War. The historic Jaquess house on campus remained the college president's residence throughout the institution's history.
Classes were originally held at a nearby Methodist church until Main Hall was completed in 1850. Two later presidents re-chartered the academy under the new names Illinois Conference Female College, and then Illinois Female College.
Joseph Harker was named the seventh president in 1893 and shortly thereafter changed the name to Illinois Woman's College. Harker greatly expanded the college's endowment and many subsequent campus buildings were constructed during his 32-year tenure.
The next president, Clarence McClelland, and board chairman and former Illinois State Senator James MacMurray continued to expand the campus due largely to MacMurray's generosity. In 1930 the institution was renamed MacMurray College in his honor. The college mascot, a Highlander, was chosen in a nod to McClelland's and MacMurray's Scottish heritage.
The MacMurray College for Men was established in 1955 and campus facilities soon included a redesigned curriculum and four additional residence halls to accommodate the men.
Many notable people spoke at the college during its long history, including former First Lady Eleanor Roosevelt in May 1947 and Vice President Lyndon B. Johnson in June 1963.
"There's a certain permanence there."
Jacksonville has a vested interest in MacMurray College and the other higher education institution in town, Illinois College, which is flourishing on the city's west side. College students and faculty have had a substantial economic impact on the community through the years. City leaders hope that the MacMurray Foundation's activities will keep alumni coming back to town, and having the college's historical collections remain in the city will be a plus.
Private local organizations are also keeping an eye on what happens to the campus. The Jacksonville Kiwanis Club has hosted its Pancake and Sausage Day fundraiser at MacMurray's McClelland Dining Hall since 1954. Club President Andy Smith said approximately 5,000 people are served at the annual event, and while they are looking at other possible venues, they hope to be able to stay at McClelland.
"It's a great location that works extremely well for dining, traffic flow, kitchen usage and everything needed for the event," Smith said. "Some of our communications have been positive that whoever would purchase the property would probably be open to working with Kiwanis in the future."
Professor Emeritus Allan Metcalf, David Metcalf's father, spent 46 years at MacMurray College before retiring in 2019. He has accepted his next role with the college, parade marshal for the Oct. 10 Alumni Homecoming.
"I've never been anything close to a parade marshal before," Metcalf said. "Of course I can give 50-minute lectures at the drop of a hat."
Metcalf said that as much as things changed during his four-and-a-half decades at MacMurray, faculty and students always valued the college's close-knit, face-to-face interaction that led to lifelong friendships and a love of the institution. It is that personal interaction that Metcalf will miss the most.
"One of the really important things about a college or university is that it has a continuity. It has a past, a present and a future," Metcalf said. "In that continuity, students of the present can count on connections with students of the future. There's a certain permanence there."
David Blanchette is a freelance writer and photographer from Jacksonville. He is a 1982 graduate of MacMurray College and is the board chairman for the organization developing the Jacksonville Area Museum.