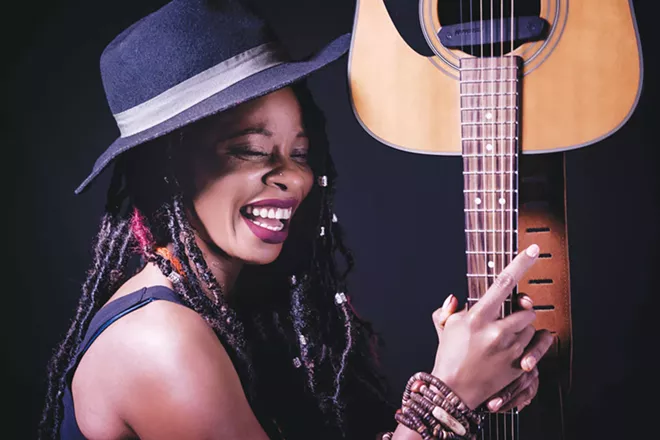 Although Juneteenth has been celebrated in Springfield for over 20 years, it did not become an official state holiday until last year when Gov. JB Pritzker signed a bill to commemorate June 19, 1865, as the date when the last enslaved Black people in the U.S. learned that they were free. It is the oldest nationally celebrated commemoration of the ending of slavery in the United States, and early celebrations of the event were mostly church-centered community gatherings. Today, it is celebrated in most cities and many smaller communities with food festivals, park parties and historical reenactments. Here in Springfield, this week is packed with events that highlight African American cultural contributions with live music events, art exhibitions, presentations and just plain fun stuff to do.
The official start of the celebration is on Thursday, June 16, with a performance by Natu Camara on the Y Block as part of the Levitt AMP Springfield Music Series. Camara, a New Yorker with Guinean roots, brings her new-found American edge to Afro-steeped pop, and many of her songs are sung in English, French and her native Susu. After the performance, head to the Truth Lounge, 11 W. Old State Capitol Plaza, for the official after-party beginning at 8 p.m.
Celebration activities will keep getting warmer on Friday afternoon at Comer Cox Park with a family day at the park, sponsored by the Springfield Housing Authority. DJ Jones will keep the sounds going while you check out the Kid Zone bounce house and activities, community resource tent, free health screenings, Entrepreneur Square and free food. Later in the evening, grab a blanket or some lawn chairs to watch a free showing of Space Jam, part of Springfield Park District's Movies in the Park series.
Also on Friday, the Illinois State Museum (ISM), in collaboration with the UIS Center for Lincoln Studies and Juneteenth, Inc., will present "Cause and Effect: Lincoln and the Emancipation Proclamation" as part of the Juneteenth lecture series. Presenters include Dr. Edna Greene Medford, who specializes in 19th century African American history, and Dr. Holly Pinheiro Jr., whose research focuses on the intersectionality of race, gender and class in the military from 1850 through the 1930s. You'll have an opportunity to view a rare, signed copy of the Emancipation Proclamation in the library at the Abraham Lincoln Presidential Library and Museum. The copy is one of about two dozen that survive and was signed by both Abraham Lincoln and Secretary of State William Seward. It will be displayed on June 17, June 19-24 and June 27-30, and both admission to the library and access to the document display are free.
Back at the ISM, be sure to visit "NOIR II: The Migration," an exhibition of Black art by people of color depicting the migration of Black Americans. It tells the story visually, provoking viewers to think and talk about what freedom looks like for people of color in the United States.
Afterwards, join in the Freeish Block Club Party on the museum patio, where you will find entertainment and a lot of food. It will be an especially spirited party as it replaces past years' rallies at the State Capitol calling for the date to become an official state holiday. The party will wrap up just in time for you to hop over to the BOS Center to catch the ultimate Bob Marley experience, One Drop Redemption on Friday evening at 7:30 p.m.
The celebration continues on Saturday with the 28th Annual Unity Parade which begins at 10 a.m. at Brown Street and Martin Luther King Jr. Drive, and heads north to Comer Cox Park where the festivities will be hitting their stride. Expect to find over 20 vendors at the park along with food trucks, pet adoption opportunities, a community resource and job tent, a lineup of local talent and a full day of celebration fun.
Also on Saturday, the Springfield and Central Illinois African American History Museum will host a History Comes Alive: A Juneteenth Celebration presentation at 1:30 p.m. It will feature a Juneteenth timeline beginning with the arrival of the first Africans to Virginia in 1619 through 2021, when the date became recognized as a state and federal holiday. A walk through the timeline will explore the developments in race relations on the national, state and local levels.
At Comer Cox Park on Sunday morning, Clemence Ahiable of Crème De La Clem Fitness will lead the Fitness in the Park event with a variety of fitness routines, including Afro-beat dance workouts. Afterwards, Larry Hemingway will host an outdoor revival and Gospel Explosion.
A Juneteenth Gala will cap off the weekend. Alpha Phi Alpha Fraternity, Mu Delta Lambda Chapter and Charitable Foundation will host the gala at the Wyndham Springfield City Centre where singer-songwriter Terisa Griffin and comedian Kevin D. Williams will headline. Tickets for the gala are available on Eventbrite and at Union Baptist Church.
Lincoln Land Community College was able to stretch the celebration into next week with the "Know Your History" Juneteenth event scheduled for Monday, June 20, the purpose of which is to not only celebrate freedom, but to increase knowledge about the historic event of 1865. A reading of the Emancipation Proclamation is scheduled, along with a display, free haircuts compliments of the University of Spa and Cosmetology Arts, music by DJ Yinka and some great food. Check the Facebook page for historical highlights leading up to the event.
This newest state holiday is a 157-year-old celebration of freedom. It has a lot going for it this year, and rightly so. Get out there and celebrate.