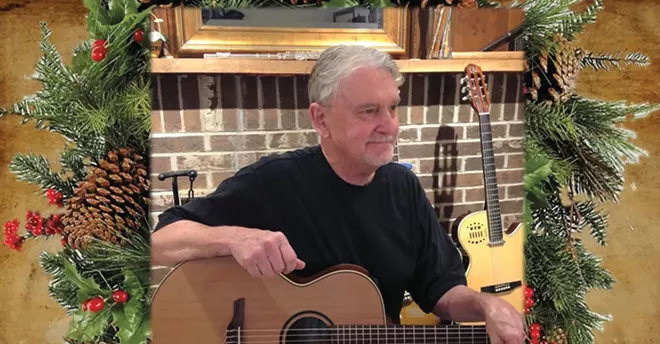 Well, with the upcoming frightful weather and how this year Christmas falls on Sunday, therefore putting the naturally occurring Eve on Saturday night, our music forecast for this holiday weekend is slow to middling. Then again, if the pickings are slim, those events that are happening will likely be bustling, since it seems that nothing can stop the deep desire of folks to experience live music.
At this juncture in time, I would like to relate a known notion (but one to be repeated and reminded of) that before venturing out into bad weather to see a show, please check to be sure it's really going to happen. It is just a natural fact that the first excursion into extreme wintry conditions of the season seems to be the worst for travel and cancellations. Then as the winter progresses, the amount of cold and snow may increase, but our tolerance increases as well, and the frustrating cancellations of December becomes the "Oh, hell, let's just do it" of January and February.
Our first cancellation to report is not to the weather but to illness, as the 1st Annual
Country Chapel Christmas (featuring the tremendous triumvirate of Joshua Reilly, Micah Walk and Ben Bedford) is not happening this Friday. Not one to waste an opportunity, we can still relate news about the space purchased by Cured Catering owners Brian and Melissa Reilly this year. A historic church building with a unique background in Buffalo, Illinois, it's now renamed the Bullard Country Chapel and is available to rent for events of all kinds. This was to be their first big music show ever (boo-hoo), but I am quite sure there will be many more to come.
Now let's get started on our trip through the scene with a look-see at Thursday night offerings, acting as if there is not a winter storm with freezing temps on the way. The Curve Inn hosts 3's Company, offering a deal of either a $10 cover charge or a donation of a large coat, hat or gloves to benefit Helping the Homeless of Springfield as admission. You can't beat an offer of doing good things for the great price of listening to good music, so slide on over to the venerable Curve for a rockin' show invoking the real Christmas spirit.
At It's All About Wine, Jack White delivers the holiday songs one last time for 2022 and Joel Honey is the "host-er with the most-er" at Buzz Bomb's open mic. And for something different, cruise on out to Sangamon Auditorium when the Copper Coin Ballet Company presents Nutty Nutcracker, a wild and wacky take on the famous Nutcracker Ballet story.
Friday sure looks good on paper (or online actually) for now, so make a note to get down and go see Mike Burnett & the Suns coming up at the Blue Grouch, the Cocktails serving it up at Third Base, Johnnie Owens & Friends buttering up the crowd at Boone's and Kapital Sound & Friends taking it up at the Curve. Then there's UNCHAiNED turning it up at Danenberger's, Roxschool setting it all up at Weebles and some guy named Tom Irwin & the Raouligans rounding up the crowd at George Ranks.
As I mentioned before, having Christmas Eve on a Saturday night sure dampens the scene spirit, but JJ Bradley is up to the task and brings his band into the Blue Grouch for our lone listing of live music.
So much for Sunday Funday music times when that day is Christmas Day, but go enjoy your holiday. Let's make the most of it all, and I'll see you next week.