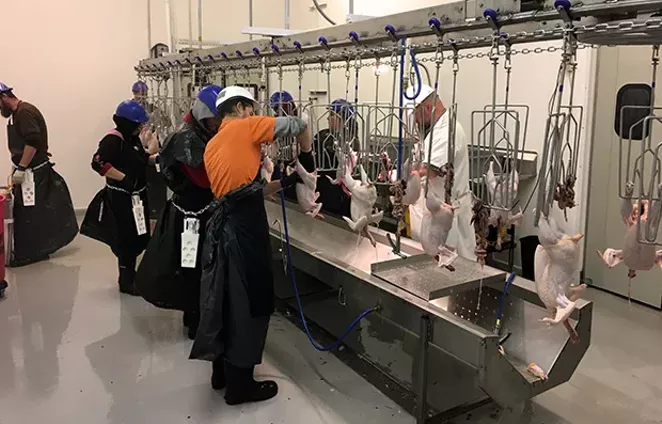 Cavan Sullivan and his family have a grain farm in Petersburg and recently decided to expand their business by opening Petersburg Processing, a poultry processor. As a processor, Sullivan also markets the chickens he processes, having developed relationships with various distributors who then deliver and sell to consumers in Chicago and St. Louis.
"One challenge of being in the food system is that if you are a middle-person you have to have enough input to be able to meet the demand," said Liz Stelk, executive director of Illinois Stewardship Alliance, which is working with Sullivan. "The nice thing about poultry is their lifespan is a lot shorter than beef, which takes a really long time." The ISA took an interest in the Sullivans' project because the poultry being processed is pastured – the birds live outdoors and they have mobile chicken houses. "This is a unique situation," said Stelk. "Usually farmers decide what they want to grow and then find a middleman to process it, or else consumers create demand. It is much less common to see a processor like Cavan actively seeking out partners."
The Sullivans have the processing capacity to run efficiently and keep moving, they just need partners to help raise the chickens. Cavan Sullivan has already recruited a dozen farmers for the purpose, typically grain growers. But he is still looking for more. "He needs to get as many growers raising these birds as are willing to do it," said Stelk. The Sullivans set farmers up, teaching them what to do with the chickens and how to do it.
"When Cavan first mentioned all of this, he framed it as a problem for him," Stelk said, "but we at the Alliance see it as a community opportunity to see more farmers choose to diversify through poultry and then be able to meet a demand, so we will see more people doing the kinds of agriculture we want to see happen."

Stelk said that more people want to know where their food comes from. "I think that is especially strong for people who care about how meat is raised and are willing to pay because it is better-tasting, higher-quality chicken – along with the better quality of life experienced by the animals. I think if you make it more affordable and more accessible, people are going to choose pasture-raised chicken every time. That is the gap that Cavan is trying to fill."

"Our vision as an organization is a more just, economically and environmentally viable local food system and this fits all of those criteria," said ISA communication director Molly Gleason. "There are environmental benefits of pasture animals and farmers getting a premium for a product that consumers really want. It's the complete package."
Other current ISA projects include their Local Food Lobby Day event coming up April 26. "It's a chance for our members and anybody else who cares about local food issues across the state to come and talk to the representatives about it," said Gleason. Legislation they are working on this year include legalization of industrial hemp and a "healthy local food incentives fund," which creates a match for SNAP dollars spent at farmers markets.

The ISA received a blow late last week, with the draft of the federal Farm Bill released on April 12. The draft effectively brings to an end the farmers market and local food promotion program as well as value-added producer grants. Those grants provided funding for many of ISA's programs. "They created businesses and good jobs across our state, strengthened farmers markets, established food hubs, and have driven consumer demand for fresh, local food," Stelk said in a statement. "We are counting on Illinois U.S. Representatives Mike Bost, Rodney Davis and Cheri Bustos to stand up for these tiny but mighty programs as the Farm Bill debate unfolds in the House Agriculture Committee."

Scott Faingold can be reached at sfaingold@illinoistimes.com.