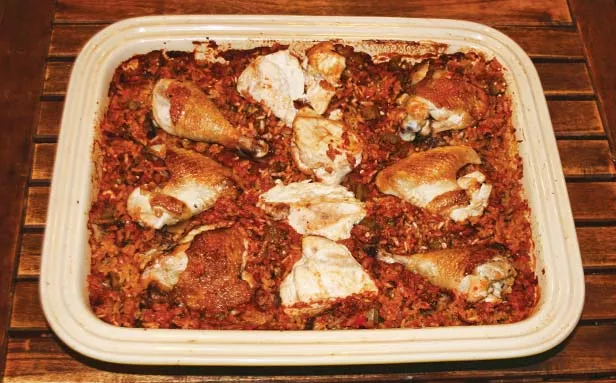 Chicken purloo

• 1 approximately 4-pound chicken, cut into serving pieces
• Kosher salt
• 3 T. bacon fat or peanut or other vegetable oil, divided
• 2 c. diced yellow onions, NOT supersweet
• 1 c. diced celery
• 2 T. minced garlic
• 1/2 c. diced green or red bell pepper
• 1/4 tsp. crushed red pepper flakes or to taste
• 1/4 tsp. dried basil
• 1/4 tsp. dried thyme
• 2 bay leaves
• 1 c. peeled and diced eggplant
• 2 c. long-grain white rice
• Freshly ground black pepper
• 1/2 c. diced tasso or other smoked ham
• 2 c. sliced okra
• 1/4 c. red wine
• 2 1/2 c. canned whole tomatoes, chopped
• 2 c. chicken stock
• Hot sauce, optional

About 4 hours before beginning the recipe, combine 1 cup kosher salt and a gallon of cool water in a large bowl. Stir until the salt completely dissolves. Add the chicken and let stand.

Drain the chicken pieces and pat them dry with paper towels.

Preheat the oven to 375°

Heat one tablespoon of the bacon fat or oil in a large sauté pan or skillet over medium high heat. Brown the chicken pieces on all sides, then transfer them to a bowl and set aside.

Add the onion and a teaspoon of fat, if needed, to the pan. Sauté until golden, about 6 minutes. Add the celery, another additional teaspoon of fat if needed, and sauté until slightly softened, about 4 minutes. Add the garlic, bell pepper, red pepper flakes, basil, thyme, and bay leaves and sauté for about 2 minutes. Add the eggplant, another teaspoon fat if needed, and sauté until it's tender, about 4 minutes. Spread the vegetables and pan juices evenly in a shallow 3-4 quart ovenproof casserole dish.

Heat 2 teaspoons of fat in the sauté pan. Add the rice and sauté until lightly toasted, 2-3 minutes. Spread the rice in an even layer over the vegetables in the casserole. Sprinkle with salt and pepper to taste, remembering that the chicken has been salted during the brining.

Heat another teaspoon of fat in the pan. Add the ham and sauté until it's fragrant, about 2 minutes. Add the okra. Sauté until lightly brown, about 6-8 minutes. Add the wine and cook until the pan is almost dry. Add the tomatoes and simmer vigorously until the mixture thickens, about 6 minutes. Spread the okra mixture evenly over the rice.

Bring the stock to a boil in a saucepan and set aside. Arrange the chicken pieces over the rice, placing the legs and thighs around the edges and the breast pieces in the center. Add any pan juices from the bowl.

Pour the hot stock over the casserole; cover tightly with a lid or foil. Bake until the rice has absorbed all the liquid, about an hour. Serve hot. Serves 4-6

Contact Julianne Glatz at realcuisine.jg@gmail.com.