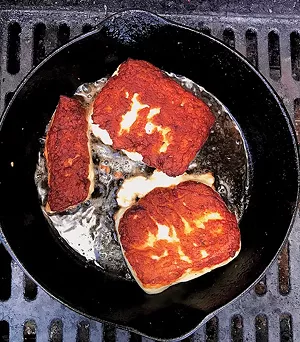 A few years ago I was camping and I asked my companions: "Who would like grilled cheese?" The response was enthusiastic; everyone loves grilled cheese. "That sounds wonderful!" they exclaimed, "But we didn't bring any bread." "We don't need bread," I responded. "Have you heard about halloumi, the grillable cheese that doesn't melt?" They eyed me with skepticism. (I have a history of serving them things like batter-fried bison testicles and passing them off as Chicken McNuggets.) But when I pulled the slabs of halloumi off the hot grill grates and hit them with a squeeze of lemon, a drizzle of olive oil, and a sprinkling of Greek oregano, my friends went nuts.
When the warm weather hits, I love cooking outdoors and, though it's a bit of a splurge, grilled halloumi is one of my favorite appetizers. If you are breaking out the grill this weekend, this would be a fun thing to try. If you've never had fried halloumi, you're in for a real treat.
Halloumi is a semi-hard, brined cheese from the Greek island of Cyprus. Authentic Cypriot halloumi is handmade from a mixture of unpasteurized goat's milk and sheep's milk. It resembles fresh mozzarella, but has a mild, salty, feta-like flavor. Halloumi has a high melting point, which allows it to be cooked directly on a hot grill or skillet without melting away. Halloumi can be pan-fried, seared or grilled. When grilled, it develops a fine, thin crust, with a firm toothsome texture, similar to Wisconsin cheese curds. When fried, it acquires a golden brown, crispy exterior and becomes pleasantly squeaky on the inside. It holds its shape and texture and has a hint of sweetness from caramelized milk fat.
Halloumi is made by heating milk with rennet, a substance used to coagulate milk. This separates the curds from the whey. The whey is drained off through a cheesecloth-lined strainer, and the curds are pressed into a mold. After the cheese firms up, it is poached in the remaining salted whey and chilled. This creates the high melting point, which makes it perfect for grilling or frying.
Halloumi can be found in Middle Eastern and Greek markets and in grocery stores with well-stocked cheese counters. Locally, it can usually be found at Schnucks. It is sold in cryovac packaging, and can be kept in the refrigerator for up to a year, or even longer in the freezer. Authentic halloumi is not cheap. Half-pound packages sell for $8 to $12. Less expensive versions can often be found at Aldi's, but you truly get what you pay for.
Because of its high fat content, you can sear slabs of halloumi in a nonstick skillet without adding any oil. You can also pan-fry cubes of halloumi in a little oil. For grilling, you can cook slabs like steaks or you can thread cubes on skewers. To keep halloumi from sticking to your grill, make sure your grates are very clean and coat the halloumi with oil prior to grilling.
If you are trying to reduce your meat consumption, the firm texture of halloumi makes it a satisfying substitute for meat, especially when it carries a little smoke from the grill. It pairs especially nicely with herb oils, charred cherry tomatoes or watermelon. To make a salad, top romaine, charred cherry tomatoes, cucumbers, onion, chickpeas and olives with cubes of grilled or fried halloumi.
Grilled Halloumi Cheese
This is my favorite way to enjoy halloumi: very simply, with minimal embellishment. A squeeze of lemon juice wakes up the flavor and cuts through the richness of the cheese. I especially love the olive oil and Greek oregano sold at Spartan Valley Olive Oil Center.
Ingredients
8-ounce package of halloumi cut into 2 slabs
Olive oil
1 lemon. Halved
½ teaspoon dried oregano
Preparation
Preheat the grill to medium-high. Make sure your grill grates are very clean or the halloumi will stick.
Drain the halloumi, pat the slabs dry with paper towels, and brush both sides with olive oil.
Generously oil the grill grates with an oil-soaked paper towel held with tongs. Grill 2-6 minutes, turning once or twice, until grill marks appear. When lightly pressed, the halloumi should give but not be runny. Place the lemon halves cut-side down on the grill and cook until grill marks appear.
Transfer the grilled halloumi and lemon halves to a platter. Drizzle with a little olive oil, and squeeze the grilled lemon over the top. Sprinkle with the oregano.
Fried Halloumi Cubes
Ingredients
1 8-ounce package halloumi
1 ½ tablespoons olive oil for frying, plus 1-2 tablespoons of olive oil for dressing the fried cheese
Freshly ground black pepper
A pinch of red pepper flakes
Preparation
Drain the halloumi, cut it into half-inch cubes, and pat the cubes very dry with paper towels.
Heat 1 ½ tablespoons olive oil in a heavy skillet over medium-high heat. When the oil is hot, add the cubes of halloumi and cook for a few minutes without stirring, until the bottoms are well-browned, about 2-3 minutes. Turn the halloumi cubes, and brown them on the other sides. Don't overcook or they will start becoming tough and rubbery.
Transfer the fried halloumi cubes to a bowl. Grind black pepper over the cheese, add the red pepper flakes and drizzle with the remaining 1-2 tablespoons olive oil.
The cubes can be added as a topper to a salad or served with a platter of watermelon or tomatoes.