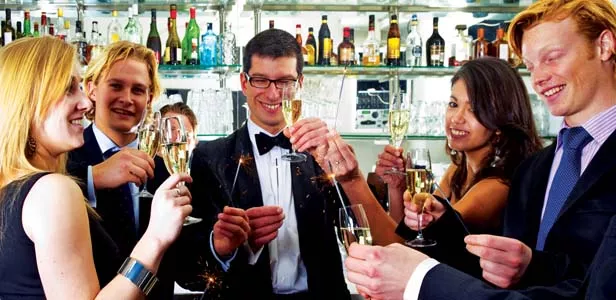 Have a pine tree in the backyard? Use cuttings from an evergreen to make wreaths and swags.


Stick holly cuttings into a foam ball. Add a length of ribbon and loop the flower arrangement over a door handle.


Host an ornament-making party. Stock up on ornaments from a craft store and pull out glue, fabric pens, glitter pens, bells, cotton balls and pompons.


Ask your guests to bring their favorite holiday album, or keep your radio tuned to that station that plays non-stop holiday music during the season.


If it's not too cold out, play football or something else to get the blood moving.


Make gingerbread houses. Award prizes for the most creative house.


Holiday Card Making Party: Provide stickers, glitter, pens, paper, markers or crayons and you're good to go.


Vamp up your typical wine-and-cheese party by breaking out spiced wines or different kinds of apple cider for your guests to try.


Volunteer. Get a group together to volunteer at a food bank or soup kitchen. You'll have a great time and make a difference.


Toys for Tots: Instead of white elephant presents, agree on a $20 limit for a gift to give to a child in need.


Choose active games that get everyone involved. Try Apples to Apples, Catch Phrase, Pictionary and Scattergories.


When your guests walk in, have them write a holiday haiku on an index card or slip of paper. Then post the haikus on a piece of poster board.


Buy a jumbo Post-It wall pad. Stick a few sheets to your wall, each with a topic. Leave markers and let people draw anything funny or silly, such as what they want for Christmas or their favorite holiday memory.


Glaze your ham in Dr Pepper. The soda imparts a sweet, fruity glaze onto the ham. Celeb chef Alton Brown recommends soaking the ham in clean water for two days (changing the water twice a day) to remove excess salt, then placing it in a roasting pan and dousing it with a liter of soda and a cup of sweet pickle juice. Cover with foil, roast for half an hour at 400F before reducing the heat to 325F for three more hours, turning halfway.


Instead of potatoes, use wild rice as a side dish. Toasting it in butter and then boiling in chicken stock, white wine or apple juice provides a great base for a pilaf.


Slice acorn squash in half and roast until tender. Melt butter and brown sugar in the cavity of the squash and place under the broiler to brown for a minute or two.


Make a peppermint stick martini. Combine 1 1/2 ounces vodka, 1 ounce peppermint schnapps, 1 ounce Triple Sec and ice in a cocktail shaker. Shake. Strain the mix into a martini glass rimmed with crushed peppermint. Garnish with a candy cane.


Rim martini glasses in melted white or dark chocolate. Refrigerate till you're ready to use. Tastes great with the peppermint martini above!


Simple yet elegant salad: blanch white and green asparagus tips until just tender and roast for a moment; set aside. Whisk champagne vinegar with minced shallot, Dijon mustard and chopped tarragon then mix a few drops of white truffle oil. Blend in extra virgin olive oil to finish the vinaigrette; marinate asparagus in dressing. Serve with shavings of Parmigiano-Reggiano and slices of prosciutto.


Buy a vanilla bean to make holiday desserts. After scraping out the seeds for your famous ice cream base, nestle the pod into your sugar pot. The bean's essence will soon permeate your sugar to give you a delicious vanilla sugar.


Substitute holiday karaoke for caroling at your holiday party.


For a colorful, inexpensive centerpiece, drop each flower of a bouquet into a shot glass and place them all in the middle of a round dinner table or align them down the center of a long table.


Let your guests decorate their own cookies for dessert. Place bowls of frosting, sprinkles and other decorative sweets along the sides of the table and circulate guests around to make their own cookie creation.


Instead of russets, use Peruvian purple potatoes for your spuds. They look great and add a healthy dose of antioxidants.


Give the kids a toast with a mock champagne punch. Boil a cup each of water and sugar, cool, and add a cup of white grape juice, 2/3 cup orange juice and 1/2 cup lemon juice. Chill. When ready to serve, add a cup of cold ginger ale.