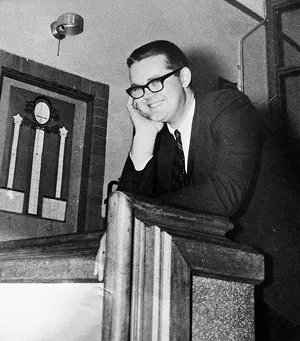 Charles F. Harris died in Buffalo, Illinois. He had been born in Springfield and spent his life in central Illinois.
He was a member of the Cathedral Boys School class of 1955 where he earned 11 varsity letters. He was married for 61 years to Ursuline Academy graduate Mary Lou Mehlick Harris who
survives him, along with six children and 11 grandchildren.
Chuck made a lasting impact on our community through his work as a high school English teacher, coach and yearbook adviser, first at Hartsburg-Emden High School and then for over 27 years at Tri-City High School in Buffalo.
Chuck taught generations of high school students how to write, give a speech and appreciate words and reading, saying often, "Remember, people, you are what you write!" As a baseball and basketball coach, he was a role model to many, teaching them more than just the rules of the game. He embodied the values of hard work, follow-through and discipline. He taught, coached and mentored students and young teachers with love, humor and always with a funny story.
Mr. Harris, as he was referred to, was a beloved teacher, lifelong mentor, influential coach, dedicated friend and loving husband, father and grandfather. He will be missed.
Submitted by his daughter, Christy Harris Lemak