A "journey of faith" is how Dr. Edem and June Agamah of Springfield describe their 25 years of mission work in Ghana. Since 1996 they have led 38 mission trips to southeast Ghana. What began as a makeshift clinic under a mango tree is now a permanent hospital with over 100 staff who treat 30,000 patients annually. Over 400 volunteers, 55 medical students and 86 doctors, most from the Springfield area, have participated over the years. Thanks to the Agamahs' tireless dedication working side-by-side, people have access to health care and many lives have been saved. "The joy and satisfaction that we get is irreplaceable," said June Agamah.

Ghanaians aren't the only beneficiaries. So are the many Springfield-area doctors, nurses and medical students who have gone on the trips. Dr. Keith Wichterman, a local surgeon, went on the 2008 mission trip with his family. He had volunteered with medical mission trips to Haiti and Nigeria previously. "I've never known anyone to do one of these mission trips that doesn't come back changed," says Wichterman. Dr. Agamah regularly takes local medical students with him. Dozens of students who have participated in the mission trips are now dedicating their lives to careers in medicine and public health. "That's the miracle," says Wichterman.

Beginning the journey
Dr. Agamah's parents traveled from Ghana in 1991 to visit their son while he was a resident in internal medicine at an Evanston hospital. They shared the urgency of problems in Ghana and implored their son to help. But, the extent of diseases and circumstances appeared so overwhelming that he didn't know how he could make a meaningful impact. However, the seed was planted. The Agamahs moved to Springfield with their three young children in 1995. Dr. Agamah joined the Central Illinois Hematology Oncology Center. Concurrently, he committed to helping in Ghana. He has done this as a volunteer for the past 25 years while continuing to work full time as a medical doctor. Agamah is now an oncologist, hematologist and associate professor at SIU Medicine.
The Agamahs incorporated the International Health and Development Network (IHDN) as a medical missions nonprofit organization in March 1996. IHDN seeks to develop effective and sustainable primary health care programs in small towns and villages in the developing world, using the earthly work of Jesus Christ as a model. IHDN is a network of volunteers dedicated to helping poor villages in developing countries by empowering them with medical and public health knowledge and faith in God. IHDN follows a philosophy similar to the principles of the World Health Organization: "Health is a state of complete physical, mental and social well-being and not merely the absence of disease or infirmity." Several Springfield-area doctors serve on the IHDN board of directors.


Their first mission trip in April 1996 was eye-opening. Dr. Agamah grew up in Ghana and earned a medical degree from the University of Ghana Medical School in Accra, but he didn't know the magnitude of the problems in his native country. He came to the U.S. in 1987 for graduate studies at Louisiana State Medical School. While there he met his future wife, June, who had moved to New Orleans from her native country of Guyana in South America.
A friend introduced them, thinking they were from the same country; they were actually born an ocean apart. They bonded over their mutual love for God and shared passion to become more like Christ. When they married in 1988, they knew they were called to serve God. With their diverse network of friends and family, their wedding was a vastly multicultural event. Bringing the world together and serving God have been constants in their lives ever since.
On their first mission trip to the poor village of Agbozume where Dr. Agamah's parents lived, they traveled with 93 suitcases full of over-the-counter medicines, medicines donated by friends and colleagues, baby food and diapers – and their three children who were five and under. Dr. Agamah's father, a highly respected bank manager, set up a makeshift clinic in a building and under a mango tree with bedsheets hung to separate patients. June jumped in and overnight became a nurse's aide. Dr. Agamah saw patients with malaria. Many were seeing a doctor for the first time. The number of patients was overwhelming, the experience was exhausting and initially he said he wasn't coming back.
That was not acceptable to his mother, whom Dr. Agamah describes as a tiny woman filled with wisdom and spunk. She told him to "continue to pray and that God will guide us." Indeed, he did not give up. He read about other successful efforts, and they returned to Ghana in 1998 with a large group of nurses, doctors and friends from Springfield, Memphis and New Orleans. His parents' home in Agbozume served as a clinic with the lab in the kitchen. Here they saw patients and also trained other health care workers. They taught people how to prevent malaria, checked blood pressure and hired a young doctor who was inspired to do mission work. For several years they returned annually and saw over 5,000 patients each year.
In 2002, the doctor they had hired to staff the clinic left to work in a hospital elsewhere and the clinic closed. The Agamahs continued to travel to Ghana every year, packing suitcases with supplies. Dr. Agamah's father was working to establish churches in remote villages, through the Evangelical Presbyterian Church of Ghana. They accompanied his father, providing medical services in poor, rural areas of Ghana. For many, this was the only doctor they would see all year.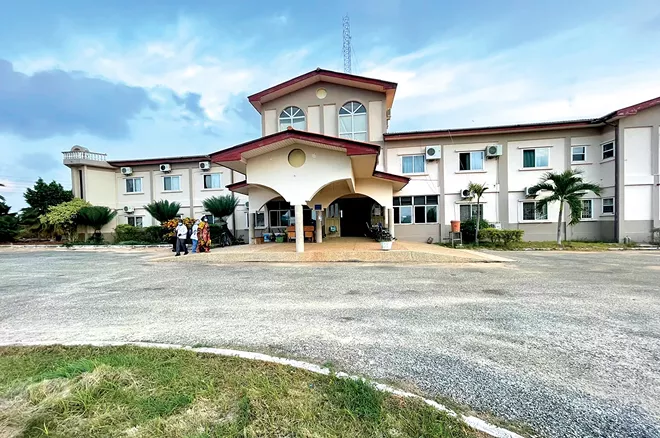 Building a permanent hospital
In order to provide a more permanent facility, the Agamahs started looking for land. They committed their family savings and in 2006 purchased 23½ acres in the bush at Weta-Agbozume, which they donated to IHDN. There was no water or electricity. They obtained earthmoving equipment, brought in utilities and opened the new facility in June 2008. Building a permanent medical facility was a major turning point.
The International Mission Hospital opened as an outpatient clinic. Each village has its own chief, and all of the chiefs were present at the dedication. Dr. Keith Wichterman, a surgeon, his wife, Dr. Lisa Wichterman, a radiologist, and their three children, all from Springfield, were part of the 2008 mission trip and attended the dedication. Keith Wichterman and Edem Agamah were longtime medical colleagues, and they had daughters at Springfield High School who were friends. This mission trip was the largest, with 32 volunteers, mostly from Springfield.
In Ghana, Wichterman performed numerous surgeries, but 13 years later he still says, "The people you serve are the missionaries to you." All three of the Wichtermans' adult children are now working in the medical/public health field.
Opening the permanent outpatient clinic was not the end of the journey. The Agamahs have continued to raise funds to expand IHDN's hospital to address the never-ending needs. Many patients needed to be admitted; a 100-bed inpatient facility opened in 2013. The next issue was where to house nurses, so they built staff apartments in 2014. A women's and children's clinic is being added, and a solar plant was recently installed.
Dr. Agamah notes that it is easier to build a physical hospital than to equip and staff it. Hospital Sisters Mission Outreach in Springfield and the Midwest Mission Distribution Center in Chatham are vital partners, as resources for equipment and supplies. So are Memorial and St John's Hospitals, which have helped procure supplies and medicines. The Agamahs have recruited and helped train medical personnel, providing full scholarships to more than 20 village students from communities served. Beneficiaries must commit to return to work at the International Mission Hospital in Ghana. There are now 113 staff, all from Ghana, including three doctors and 43 nurses. Dr. Henry Xorsenyo Kpeli is the hospital's lead medical doctor, and there are annual medical seminars among the Ghanaian and U.S. doctors.
Now, about 90% of the local population has access to quality health care. People are no longer dying due to high blood pressure and childbirth. The hospital has improved the quality of life while also having a positive impact on the economy, both directly and indirectly, through construction jobs, employment and land development. June Agamah, who has a master's degree in public health from University of Illinois Springfield, works from Springfield as volunteer logistics coordinator. In Ghana she focuses on leadership and staff training, highlighting the importance of building trust, continuing staff development, leading by example and showing empathy, which she considers the most important. She leads discussions among staff about avoiding unconscious bias in hiring.
Wichterman has seen firsthand the Agamahs' selflessness, passion and dedication. "Their authenticity is real," he says. They have managed to keep the hospital going while many other well-intentioned efforts around the globe aren't able to do that. Wichterman also commends the Agamahs for the influence these mission trips have had on young medical students, opening their eyes to a different world and inspiring many to careers in medicine.
The International Health and Development Network has no paid staff in the U.S. The Agamahs have dedicated their lives to this mission work as volunteers. It has also been a family affair. Their three daughters, now young adults, have been a part of the mission trips since the time the youngest was just 1½. Their oldest daughter is a fourth-year medical student at the University of Chicago and their youngest a third-year medical student at SIU School of Medicine.
June says they initially thought developing and sustaining a hospital in Ghana would be too much work. Their faith is foundational, and they have inspired others to contribute to their vision. The Agamahs joined Hope Church immediately after moving to Springfield. Hope Church has been a stalwart supporter, and many leaders in the congregation have participated in the trips. Laurel United Methodist Church, other central Illinois churches and individual donors have also been instrumental. For nine years, June has coordinated an annual "Bringing the World Together" fundraiser. Hundreds of people have volunteered, raising hundreds of thousands of dollars. "Because of success and the grace of God, we will be able to continue," says June. "The most rewarding thing is to see the changes in people's destinies. To see people we've helped go to school and succeed is so rewarding. The lives we've saved is the icing on the cake."
June wears brightly colored clothes, which fit well with her radiant smile and personality. She, however, is effusive about the character and spirit of the Ghanaian people. "Ghanaians are the most hard-working people I know," she says. "They don't complain, and they energize me every time I'm there."
The next mission trips are Jan. 20-Feb. 5 and July 21-Aug. 6, 2022. June encourages those who are interested to "come with us!" If you go, your life will be changed.
"In America we have a lot of blessings," says June Agamah. "Until you experience what goes on elsewhere, it's hard to appreciate what you have here."
Karen Ackerman Witter is a frequent contributor to Illinois Times who enjoys writing about interesting and inspiring people. She was inspired to write about the Agahmas work in Ghana after writing about June Agahmahs' memoir, Caryl's Closet (see Illinois Times April 1, 2021). She was impressed by June the first time she met her at a Sunrise Rotary Club meeting.
Reflections last summer's mission trip
Dr. Michael Fenner and two medical students from SIU School of Medicine, Theodore Agbemaple and Emma Fenner, joined the Agamahs on their 38th mission trip to Ghana last summer. The team took supplies with them and collectively saw 1,066 patients and performed 17 surgeries.
Fenner is a general surgeon who has known Dr. Agamah since the late 1990s. He retired in December 2020 after a 30-year career as a surgeon and accepted the invitation to be a part of the trip. His daughter, Emma, is a second-year medical student.
"Although I've traveled rather extensively and have seen firsthand what true poverty looks like, I had not been to sub-Saharan Africa until just now. Some of what I saw and experienced in Ghana was predictable and expected but other things were surprising," said Fenner. He says that you go with certain expectations to help poor people and a belief you are giving your time and talents, but the surprising thing has been realizing the benefit of what you get back from their kindness.
Emma Fenner believes there is no greater education than traveling. She has a passion for serving under-reached populations and jumped at the opportunity to participate. She saw patients alongside Dr. Agamah. Many had cancer and others typhoid fever and malaria. She had the rare experience of observing surgeries her father performed on patients and assisting him in the repair of an inguinal hernia. This was a memorable experience for both father and daughter. She observed that here medical students are at the bottom tier, but in Ghana people were receptive and listened to what everyone had to say.
The trip was of special significance for Theodore Agbemaple. He was born in Champaign and grew up in Springfield. His parents are both from Ghana. His father and Dr. Agamah were in medical school together in Ghana. Agbemaple participated in the mission trip as a medical student and also had the opportunity to meet family members for the first time. He had been to Ghana when he was 12, but the mission trip allowed him to connect more deeply with his roots. It also made him realize how grateful he is to live in the U.S.
Both Fenners saw firsthand how much work goes into maintaining the hospital in Ghana. Dr. Fenner knows Dr. Agamah as a fellow doctor but says knowing how to treat cancer isn't enough to sustain a hospital. He has to wear many hats to organize, troubleshoot, train and work with staff, and trust people to keep things going when he isn't there. Emma Fenner observed that Dr. Agamah always asks how everyone is doing – making sure staff and patients are content and happy. June is a big inspiration working behind the scenes. Emma says going there makes you realize what we take for granted and how lucky we are in the U.S. in access to health care, even with our own problems.
The team met and cared for adults and children with serious diseases, with no CT scanner, ICU or access to advanced medical technologies. "But, I was mistaken in assuming that Ghanaian health care providers are totally unable to care for their countrymen when the American doctors are not there," said Dr. Fenner. "The local physicians, physician assistants, nurses and support staff are proud men and women, very capable and very much overworked. We all learned from each other and endeavored to provide the best care possible to our patients."
After returning home, Fenner was sure he would not do such a thing again. However, he found he missed the work and the people and plans to join the Agamahs on their 39th mission trip to Ghana in January 2022.
– Karen Witter