Julie Staley started Spencer Films two years ago and has been hard at work on several projects. Just completed shooting in Los Angeles is The Lie, a short film about heroin addiction. Staley says, "This addiction is affecting many, but we don't make strides to get ahead; more momentum is needed, and the film helps show that."
A documentary that has taken three years to produce is Field of Gold, the story of A.E. Staley, great-grandfather of Julie's husband, Mark. A.E. Staley Sr. created the Decatur soybean company that became the #1 soybean producer in the world., who created the Decatur soybean company that became the #1 soybean producer in the world. The project came about when the Hieronymus Mueller Museum in Decatur wanted to include something about Mr. Staley.
"This is a rags to riches story," Julie Staley says. "A.E. Staley grew up barefoot in North Carolina, was faced with taking care of the family after his father died when Staley was only 15, and he went on to immense success in the agribusiness empire." The documentary doesn't just look at Mr. Staley's life but also serves as an inspiration for others. "He had tragedy and hit brick walls, but we want to show how he overcame them," Staley says. "He had a dream, a vision and a goal, was trusted and showed integrity, all which led to his success." Spencer Films has signed Emmy Award-winning narrator Peter Coyote to the film.
Julie Staley has worked for over 30 years in TV and news reporting but hadn't done much in film. In college she participated in musical theater, and she grew up knowing the music scene through her father. He toured with The Who and Grateful Dead, invented the electric talk box used by Peter Frampton, and has a display in the Rock and Roll Hall of Fame.
Turning to production fits with Julie's interest in arts, culture and history. She produces a video newsmagazine called "In Focus" for WSEC/WSIU-TV once a month.
In addition, Staley also runs Spencer Theater Company, producing plays. Her company's production of The Audience had a successful run at the Hoogland Center for the Arts in October. The company's next play is Driving Miss Daisy, directed by Chuck McCue, which will run at the Hoogland Center for the Arts during the first two weeks in February.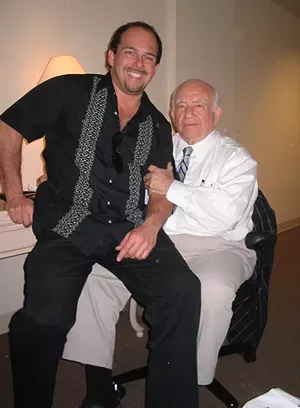 Brandon Austin of Springfield owns Twenty One Seven Studios, specializing in wedding films and music videos. He also owns Grateful Coffee Company on Toronto Road in Springfield. He has combined his interest in producing video/TV commercials and writing music with his experience as a shop owner to produce Minimum Wage – The Sitcom. In the episodes – two completed, one about to be filmed – the setting is a failing, local coffee shop, and the situations focus on the activity between the boss and the clients. Austin plays the crazy boss. In one episode he fires a worker, and in another he interviews a series of applicants – most with issues that make him turn them down. Joe Crain, the former WICS-TV weather personality, plays one of the applicants. The shows, funny and realistic, are available on YouTube and Facebook.
Eric Hector has owned Heroic Age Studios in Mt. Zion, near Decatur, since 1992. As a student at Millikin University in Decatur, he studied commercial art and design and landed an internship with Marvel Comics. That led to his own studio offering artistic services for Marvel, Disney, ABC and National Geographic. He developed a new technique for comics, which he explains: "Most old comics were printed looking like dots, but I developed a smooth look using Photoshop. Today, that is mainly how comics are printed."
Currently, Heroic Age is in post-production on a 90-minute horror film called Trick and Treats, written, directed and produced by Hector. Tim Lynn shot and edited the film. The plot follows many twists and turns, taking a fairy-tale approach, using a pumpkin that talks in people's heads, causing them to act in horrific ways. The cast of over 100 is joined by two well-known actors, Malcolm McDowell and Gary Busey. McDowell is the voice of the pumpkin. Is it real? Or just what people hear in their heads? Gary Busey believes it is real. Is he crazy? Is there something that is possessed? Strange things occur for sure.
Over 80 computer-generated special effects are being added, and then Hector will shop it around. He already has interest from several groups that want to watch the film. Hector also teaches at Millikin; this semester his class focuses on horror screenwriting.
Robin Christian is the executive director and producer of Dreamscape Cinema, an independent film and video company with locations in Champaign and in Beverly Hills, California. He has produced several films with the late Ed Asner, who died in August this year. Those films include Crab Orchard (2005), in which Asner plays a grandpa, plus a documentary/drama about old-fashioned brush making in which Asner is the brush maker. Christian is in post-production with A Fargo Christmas Story, another movie with Asner. They filmed partly in Fargo, North Dakota, and partly in Illinois. One scene was shot at Del's Popcorn in Mt. Zion in January 2020. Christian says, "We had no snow when filming was going on. We had to make fake snow."
Another movie with Asner will be coming out next year. Automouse will be a kids' movie; Asner is the voice of the pet dog, and the plot follows a toy mouse that thinks it is real. Christian says, "The movie follows Route 66 when a mom is taking gifts to her family in Santa Monica, and a toy breaks open."
Christian had been a manager of grocery stores for several years, then worked for an ad agency, and in his 30s started his own company, then called Dreamscape Design. He did multimedia work for major companies such as NASA and Boeing. He was writing and directing 30-second commercials and decided to follow a longtime dream, to make movies. So, in his 40s he started writing. His first screenplay took eight years, but it has paid off. Today he has over 100 screenplays to his name, producing full-length commercial films with well-known stars in the productions.
Disconnect (2010 – a college girl finds a phone and talks to her dead mother), Act Your Age (2011-an actor out of work makes himself look old to land a part), and C.O.R.N. (2021-teens run into a cult during Halloween) are movies that can be found on Amazon or Netflix.
Dean Williams of Springfield has been involved in film for many years, and in 2005 helped found the Central Illinois Film Commission (CIFC), a nonprofit 501(c)3 membership-based group that helps promote the area as film-friendly. Williams has served as president of the group and has worked on many films, often shooting still photos for movies such as Caddyshack and many others. He welcomes the opportunity to share all that is happening.
The latest productions have included the the Sangamon County Bicentennial video of historic places and people who shaped the area. "We have included historic facts from our area such as the Donner Party, the Trail of Tears and others." Another video is about the Sangamon Ordnance Plant in Illiopolis that served as a munitions manufacturing plant during WWII. A third project is a just-finished film, Now I Know Hate, which is a fictional story about bullying during the pandemic, filmed with a crew of 125.
On Jan. 8 at the Mt. Zion studio the group will unveil the film by Hector, a second gathering of filmmakers that showcases the many artists in the area. "So much is happening," Williams says. "Recently Netflix bought City Space Studio in Chicago that will open up many new opportunities for many artists."
Cinda Ackerman Klickna of Rochester discovered interesting and talented area producers and directors while writing this article.