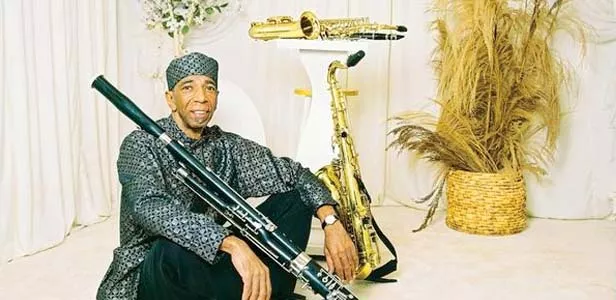 For those of you lucky enough to have heard Henry Miles play the saxophone, enough said. For those of you unfortunate few who haven't, please make the effort soon. Henry recently was diagnosed with a terminal illness and musicians, friends and fans have organized a couple benefits for the brilliant musician over the next few months.
When I think of Henry on the sax I get emotional. Playing one Sunday at the Brewhaus I heard a beautiful sax singing behind us and knew in an instant it was Henry. The man captures a tone all his own, resonating a deep and penetrating sound filled with passion and verve that expresses a sense of beauty and purpose beyond average comprehension. He enters a superb and distinct world where music meshes with soul and reigns supreme as a bearer of love on earth.
Hey that may sound a bit too flighty, but if you've ever heard Henry play and felt his music enter into your being, you too might be gushing with superlatives in a permanent state of hyperbole. I've got a feeling he always had an ear for tone and a sense of style, but he didn't always play the saxophone.
"My first playing was on the guitar and drums when I was five with my parents at church," said Miles. "When I was eight I switched to saxophone 'cause they didn't have no guitar in band at school."
Henry moved to Springfield for his high school years, attending Feitshans. After some time at SIU-E and a stint in the military, he hooked up with a bunch from Indianapolis called the Ebony Rhythm Band. The group relocated to LA in 1971, became the Ebony Rhythm Funk Campaign and hung in what had to be a very cool and incredible scene with similar artists like Rufus, the Commodores, and Earth, Wind, and Fire. Their first LP, Reach for It produced by Wayne Henderson of the Crusaders, came out in 1973 as they worked the circuit, opening for then hot acts such as Three Dog Night, Dobie Gray, Curtis Mayfield, and the Grass Roots.
Soon the band returned to Indianapolis and ERFC toured constantly opening for major acts, including a stint backing Al Green, produced another LP and a single, then slowly lost momentum and ceased as a functioning band by 1980. In the 21st century the New Ebony Rhythm Funk Campaign reorganized with all original members from various incarnations of the 70s band. Check out a live video recording of the July 2007 reunion gig where the band does a sizzling version of "Watching You Watching Me," on the group's MySpace page. Henry is hanging out at the back of the stage wailing on the sax.
Miles returned to Springfield in 1985, playing with several different artists locally and around the Midwest right up to the present. Currently he's recording original music in Chicago to be "something for the archives, like my musical legacy," called Oh, Henry with intentions to have it available to the public soon. He performs with Frank Parker nearly every Monday for the Jambalaya Jam at the Brewhaus and works with other musicians including Adrian Muex, Sr., who helped to organize the benefit this weekend. Stay tuned for a similar fundraiser scheduled for Oct. 10 at the Northender VFW on Stockyard Road.
When I asked Henry for some words directed to the Springfield community, he, not surprisingly, just encouraged people to "come on out and enjoy the music and good times and bring an instrument to jam with us."
Isn't that like usual, Henry? "It sure is, yeah, it sure is."
Please attend A Benefit for Henry Miles at Touch of Class, 7 p.m. to 1 a.m., Sat., Sept. 12. A $10 donation is requested with advance tickets available at Brewhaus, Robbie's, Touch of Class and Trout Lily Café. Get more info at
http://henrymilesfund.blogspot.com/
or call Adrian Muex, Sr. at 217-502-3702.
Contact Tom Irwin at tirwin@illinoistimes.com.