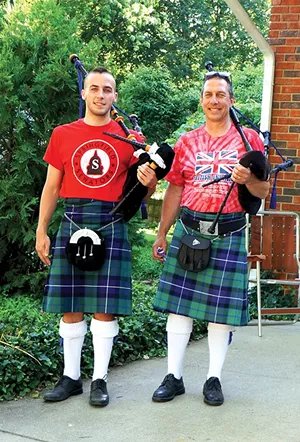 Welcome to July 2020, and more specifically, the Independence Day holiday weekend. What a shame that when July 4 actually falls on a Saturday, we happen to be in the midst of a global pandemic disrupting our scheduled fun-in-the-sun daily lives. But that seems to be the norm for this year and the least of our concerns concerning the seriousness of this matter.
Speaking of the damn pandemic, let's take a moment to thank those working every day and night to combat this thing and to send our best to all directly reached by the virus. Recently some in our music-going community were affected when an employee at a local club tested positive for COVID-19 after bartending while folks were there enjoying bands. I don't need to go through the details of the situation as they're out there for you to peruse, and I purposely did not identify the venue, because even though it's public knowledge, it very well could have been any place that's open. Please follow the precautions set up for your safety and that of others as well, and do so with respect and decency. We all thank you for your consideration.
In the local heroes' department, father-and-son bagpipe team, Damon and Aidan McParland, have piped over 35 (and counting) outdoor, socially distanced, live neighborhood shows since May 11. Coordinated through their duo name, United We Pipe, the public pipers have raised over $7,500 in donations for a local COVID-19 response fund by playing for birthdays, graduations, anniversaries, demonstrations, office parties and just plain old get-togethers and gatherings, all while following proper guidelines. This Friday, July 3, at 7 p.m. CST, the two go international with a live stream from the UWP Facebook page to Springfield's sister city in Ashikaga, Japan. Now gaining national recognition from an SJ-R article that was picked up by wire services, the kilted, non-pied pipers are quickly booking up July, so drop 'em a FB message (or use UnitedWePipe@gmail.com) and get some proper piping in your neighborhood. Dad Damon explained this idea all began with a desire by recent high school grad Aidan to help out during the shelter-in-place time and that sometimes daughter Emma joins in with Celtic dancing, as do other local dancers. Then he joked, "Bagpipes are made for social distancing - no one wants to hear them from less than six feet away!", which is really funny, and mostly true.
With lots going on this weekend, and lots not due to the pandemic, watch yourself and enjoy some of the wonderful music out there. Here's a huge shout out to Chicago blues guitar legend and Australian native, Michael Charles, who with his band plays at Hill Prairie Winery on Sunday, July 5 (2-5 p.m.). One of the greats, this is his first time back performing live since early March and for an international touring, award-winning blues artist with decades of playing on the road, that's a big deal. Jumping on ahead to next Wednesday, the Lake Council's Rumble Around the Lake, which like many planned music series, took a big hit this year, finally kicks off on July 8 with Exit 52 Acoustic at the TRN Club. Upcoming Wednesday shows feature Mary Jo Curry at Aqua Sports (July 15), After School Special at the Elks (July 22), Live Wire at Sangamo Surf Club (July 29) and Off the Wall at Blue Ridge (Aug. 5) with a few more to be added soon. Doesn't it feel good to have some music shows to plan ahead for? Take care, have a mighty fine Independence Day, and see you next week.