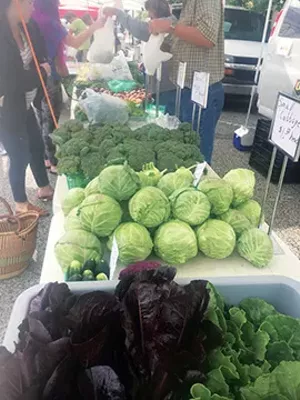 I've often wondered why, amongst the superfood dino kale and Brussels sprouts craze, old-fashioned cabbage hasn't been more celebrated. Versatile, inexpensive, nutritious and only 22 calories per cup, cabbage packs the same nutritional punch as its more popular cousins. In fact, all the cruciferous vegetables are rich in fiber, vitamin C and inflammation-fighting anthocyanins.

Under his tent at the Old Capitol Farmers Market on a recent Wednesday morning, farmer David Gregory, of Gregory Orchard and Gardens, had perfectly pale green spring cabbages arranged next to fresh green broccoli, kohlrabi and new potatoes. Mr. Gregory is one of my favorite vendors at the market, and he seems to have a knack for growing especially lovely cruciferous veggies, as well as rainbow-colored beets and radishes. He told me that the petite cabbages displayed before us were started in his basement back in March, then transferred into his greenhouse to be nursed along before finally making their way to the field. "These could actually be about time and a half as big. This weather…everything is stunted. The rain compacted the soil so bad, things are just not growing like they should." In spite of the poor weather, Gregory also had Napa cabbage for sale, a crisp, romaine-like cousin of the round garden cabbage, alongside red and green romaine and butterhead lettuce, fresh snow peas and spring onions.

Gregory grows four types of old-fashioned cabbage on his farm in Lynnville, Illinois, including anthocyanin-rich red cabbage, which will be ready later in the season. "Cabbage likes a cool start, and then it really plumps up when you get that hot humid weather." The early spring cabbages like the ones available at the market that day are the best for making delicious, crunchy slaw, which is how Gregory said he likes to enjoy cabbage. A surprising way to enjoy the fresh spring cabbages is to tear the leaves into potato chip-sized pieces and serve them with a quick teriyaki sauce. I remember being served this as a freebie appetizer in a trendy New York sushi bar years ago and being blown away by how tasty simple raw cabbage "chips" could be.

As the season progresses I'm looking froward to all sorts of cabbagy preparations. Sautéed cabbage is one of my favorite quick sides, and I love how it can be customized to accompany almost any cuisine. My great-grandmother would sauté sliced cabbage and onion with butter in a skillet, before seasoning with fresh dill and a dollop of sour cream. I often put an Indian spin on that dish to serve as a side along with butter chicken and basmati rice. After melting the butter in the hot skillet I add a teaspoon or so of whole cumin, mustard seeds and turmeric and cook it for about a minute or so before adding the cabbage and red onion, to which I've added garlic (granulated works fine if you're in a hurry) and a hefty pinch of garam masala, a mild Indian spice powder. I'll sauté it until the cabbage is crisp tender, then finish with a dollop of Greek yogurt and a shower of chopped cilantro. Southern-style smothered cabbage is a similar preparation and one of the simplest and most delicious ways of enjoying this humble vegetable. Sliced cabbage and onion is slow-cooked in a little bacon fat or butter until it is golden and sweet, almost resembling carmelized onions, perfect to serve alongside smoky brisket or grilled chicken.

Scalloped cabbage
If you have picky eaters who are reluctant to eat their veggies, a luscious coating of homemade cheese sauce is a good way to entice them to try new dishes. It's a cheap trick, but it works.

1 medium sized head of cabbage
¼ cup butter
2 cloves garlic, minced
¼ cup flour
½-1 teaspoon paprika or Cajun seasoning ( I like Prudohmme's No Salt Seasoning. )
2 cups whole milk, warmed
4 ounces cream cheese
2 tablespoons mustard
8 ounces grated cheese, such as cheddar, Parmesan or gruyere
Salt and pepper to taste

Wash the cabbage and cut it into six or eight wedges. Blanch in boiling salted water for 3 minutes (or microwave in a glass dish with about ¼ cup water for about 4 minutes), then plunge into an ice bath to stop it cooking further. Remove from the ice bath and drain.

Preheat the oven to 375 degrees and butter a 9x13-inch baking pan.

Melt the butter (go ahead and brown it for an extra flavor bump!) in a saucepan over medium heat and add the garlic. Cook until the garlic just sizzles, then add the flour and paprika or Cajun seasoning. Stir until the mixture bubbles and turns a pale golden brown, then whisk in the warm milk. Continue to cook, stirring, until the mixture thickens and begins to bubble. Remove from the heat and add the cream cheese and mustard, whisking until incorporated, then add the cheese and stir until melted.

Arrange the cabbage wedges in the baking dish, then pour the cheese sauce over the top. Top with more grated cheese and a dusting of paprika, if desired, then bake in the preheated oven for about 45 minutes, until brown and bubbly. Serve with chopped parsley, if desired.