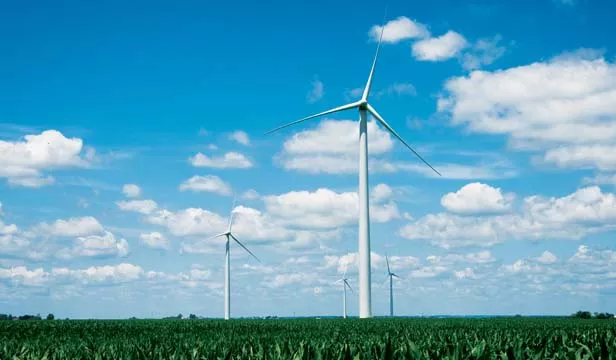 As a cool summer breeze blows over the vast farmland outside Hopedale, about 50 miles north of Springfield, the whisper of rustling corn leaves almost drowns out the soft, intermittent whooshing sound of three gargantuan fan blades slowly slicing through the air. Four hundred feet above the cornstalks, the fiberglass blades turn a generator capable of producing 1.5 megawatts – enough to power more than 300 homes. There are 67 sets of those blades towering over the flat landscape, forming a vast grove of slowly-spinning wind turbines that together can produce 100 megawatts of energy.

The turbines are part of the Rail Splitter Wind Farm in Logan and Tazewell counties, owned and operated by Houston-based Horizon Energy. The farm creates enough energy to power an estimated 30,000 homes and is one of 14 commercial wind farms in Illinois that together can produce up to 1,848 MW of energy. Now, a wind farm project planned for Sangamon County could dwarf the Rail Splitter project and create enough energy to power about 80,000 homes.

The Springfield-based American Wind Energy Management Corporation seeks to plant its flag in Illinois' dark soil with 200 wind turbines west of Springfield, each with the capacity to generate 2 MW, for a total of 400 MW. AWEM's sister company, European Wind Energy Management Corporation, already has three wind farms in its native Germany, and AWEM is planning another wind project in Logan County north of Sangamon County that will produce a potential 420 MW. To develop the projects, AWEM is partnering with California-based Oak Creek Energy Systems, which has projects under development totaling 1,574 MW in California.

Illinois is already sixth in the nation for wind energy capacity, and production is growing. At least seven wind energy companies operate in Illinois, and almost all of the state's 1,848 MW capacity was added in the past seven years. In addition to the 14 existing commercial wind farms, 64 more wind farm projects are in the works, which would add almost 12 gigawatts of wind capacity for Illinois – enough to power an estimated 3.6 million homes. That doesn't include Illinois' numerous small wind farms generating less than 10 megawatts, most of which are controlled by school districts and municipalities.

The growth in wind isn't limited to Illinois, either. The United States and the world as a whole have vastly increased wind energy capacity in the past two decades. In 1999, the U.S. had about 2.7 gigawatts of wind capacity, but that number ballooned to 35.2 gigawatts by the end of 2009 – an increase of more than 1,200 percent. Meanwhile, global wind capacity has jumped 555 percent from 24.3 gigawatts in 2001 to 159.2 gigawatts by the end of 2009. The World Wind Energy Association expects global wind capacity to reach 203.5 gigawatts by the end of 2010.

Chris Nickell, vice president of site establishment with AWEM, says a wind farm in Sangamon County would offer new jobs, millions of dollars in property tax revenues and renewable green energy that satisfies current and future demand for electricity. That's not to mention the profit for landowners who rent their land to AWEM. The company will lease about 25,000 acres of land from local landowners for the project, with each receiving about $100 per acre per year, plus between $3,500 and $4,000 for each machine annually, based on the gross revenue of the project. That works out to somewhere between $12,000 and $14,000 per landowner each year, Nickell says, adding that AWEM has already contracted about 19,000 acres for the project.



David Sinn, a Tazewell County farmer and tour guide for the Rail Splitter Wind Farm
near Hopedale, talks about the benefits of having a wind farm nearby.


The 200-turbine project will also generate jobs beyond the initial construction phases, he points out. Every group of 100 turbines requires at least 15 permanent maintenance workers, Nickell says, as well as office staff to handle administrative duties and oversee the wind farm's operation. Additionally, AWEM is partnering with the Capital Area Career Center and other schools to develop training programs that will fill the new jobs with local workers.

"We don't want to build a wind farm and then have to bring in people from Texas to run it," Nickell says. "We'd rather hire locally."

Sangamon County would also benefit from the property taxes paid by AWEM for each turbine. Nickell says each turbine is valued at approximately $360,000 per megawatt, so a two-megawatt machine is assessed for tax purposes at about $740,000.

"If we put up 100 machines in the first phase, that's like 100 three-quarter-million-dollar houses going up," he says. "There will eventually be 200 turbines, so you can imagine the tax revenue that comes with that, not only for the county, but for the school districts, roads, police…"

Producing renewable green energy locally is another plus, Nickell says. Wind power requires no fuel and produces no emissions, Nickell points out, so it qualifies for federal Renewable Energy Credits (RECs). The federal Environmental Protection Agency allows energy companies that burn fossil fuels to purchase RECs to offset their carbon footprints with renewable energy sources.

"Companies like Ameren, CWLP, anyone burning coal have a benefit for buying wind power, because they also buy the RECs that come with the power," he says. "We haven't signed a contract to sell the power, but if we're able to sign a contract with CWLP and/or Ameren, that power will then be flowing into the local power grid. CWLP actually buys wind power right now from a wind farm in Iowa. We could sell our power to the TVA (Tennessee Valley Authority) or ComEd in Chicago, but we'd rather deal with local entities."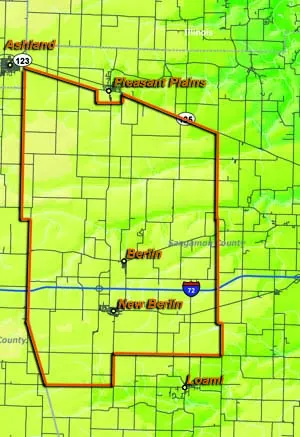 Wind power is also an investment in the future, Nickell says. He explains that electricity demand is highest at breakfast, lunch and dinner, and it then falls off at night. If electric cars become more common, however, the overnight drop in demand will likely disappear because families will probably recharge their cars during the dark hours – which is exactly when wind power is most productive, he says.
David Sinn, a farmer and landowner in Tazewell County, has wind turbines on his family's land within the Rail Splitter wind farm, and he acts as a tour guide for Horizon Wind Energy.
"They've done a lot of good for our county," Sinn says, adding that Horizon paid to upgrade county roads, repaired broken field tiles and contributed enough money to the county to build a new local township building.
"Each windmill generates $13,500 in real estate taxes for our schools and the county," Sinn says. "The job opportunities have really helped, too. It's a blessing."
Still, not everyone in Sangamon County is crazy about the prospect of 200 wind turbines towering over local homes. In January, Sangamon County Board member Tom Fraase submitted a measure to the board that would increase the county's setback requirement for wind turbines to one mile (see "
A setback for wind power
" Feb. 4, 2010, at www.illinoistimes.com).
Currently, turbines cannot be located within 1.5 miles of an incorporated area of 10,000 people or more, within a half mile of an incorporated area of less than 10,000 people, or in a place that would interfere with contiguous urban development. Turbines must also be located 1,200 feet from non-participating homes, 1.1 times the turbine height from utility lines and public roads, and the greater of 1,000 feet or three times the rotor diameter from other structures.
Fraase says he has since changed his setback amendment for non-participating homes to nine times the height of the wind turbines. Because each turbine will likely be about 450 feet tall with a turbine diameter of 295 feet, the setback requirement from non-participating homes would effectively be pushed to 5,377 feet – 97 feet beyond a mile – under Fraase's proposal. The measure was sent to the county Zoning Board of Appeals, which has yet to act on it.
"To me, the taller (the turbines) get, the farther the setbacks ought to be," Fraase says. "There are going to be residents out there who don't want them, and this is to protect the non-participating residents."
At a public meeting to discuss the possible project on Jan. 25, Sangamon County resident Cathy Bomke said she had gathered about 450 signatures on a petition for greater setbacks.
"We're not opposed to wind energy, but we're concerned about the proximity to homes as it relates to property values, health issues and everything else," Bomke said at the meeting.
New Berlin village president Steve Frank says he isn't opposed to alternative sources of energy, but allowing windmills within a half-mile of the village could hamper future expansion.
"It seems like most of our development is to the west right now, and if the county allows wind turbines within a half-mile, that would restrict us," Frank says.
The 2000 census showed a 30 percent increase in the village's population, Frank says, and although the 2010 census numbers aren't available yet, the village has grown since then.

"If the economy turns around here one of these days, we're anticipating even more growth," Frank says. "We just want to make sure we're not boxed in."

Tim Moore, chairman of the Sangamon County Public Health, Safety and Zoning committee, says Fraase's amendment has been tabled while the committee looks into about 20 different issues associated with wind farm development, including financing, setback requirements, property values and more. For example, Moore says the committee wants to ensure that the county does not have to pay for costs associated with removing each turbine at the end of its useful life.

"We're kind of fleshing out these known problems," Moore says. "We're trying to plug those holes, so Mr. Fraase's amendment has been held until we've looked at these other items. We'd rather be safe than sorry."

The committee will likely discuss windmill issues at its next meeting on July 13, Moore says, and it would then be taken up by the county Zoning Board of Appeals at the following meeting in August. Moore predicts the full county board would consider any changes at its Sept. 14 meeting.

The Springfield-Sangamon County Regional Planning Commission evaluated setback requirements from other counties and concluded in early January that Sangamon County already has the most strict setbacks in the state, though SSCRPC executive director Norm Sims says the commission may still recommend increased setbacks. Sims says the setbacks as originally drafted may have underestimated the growth of small urban municipalities surrounding Springfield, so increasing setbacks beyond a half-mile would allow for more future development. Additionally, the original setback requirements were drafted when wind turbines were much shorter, so the commission may recommend setting a base height for setbacks, and any projects taller than the base height would have to meet a proportionally-increased setback.

Chris Nickell says the Sangamon project is being planned using the current ordinance as a guide, but any significant changes would cause AWEM to reconsider the project.

"The fact that all the surrounding counties have much more 'wind friendly' ordinances would most likely inspire us to move the project," Nickell says, emphasizing that the possibility of moving elsewhere is only speculation.

In the meantime, SSCRPC has attempted to address concerns about the effects of wind turbines on health and property values. County residents have expressed fears about the noise from wind turbines, which some opponents claim can cause mental and physical anguish. A SSCRPC report on wind turbine noise explored peer-reviewed scientific studies on the issue and concluded that, aside from mere annoyance, there is no significant danger related to wind turbine noise and vibration.

"On a clear night, you can kind of hear them," says Katheryn Hall, who lives with her husband, Gale, near several wind turbines at the Rail Splitter wind farm in Tazewell County. "When we do hear them, it's not enough to bother us. When you're inside the house, you don't hear them at all."

Hall says a couple of her neighbors originally had qualms about the Rail Splitter farm's construction, but she hasn't heard any complaints in the year since it became operational.

"We don't have any safety worries or complaints," Hall says. "I actually like them. They're pretty in the morning when the light gleams off of them with different colors. I think they're peaceful."

A different SSCRPC report examined studies of property values near wind farms and found "there is no compelling research indicating that proximity to wind farms results in a decline in property values that is of significant magnitude." However, the report cautioned that much of the available research is of European origin, and wind farms are "typically located in sparse rural communities with few property sales transactions for comparison."

Nickell says AWEM is aware that some Sangamon County citizens have concerns, and the company is already working to minimize the turbines' impact on people, wildlife and the environment. Before erecting a wind farm, the company will do impact studies to mitigate issues like turbine noise, bird collisions and water drainage, he says.

"The landowners are all excited about it, and we've started our environmental work, with biologists doing bird and bat counts," Nickell says. "We've been doing work with the (U.S. Army) Corps of Engineers for waterways, and once we know where we want to put the turbines, we'll do a noise impact study to make sure the decibel limits won't be exceeded at anybody's house."

The same procedure is followed for shadow flicker – the moving shadow cast by turning blades. The county only allows a cumulative shadow flicker total of one hour per year, Nickell says, so AWEM will use a computer model to ensure no houses will sit in the path of a turbine's shadow.

The wind farm will not be subsidized by state or federal dollars, Nickell says, though it will be eligible for a federal Production Tax Credit for the first 10 years of operation. That means AWEM won't receive money from the state or federal governments to build the project, but it will be allowed to subtract part of the cost (2.1 cents per kilowatt-hour produced) from its income tax bill.

AWEM has not yet submitted its permit application to the county, Nickell says, because the company is first seeking approval from regulators like the Illinois Department of Natural Resources, Federal Aviation Administration and others. Nickell says AWEM's goal is to begin construction by late 2012 or early 2013.

"I can't look you in the eye and tell you it's 100 percent certain, but it's looking good," Nickell says. "It's a big step, and we're hoping for big things."

Contact Patrick Yeagle at pyeagle@illinoistimes.com.
For more information, visit http://sangamonwind.com/