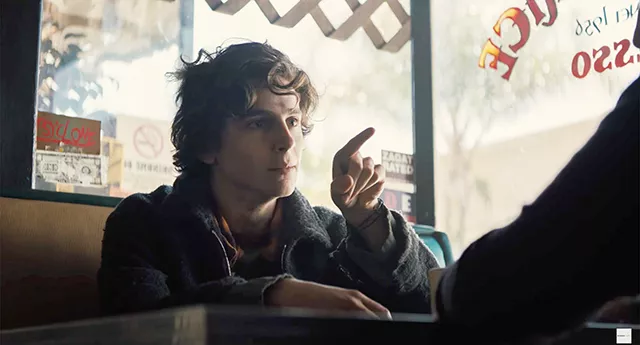 At its best, Felix van Groeningen's Beautiful Boy captures the sense of frustration, rage and helplessness parents feel when they see one of their children caught in the cycle of addiction. Good intentions mean nothing, questions go unanswered, worthwhile rehab centers are hard to find, and the realization that relapses are a part of recovery is crushing. Questioning your skills as a parent becomes a constant, zero-sum game, and having to distance yourself from your child so they can hit bottom and begin their own journey towards recovery proves to be the hardest thing you'll ever do.

Based on the memoir of the same name by journalist David Sheff and Tweak by his son Nic, Boy is at times a harrowing and ultimately heartbreaking journey through the ups and downs of the young man's addiction to meth and his struggle to break it. Employing an approach that utilizes flashbacks to happier times – when Nic was a joyful little boy, a young man of great intelligence, kindness and promise – van Groeningen successfully juxtaposes those moments with the tragedy of present day to effectively drive home why David goes to the lengths he does to save his son.
As the elder Sheff, Steve Carrell does some of the best work of his career, tapping into his constant sense of anguish while struggling to maintain a degree of optimism, all the while knowing the odds are against Nic to succeed. Carrell and Timothee Chalamet (as his on-screen son) must have a meaningful off-screen relationship as the intimacy they display isn't the result of constant rehearsals. There's an authenticity to the scenes they share, and, as a result, a subtle power emerges, particularly during moments of confrontation that ultimately prove devastating.
It's regrettable that Nic's mother Vicki and his stepmother Karen come off as cursory characters allowed only to exist on the fringe of the story. Amy Ryan and Maura Tierney are wasted in these respective roles, each given only a moment or two of note. Another peripheral character who deserves more of a voice is Nic's girlfriend, Lauren (Kaitlyn Dever), a young woman he knowingly pulls in to join his cycle of addiction. One can't help but wonder how much fuller the story would be if their perspectives had been more fully integrated into the film.
There's no question the movie does an exceptional job in rendering the fallout of Nic's abuse and how this becomes a constant that hangs over the lives of all involved. However, the film stumbles in its portrayal of the drug use itself and its immediate repercussions. While scenes of Nic shooting up are never romanticized in any way, they aren't nearly as distressing as they should be. It's as if van Groeningen is ignoring the stone that was thrown in a pond and only wants to focus on the ripples that it cast. In not showing this process in a more realistic manner, he does a disservice to Nic and fellow addicts.
Without a doubt, Boy's message is a vital one and the statistics it shares before the final credits roll are staggering in terms of how widespread the drug epidemic is and how little help is being afforded to combat it. Yet in the end, the film's message isn't as strong as it could be, leaving the viewer outraged but not as emotionally moved as they could have been.
Contact Chuck Koplinski at ckoplinski@usd116.org.