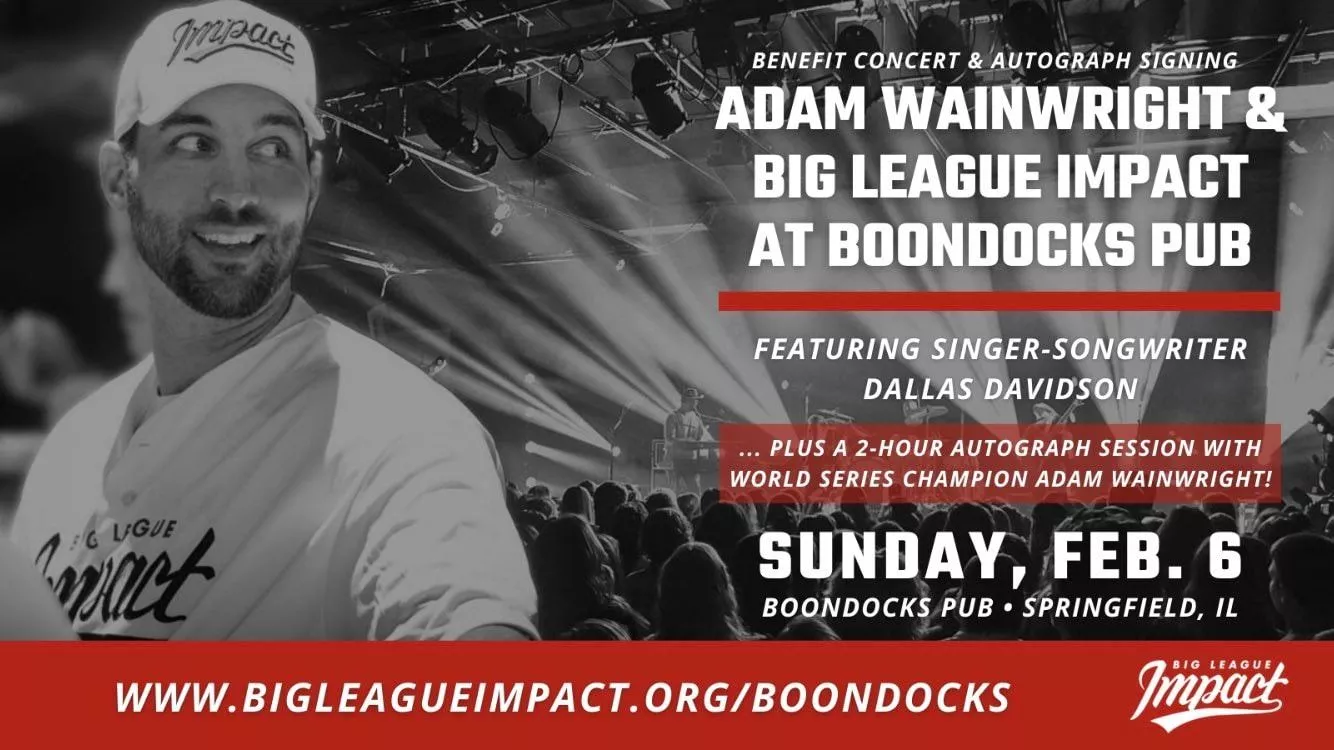 January and February are traditionally months when baseball fans look forward to the opening of spring training and the celebrated day when pitchers and catchers report to training camp. This year that enthusiasm is tempered by a lockout of players that threatens to jeopardize the early portion of the 2022 season. But for baseball fans in Springfield there will soon be an opportunity to at least share a little baseball camaraderie.
Even for non-Cardinal baseball fans the name of Adam Wainwright is well-known. Cubs and White Sox fans who agree on very little would quickly admit that one thing about Wainwright is that they don't want him pitching against their team. Wainwright is the consummate baseball pitcher. In a 16-year career that includes pitching twice in the World Series, Wainwright has won 184 games, lost 105 and has a lifetime earned run average of 3.35. He is a thinking pitcher relying on accurate control and the ability to pitch deep into a game. Twice in his career he has won 20 games in a season.
Wainwright's entire major league career has been with the Cardinals and his connection to the St. Louis community run deep. In 2013 he founded Big League Impact, an organization of professional athletes and other public figures that have raised nearly $7 million for charitable causes in the United States and other countries. In 2020 Wainwright was the recipient of the Roberto Clemente Award, MLB's highest award for philanthropy.
On Sunday, Feb. 6, Wainwright, on behalf of Big League Impact, will be in Springfield at Boondocks Pub, 2909 N. Dirksen Parkway for an autograph signing from 2 p.m. to 4 p.m. Each attendee will have a chance to meet Wainwright and have him sign personal items supplied by the attendees. General admission to the event with the proceeds benefiting Big League Impact are $125 per person. Appearing with Wainwright at Boondocks will be singer/ songwriter Dallas Davidson. He will perform live in concert at 5:30 p.m. on Sunday. Davidson is an award-winning country musician who has written songs for Luke Bryan, Tim McGraw, Lady A, Blake Shelton, Darius Rucker as well as Randy Houser, who is performing at Boondocks the night before Wainwright's appearance. Wainwright is a musician himself and likely will be drafted to come up on stage for a song or two.
Carole Keating, who, along with her husband Pat, is the owner of Boondocks, is one of 12 national board members of Big League Impact, joining the board last November. She lobbied successfully for Wainwright's visit to Springfield when a St. Louis event was canceled. Keating offered her venue as a substitute location and hopes that a large turnout will encourage the organization to have an annual event in our community.
Wainwright said he is pleased with the opportunity to visit Springfield and to bring Big League Impact's charitable endeavors to the community. He hopes it will be a "fun event that hopefully raises a lot of money so that we can keep up our efforts to help people meet their most basic needs." "