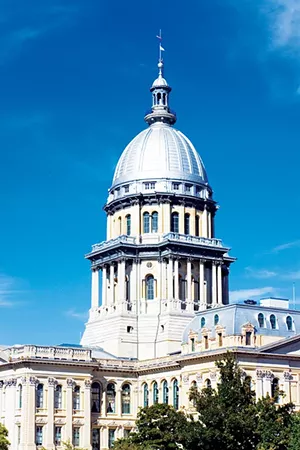 When Capitol News Illinois launched in January 2019, Gov. JB Pritzker had just been sworn in, Michael Madigan was elected to his 18th term as House speaker and the Senate's president was Chicago's John Cullerton.
Now, as our fourth year is well underway, Pritzker is battling a wide field of Republican challengers in hopes of securing a second term, Madigan has been indicted, Cullerton is retired and none of the four legislative leaders are from Chicago.
It turns out January 2019 was a momentous time to launch a news bureau that feeds State Capitol coverage to Illinois' 400-plus newspapers and several of its public radio stations.
Since its beginning, Capitol News Illinois has had more than 2,100 stories published in nearly every daily and nondaily newspaper in the state. There have been more than 65,000 instances of our stories appearing in 457 newspapers with a combined circulation of 2 million.
Our nonprofit, nonpartisan bureau has covered Madigan's indictment among those of other "smaller fish," the legalization of marijuana and sports gambling, state budgets and countless committee hearings, and we've published a few investigative and enterprise stories along the way as well.
And, of course, we've followed all the developments of the COVID-19 pandemic.
While you have likely seen our bylines, here's bit more about CNI: We're funded primarily by the Robert R. McCormick Foundation, the Illinois Press Foundation and a variety of other contributors. We have no agenda, other than covering state government from our offices in the Capitol basement.
We were launched by the Illinois Press Foundation as an effort to supplement the access to Statehouse news for the state's newspapers, many of which had closed Capitol bureaus or lost other access due to financial pressures in the runup to our founding.
Our full-time reporters – Peter Hancock, Beth Hundsdorfer and me – stand side-by-side with the rest of the Statehouse press corps in news conferences and other state government functions, and we send out stories nearly every day to the state's editors.
We also host reporters from University of Illinois Springfield's prestigious Public Affairs Reporting program, which prepares the next generation of journalists for reporting impactful news. Right now, our PAR contributor is Grace Kinnicutt.
I share all this to note that we have even bigger plans ahead for our fourth year, including offering regular news and analysis columns to our readers. It won't be a space for opining, prognosticating or picking winners or losers.
But it will offer our reporting staff another avenue for going deeper on the issues – another goal for our organization as we progress in year four.
That includes producing more enterprise and investigative work regarding state agencies and state government administration. Often we pay less attention to state laws and issues once they leave the legislature, and we'd like to improve upon that.
Hundsdorfer, who joined CNI in November, bringing an award-winning investigative past from her time at the Belleville News-Democrat, has already helped us in that regard.
Her stories on the governor's pardon of confessed arsonist Jerame Simmons (see Illinois Times Feb. 24) drove conversation at the Statehouse for days, and she was among the first reporters at the Capitol to score an interview with new Legislative Inspector General Michael McCuskey.
She complements Hancock, whose steady drumbeat of coverage of Statehouse happenings has helped anchor CNI since its inception. From deep dives into education funding, analysis of nursing home reforms and coverage of the little-known but important administrative rulemaking process, he's written many stories that have improved Illinoisans' understanding of state government.
Kinnicutt is working on impactful stories as well, including on the state's recently enacted criminal justice reform law, which should be published in the coming weeks.
We're now heading down the final stretch of an abbreviated legislative session that's aimed at getting lawmakers out of Springfield by April 8, plenty of time before the belated June 28 primary for the year. Petition filing for that election began March 7.
Also, the final one-month push of the 2022 session comes as a wide-ranging public corruption investigation that snared the ex-speaker remains "active," according to U.S. Attorney John Lausch, of the Northern District of Illinois.
The CNI team will be watching and reporting, so keep an eye out for our coverage and analysis.
Jerry Nowicki is the bureau chief of Capitol News Illinois, a news service covering state government that is distributed to more than 400 newspapers statewide. It is funded primarily by the Illinois Press Foundation and the Robert R. McCormick Foundation. Contact him at jnowicki@capitolnewsillinois.com.