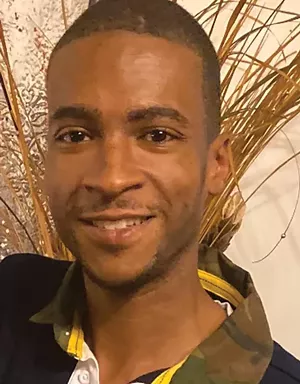 Calvin Christian III, whose battles over Springfield police files won him a six-figure settlement with the city while helping topple former Mayor Mike Houston, is headed to federal prison.
U.S District Court Judge Sue Myerscough on Aug. 25 sentenced Christian to 24 months on six charges of possessing equipment to make phony credit cards and convincing codefendants to use fake cards at two Dollar General stores in Morgan County on March 22, 2015. Six charges that Christian possessed equipment to create phony cards in Macoupin and Sangamon counties were dismissed when Christian pleaded guilty in 2019. A codefendant who pleaded guilty to using fake cards received a 98-day sentence in 2019, another was sentenced to two months that same year and a third got probation, also in 2019.
The defense in Christian's case had asked for one year and one day in prison; prosecutors wanted slightly less than three years. Mark Wykoff, Christian's lawyer, declined comment.
Christian is the son of T.C. Christian, former publisher of Pure News USA, which printed its final edition in July. The younger Christian became a Springfield celebrity of sorts more than a decade ago, when he amassed over 100 traffic citations, mostly issued by Springfield police, and demanded internal affairs files on officers. Police handed him his first ticket in 2007, when he turned 16 and got a driver's license. Ensuing tickets included citations for fleeing and eluding police, reckless driving and at least 19 infractions for driving without a valid license. Christian often failed to appear in court to answer traffic charges.
In a 2013 federal lawsuit against the city and a dozen officers, Christian claimed that police targeted him over a three-year period in retaliation for him filing records requests for police disciplinary files on officers. U.S. District Court Judge Colin Bruce dismissed the lawsuit in 2015, ruling that Christian had failed to pursue the matter.
Christian had more success suing the city of Springfield.
In 2011, Christian, who has filed more than 160 records requests with the city, many concerning police, won a lawsuit filed under the state Freedom of Information Act, with a judge ruling that internal affairs files are public records. The city fought hard, asking for reconsideration at least twice after Christian received favorable rulings. The city paid Christian's attorneys $18,000 in legal fees.
In 2013, Christian won $103,000 from Springfield after requesting every internal affairs file held by city police. He made the request after asking for internal affairs files on former deputy chief Cliff Buscher, who'd been arrested in 2008 in Missouri after allegedly firing a gun while drunk.
Instead of turning over the Buscher file, police shredded it, leading to the six-figure settlement and the eventual ouster of former police chief Robert Williams and former corporation counsel Mark Cullen. Incumbent Mayor Houston, who took heat over the destruction of police records in the episode that became known as Shredgate, didn't make it past the 2015 primary.
While the Shredgate lawsuit was pending, Christian in 2013 won a lawsuit against the city, again for police disciplinary records, with Sangamon County Circuit Court Judge John Schmidt, who died in 2017, rejecting city arguments that release of files could compromise investigations, reveal identities of people whose names should be confidential and result in the release of information deemed preliminary.
"I always liked Calvin," said John Myers, a former Springfield attorney who represented Christian in his lawsuits seeking release of internal affairs files. "He was fearless – a courageous client. He wanted to know what was going on in his neighborhood. He wanted to know what the Springfield Police Department was doing on the east side of Springfield."
When federal charges were filed in 2017, prosecutors said that accusations against Christian in central Illinois were a fraction of his misdeeds relating to possessing equipment that created phony credit cards. Crimes stretched over two years, prosecutors alleged.
Christian was suspected of creating and using phony credit cards in Missouri, Oklahoma, Wisconsin and Nebraska, assistant U.S. attorney John Childress told former U.S. Magistrate Thomas Schanzle-Haskins in 2017. A month before federal prosecutors filed charges, police in Springfield stopped Christian and found 114 fake credit cards and computer gear that contained more than 900 partial or complete credit card account numbers that had been stolen, Childress, who went on to become an acting U.S. attorney in Indiana, told the court when charges were filed five years ago.
Bruce Rushton is a freelance journalist.