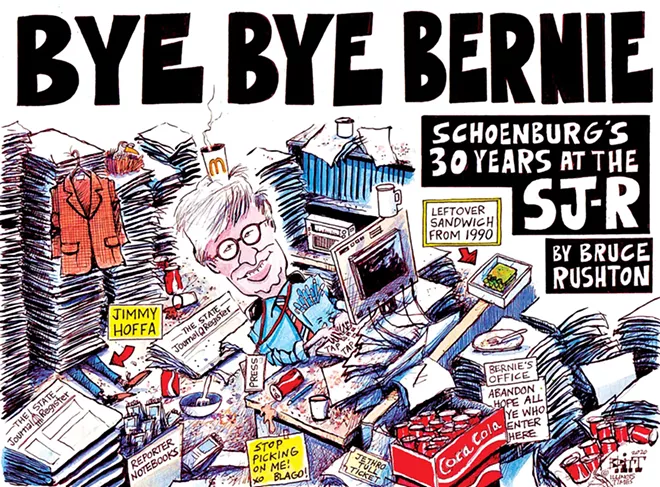 After 30 years at the State Journal-Register, political columnist and reporter Bernard Schoenburg accepted a buyout and left the paper on Dec. 1. He began his journalism career at The Pantagraph in Bloomington and also worked at the Associated Press before coming to Springfield, where he became one of the state's best-known political writers. Following is an interview with Schoenburg that has been edited and condensed for length and clarity.
Q: Tell me about Jethro Tull.
A: This helped get me into journalism. I never imagined myself in this profession when I was, for example, in high school. There was this big push back in the late 60s, early 70s, for science – I thought I would be a science person. I had to declare a major after a year and a half (at University of Illinois). I just picked a major without really knowing what it was, which was public relations. Once I got into a public relations course, there were things about it I didn't like. One of the courses I took was about reporting – I ended up with a teacher who used to work at the Chicago Daily News as a copy editor. He was one of those guys with ink in his veins. He said, "Go out, interview somebody, come back, write a story and turn it in." I did OK in that course. I said to him at the end of it, "Do you think I could possibly work on the Daily Illini?" He said "I think you can." Junior year, I went into the Daily Illini office. I got one assignment, and I did OK on it and they ran a picture with it. I was like, wow, this is cool. Then they assigned me to do one story a week covering a meeting of the Assembly Hall Advisory Committee, because it was a student-fee-supported building. I didn't know what I was doing. But because I was covering Assembly Hall, where they had not only basketball games but concerts, when the call came in to the Daily Illini that there was a fraternity on campus that had sent one of their pledges or something to buy a block of tickets and they were scalping the tickets (I got the assignment). There was also the age of undercover journalism, which is no longer a thing that you do without some ethical questions. I got my roommate, who still lives in Gillespie, to go with me – he was very big shoulders, a strong guy. The newspaper gave me $40 from petty cash. I went to the fraternity, asked for two Jethro Tull tickets, and I was sold them for $40 instead of what should have been $12. Patty Wingert, who was a reporter on the paper who ended up working at Newsweek for 30 years after working for the Sun-Times for awhile, she said, "Do you want help with the story?" So we had a double byline. They ended up ending block sales of tickets and forming a lottery – no longer could a fraternity buy 200 tickets and then have an option to resell them. Everything changed, and Patty and I won the investigative story of the year from the Daily Illini. And I was like, this is something fun. That's how I got started. The bug bit. From then on, I knew what I wanted to do.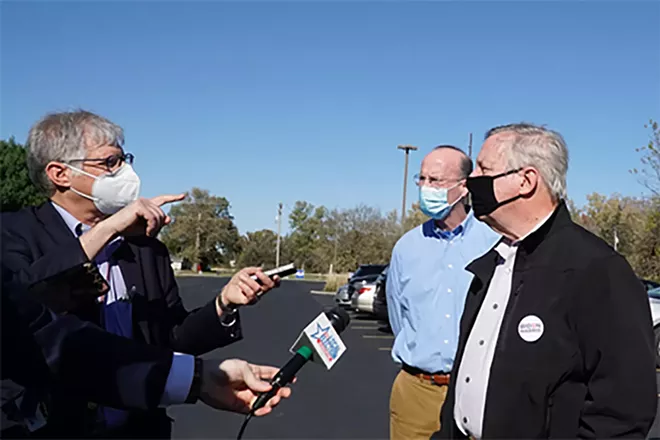 Q: Your name was in the State Journal-Register more than 10,000 times between 1990 and Dec. 1, 2020. How did you stay productive for so long, and how much does hustle count?
A: It's interesting that you use that word. The editor that had the most early influence on me was a guy name Dick Streckfuss. He was the city editor in Bloomington when I started out in the fall of 1976. When I went to interview, it turned out there was another candidate who had interviewed that day. I remember telling Streckfuss: I hustle. I think that helped sell the deal. What I didn't know was how little I knew about day-to-day journalism. I had very little experience in any of the real-world stuff other than my two years on the Daily Illini. But they gave me the chance. I was sent out to an accident on I-55. The cab of the truck ended up hanging over a bridge and down an embankment, and the rest of the truck was on the road and the two guys climbed out of it. I had talked to the guys, and got their names and ages, who got out of the truck and were unhurt. I had taken a nice picture from down in the gully looking up at the truck hanging over the bridge. I got back and Streckfuss asked me: How did they get out? And I said I didn't know – I didn't ask them. He was so upset. You missed the story. The story is people. How do they react to things, what did they do? What would you do? And I actually got in my orange Pantagraph car and drove around town trying to find the truck again so I could ask them, which, of course, didn't happen. It was that kind of impact on a person that he helped teach me how to put into stories.
Q: Your political column was certainly not like, say, the sort produced by John Kass of the Chicago Tribune. How did you settle on that kind of a style where you had condolences, you had congratulations, election predictions? That's not what a lot of columnists do. You also delivered real news, here's who might be advancing locally in political organizations.
A: Part of it was following the past, which was people like Gene Callahan and Jerry Owens and Mike Murphy and Pete Ellertsen and Al Manning and Kenny Watson, who all had been political columnists at the paper. They would do like birthdays and fundraisers and a lot of nuts-and-bolts political stuff, who got jobs and what they were paid. That set part of the tone. Most of my tenure...I was also doing regular reporting. Like David Broder, who actually started his journalism career at the Pantagraph as did I, I was writing stories and columns. To me, that meant I'm not going to give a strong opinion. I'm not going to say who to vote for. I'm not saying who's right on issues. I'm saying what the issues are and what the ramifications are. But I have to be careful because I have to maintain the idea that I will be fair to everybody. It's still a giant thing to have your name in the newspaper. You deserve a chance to have your say. Even in the column setting, I did that. When I covered courts for a year full time in Bloomington, I would see lawyers for both sides. The prosecutor giving the opening, you'd think the guy is definitely guilty, and then the defense attorney would get up and you're saying the guy's innocent. Everybody's got their side. I always tried to put both sides into what I wrote, and that included columns, because I think it's fair that way. I was thinking about this the other day, how important it is to be in the paper. One time when I was on the wrestling team in Evanston (Schoenburg grew up and attended high school in Evanston), the Evanston Review ran a picture of me actually beating a guy from our rival. And they called me Karl Johnson. When I went to Bloomington (the Illinois State University coach) let me play soccer if I took one course. I was working at the Pantagraph, playing on the ISU team, the The Daily Vidette ran a picture of me playing soccer in Hancock Stadium and I was Larry Gackowski. Twice I've been in the paper, I'm in my proudest moments of athleticism, showing I'm a soccer player and a wrestler, and they got my name wrong. It's so important to get it right, because it means a lot to the person. Those are pictures I would have on my wall if they had my name right.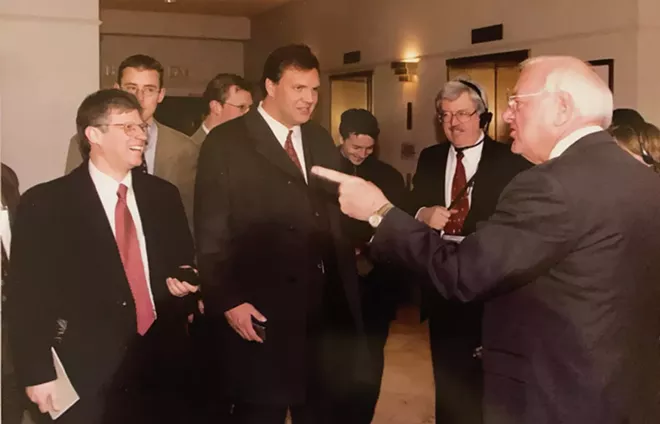 Q: Blagojevich, let's talk about him for a second if we could. That, to my recollection, was a point in time where you reached the conclusion that, hey, this guy isn't up to snuff. Walk me through how your thinking evolved on this and how it was reflected in the columns and stories that you wrote.
A: I've always tried to be fair to people and always give people a chance to respond. Even in stories about him, I tried to do that. Honesty has always been my thing. I like politicians who are honest. I like politicians who are straightforward. I don't like to be used in a journalistic sense. There was one situation where candidate Blagojevich was at the Statehouse in a hearing room and had some senior citizens there, including at least one, maybe more, with the Legion hats on, that kind of thing, talking about health care and what he wanted to do with health care. He did it as a press conference, but there was a room full of these people who were probably arranged by his campaign to be there. We would ask a question and he would talk to them – he's using us to kind of broadcast what he wants to do, the political message he wants to send. There were just inconsistencies. You could tell that he was, I guess, a user in so many ways. At that time, it was a little unusual for a politician of a high rank to call people names. When he was in office and, during the veto session fighting with the legislature, they were restoring money he had cut. He had said they were spending like drunken sailors. He was flying back and forth to Chicago every day. The biggest story on that was, there was no hangar space at O'Hare or anywhere in Chicago. So those state planes had to take off in the morning to pick him up, fly him down, take him back in the afternoon and then fly back to Springfield. And so it was four flights a day on state planes just to get him back and forth, and he did that three days in a row during the veto session. He said he wanted to tuck in his seven-year-old and kiss his baby. It was an indication of his self-absorbed nature. It was just a number of signals, being late to Vince Demuzio's funeral, one that I wrote. He blamed it on the weather conditions in Chicago, but when I checked with IDOT (Illinois Department of Transportation) he had arranged for the state plane, if it was completely on schedule, it would land in Litchfield 15 minutes before the funeral in Carlinville, which is 20 minutes away. He wanted to tell people to buy drugs out of the country when it was illegal at the time. It was a succession of things that just didn't jibe with somebody giving it a serious and realistic effort.
Q: What do you see as the most promising development in journalism in the past 30 years, particularly in political coverage? Conversely, what's the most concerning?
A: What's most concerning is the rise of alternative forms of media that are agenda-based and look, really, like the regular stuff, and the fact now that with social media and with cable channels, people tend to watch what they feel. It seems people sometimes don't care what the facts are but what they want the facts to be. That's dangerous. As far as promising, I guess that there's a lot of good journalism being done at some nonprofit groups. I'm not that familiar with it, but I'll mention what I think Propublica has done, for example, what the Illinois Press Foundation has done with Capitol News (Illinois), which Charlie Wheeler (former head of the public affairs reporting program at University of Illinois Springfield) helped move forward, to fill gaps where local papers have not, just to try to find a model that can keep legitimate, straightforward and fair information coming to your local paper. The big papers in the age of the internet have done well because of their national reach. It's amazing to watch the great reporting that has been done in the New York Times, the Wall Street Journal, the Washington Post, papers that some people think are liberal, but there's also some that people think are conservative that have national reach. Because of the internet, everybody can see them, pay a little bit, and make it worth the while of those organizations to have a bunch of reporters to look into things deeply and find out what's really going on and source it and get the truth and bingo. What's unfortunate is that in the age of the internet where everybody has so much access to everything on their telephone and people under 30 wouldn't even think about picking up a paper in print, there's so much free stuff, that they don't recognize the importance of their local paper, and the local paper doesn't have reach like that. So the model to keep it going is discouraging. You hope that a model is reached that is sustainable. I don't know exactly what the model is yet, but we're trying.
Q: Will you be voting in primaries now? And which ballot will you choose?
A: I think I probably won't, but I don't know. Old habits die hard. I've gone more than three decades without voting in a primary. I don't know exactly what my future holds, other than chilling out for awhile and not listening to three radio stations in the morning to catch the politicians in addition to some of the banter that I like and some of the banter that I'd rather not hear. I don't know if I'll be involved in anything in a public way or not. I'm not going to commit if I would do that and which side I would take. I'm really used to trying to toe the line. People probably have ideas for my column – they tell me what they think I am, and then I surprise people sometimes, too.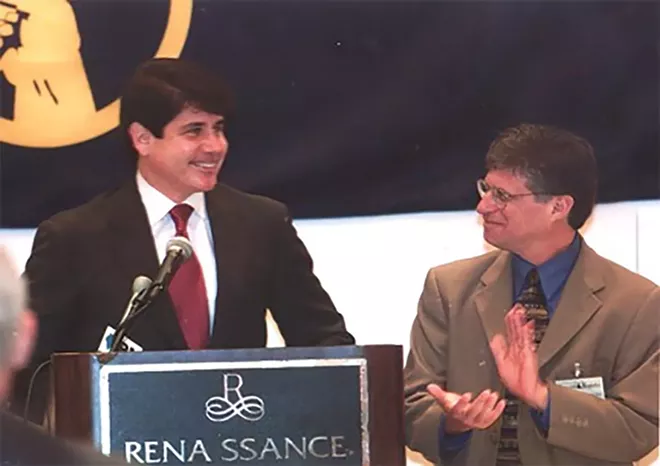 Q: Might journalism be in your future again?
A: As you know, I'm 66. I've been doing this for a long time. The writing has never come easy to me. Just to put together a weekend column, or a column when it was twice a week when other stuff was happening – I'm faster than I used to be. I really knew nothing when I started this. It would take me two hours to write a paragraph, truly. I can write pretty fast, particularly if I'm familiar with the subject matter and the people, but it's hard. Just to prepare for a TV show, I want to read the Tribune, the Sun-Times, I try to read you when you come out, obviously. I read our own paper. I read the Politicos and the Rich Millers. I try to watch TV and listen to radio and catch different stations in the morning so I know what's going on. It's the information that gives you the power to do this right. It takes a tremendous amount of time to get that information. I guess I don't know. For awhile, I'd like to not be that hooked in so I can pay more attention to home and Kim (his wife) and all of that stuff.
Q: Any story in your whole career that was the most memorable for any reason? Any one rise to the top, or is that like asking someone what's their favorite song or record album?
A: I think maybe in the broad scheme of things, challenging Bruce Rauner when he kept saying "The Mitsubishi plant (in Bloomington), nobody would take it if you gave it away." It was a clear falsehood. It had tied into so much of what I'd done in the past, from traveling to Japan to visit a Mitsubishi plant as part of the Pantagraph team. To have a governor who wanted to use it as a political tool to make a statement, but to do it falsely was something I thought needed to be corrected. And taking on Rauner was hard, because you had to take him on a lot, as you recall. It was tough. With Blagojevich and with him, I learned that you sometimes have to raise your voice or interrupt to get the right answer. I like to be respectful. I'm always respectful of the office. But, again, if somebody is going to throw you in a direction where they're just filibustering, you need to get them back on track. And despite the fact that I'm really a shy person deep down, I've had to do that.
Q: I think that some people think this sort of thing comes naturally, that journalists are natural extroverts and that's why they're in the business. How hard is it to confront power and ask those hard questions publicly with the whole world watching?
A: I am not the kind of person who goes up to a celebrity and asks for an autograph, or at least not much. I saw Joe Frazier in Mexico once and got his. I'm a little shy about hero worship or just going up to somebody and taking their time because I know it's taking their time. Journalism has allowed me to have an excuse to ask lots of really interesting people interesting and sometimes difficult questions, like when I asked Michael Jordan how much they were paying him for the Wheaties box and, as I recall, he told me none of my business at the announcement I was covering for the Associated Press (in Chicago) at a YMCA. If there's a controversy, it's part of the deal, and you need to ask. And it is difficult, but it is necessary. I viewed it as my professional duty to ask questions that were uncomfortable and, truly, the ability to confront or the necessity to confront, I find difficult. I don't look forward to it. I have a reasonable trepidation in doing it. But I felt that it's necessary to tell the story because you don't want to let half of the story go untold. My greatest fear in all of these days in journalism was the next morning, if somebody would call me – and of course now with the internet even earlier than that – and say I got something wrong. Part of wrong would be not to put in the spin: There's this recent controversy about this person, and there's nothing about it in your story. There's a recent controversy and they haven't adequately answered it, they should answer it, and that usually works to their benefit, but you've got to give them the chance and that's asking the tough question. I once wrote a letter to my wrestling coach in high school, telling him that wrestling gave me the ability to stand up when you really feel like you should run. Because, when you're wrestling some guy with rippling muscles on the mat, you can't run. You're there. It's similar to that. You just have to stand your ground and take it.