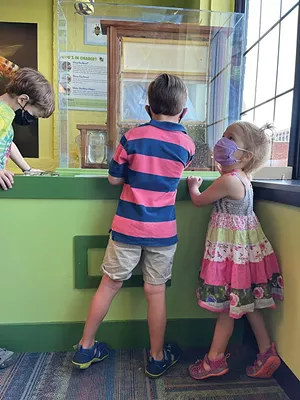 Kidzeum reopened July 3 after a 16-month closure due to the COVID-19 pandemic, and things have been buzzing. Children rushed to climb Active Alex, splashed in the water table and searched for queen cells in the observation beehive. "Real bees? That's so cool!" one girl squealed in delight upon seeing the buzzing beehive.
Children's museums were especially hard-hit during the pandemic. Museums were required to close hands-on exhibits, which meant children's museums remained shuttered longer than other types of cultural institutions. COVID-19 relief funding, along with commitments from community members, helped Kidzeum weather the pandemic. Kidzeum received relief funding through the Payroll Protection Program, Small Business Administration and the Illinois Department of Commerce and Economic Opportunity.
Kidzeum is now open on weekends from 9 a.m.-4 p.m. on Saturdays and Sundays. Additional days will be added based on community demand. The popular Bees, Butterflies and Blooms exhibit, featuring live bees, is back on display. Visitors can also see live chrysalises getting ready to hatch.
Kidzeum is available for birthday party and special event rentals. Existing Kidzeum memberships have been extended. Masks are required in the Kidzeum, per CDC guidelines for educational facilities.
This fall the Kidzeum will partner with Springfield School District 186 to offer a two-week STEAM program at the Kidzeum for second grade students. Rotating cohorts of second grade classes will come to the Kidzeum throughout the school year.
Karen Witter, a regular contributor to Parent, is former board chair for Kidzeum.