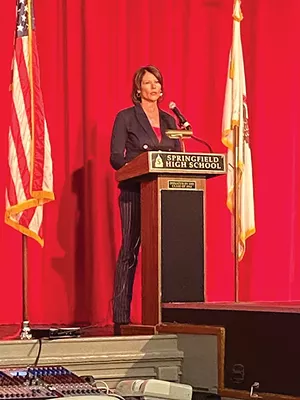 Congresswoman Cheri Bustos stood on the Springfield High School stage addressing students as she accepted induction into the SHS Hall of Fame. She advised the group, "There will be so many opportunities for you. The foundation built through SHS will serve you well and lead to places you may never have thought of. The foundation is starting; let it keep building, and fly from it."
Bustos, a member of Congress from the Illinois 17th Congressional District, graduated from SHS in 1979. She told the students she had taken a tour of the school. "I went by my old classrooms and my old locker, but I didn't remember the combination." She admitted she was not in Advanced Placement classes but was "a decent student." Playing volleyball and basketball throughout high school and in college "was a huge part of me," she said. "Sports taught me teamwork, caring for others, how to lose graciously and how to win graciously."
Prior to addressing the students, Bustos visited several classes. In one class she fielded the question, "How are you handling the lack of bipartisanship in Congress?" She described the ideological split in Washington as "the worst I have seen in my 10 years in Congress," but added, "I come from an area where my constituents expect me to work across the aisle, and I try to do that every day."
She said the recently approved infrastructure bill "is the biggest investment in rebuilding roads and bridges since President Eisenhower started the interstate system. Do you know of Eisenhower?" she asked. Many students nodded yes. She continued, "This bill also adds money for Amtrak and broadband. And now we need to work on the Build Back Better bill." That led to a question about how the bill would help the students. Bustos said, "We need to add universal preschool, increase teacher pay – Are any of you planning to be a teacher? We need to make sure people have affordable health care and prescriptions. All of these will help families and you as you enter the workforce."
In another class, she was asked if she was intimidated the first time she stepped into Congress. Bustos shook her head no. "Actually," she admitted, "I was more intimidated when I first ran for Congress. There are so many issues to learn. But, my father told me I was smart and not to worry. I always know there are things I may not have an answer for, but I ask people for their thoughts."
A student asked about her typical day. Bustos is up at 4:30 a.m., goes to the gym and reads while on a bike or treadmill. She usually meets with someone for breakfast and lunch. "I like to meet with people for meals as that is a way to talk about issues, hear different viewpoints, build relationships, and find common ground." The day includes many meetings reviewing bills. She has two rules: don't start the official day until 7:30 a.m. and at 5 p.m. Friday night, it is family time.
In the various classes, Bustos described her journey from SHS to Congress. She attended Illinois College in Jacksonville, where she continued in sports, and then the University of Maryland for a degree in government and political science. She came back to Illinois and worked for the state Senate. "I hated it," she said. "The area I thought I wanted to do was not making me happy so I went back to school at University of Illinois in Springfield for a master's in Public Affairs Reporting." That led to a job as an investigative reporter in Moline, which she loved. "I did that for 17 years." She then worked as vice president in a health system for 10 years. She has now been in Congress for 10 years and does not plan to run again. "I don't know what I will do, but I will figure it out," she said.
Before leaving each class, she wrote her email address on the board, invited students to contact her, and passed out a letter listing her five tips: "Be kind. Never waste your lunch hour. Get outside your comfort zone. Don't take things personally. Follow through."
In the large group presentation, Bustos described life in 1979. "Stevie Wonder and the Bee Gees were on the radio, Grease was a favorite movie and, of course, we thought about homecoming, songs and hanging out with friends." She pointed to her friends from high school sitting in the front row.
"I never dreamed I would be inducted into the SHS Hall of Fame," she said. "Life takes twists and turns and presents challenges, as it will for you, too. Any of you could end up in Congress, or be a journalist, or work in health care. Get out of your comfort zone. You never know where life will take you."
Cinda Ackerman Klickna enjoyed the visits to classrooms as she, too, graduated from SHS.