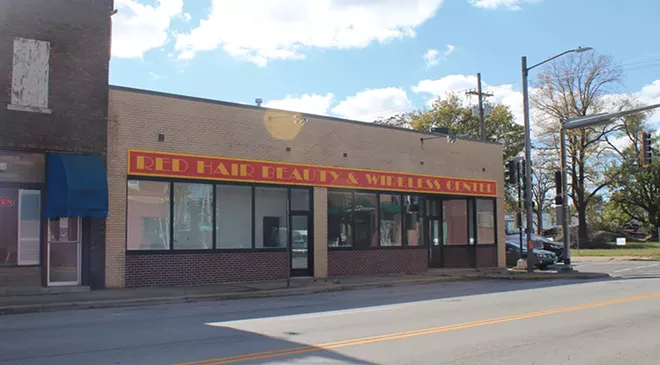 A historic area on Springfield's east side could soon spawn businesses that benefit the entire community.

That's the dream of Dominic Watson, president of the Springfield Black Chamber of Commerce and executive director of The Springfield Project, a nonprofit organization that aims to unite the community by improving the quality of life in its neighborhoods.
The Springfield Project is in the process of acquiring a former beauty supply store, 1100 South Grand Ave. East, in the Southtown business district. In February, a 22-year-old man was shot and killed, with multiple other people injured, during an unauthorized party at the vacant building. TSP plans to convert it into a business incubator geared toward helping people in the predominantly African American and low-income neighborhood.
The building at the southeast corner of 11th Street and South Grand Avenue East, as well as some neighboring properties for parking, can be purchased for about $110,000, Mayor Jim Langfelder said. The city's Economic Development Commission gave the project a thumbs up at its Nov. 2 meeting.
The money for The Springfield Project to acquire the Southtown property would come from Community Development Block Grant funds, a federal program administered by the city.
The EDC's role is advisory, so the ultimate say on whether to proceed with the recommendation will be made by the Springfield City Council, and Watson said he hopes to be ready to make a presentation next month.
"Long-term, our goal is to open a social innovation center that will focus on development, training and workforce investment for entrepreneurs and young professionals," Watson said. "We hope to open the doors the first quarter of 2022."
The center would offer office space to new businesses that could be rented at a rate lower than what is otherwise available in the community. It would also become the headquarters for both The Springfield Project and the Springfield Black Chamber of Commerce. The groups are currently housed at the Greater Springfield Chamber of Commerce's building downtown, although Watson said that would remain a satellite office. "We do value the partnership that we've established and want to maintain a presence there."
The total cost to acquire and renovate the property is estimated at $1.3 million, although Watson noted that some of the work could be done in phases. "We're looking to scale this project; that amount would get us our complete wish list." TSP will fund just over half of the project cost through a combination of grants and private fundraising, while Watson said approximately $630,000 would be requested from available CDBG funds.
Langfelder noted the money would come from a federal initiative to help areas with high minority populations and a need for redevelopment.
"They're calling it an innovation area," he said. "Individuals out there might have a small business, and this would give them greater visibility with regards to their establishment, and then it could also give support services associated with that business," he said.
For example, the businesses sharing space in the incubator might also share support staff such as clerical and accounting personnel.
"You wouldn't have the cost overhead that you typically would if you were doing it yourself," Langfelder said. "And so, it gives them an opportunity for greater success."
Innovate Springfield already operates a business incubator in downtown Springfield, which raises the question of whether there is a need for another. Watson believes there is.
"We need to bring the services to the community, as opposed to relying on the community to go to where the services are," he said. "This gives us the opportunity to service specifically minority clientele – minority business owners, minority entrepreneurs, minority young professionals – who typically don't feel comfortable going to certain parts of the city, which includes the downtown."
Watson said this is the first step in a longer-term plan to revitalize the Southtown area, which would likely be paid for with a combination of public and private dollars.
"Long-term, we want to acquire that entire block. That includes the Madison's Furniture store, as well as the former Empress Theater. So, ultimately a project of that magnitude would range in cost from $6.2 million to $8 million."
Scott Reeder, a staff writer for Illinois Times, can be reached at sreeder@illinoistimes.com.