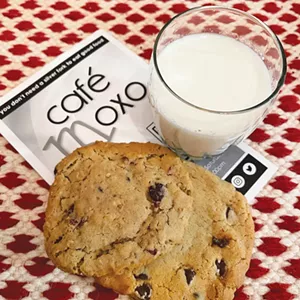 Readers recognized Café Moxo as the business that does the best to give back to the community.
That's not an accident; owner Mark Forinash founded the business 15 years ago with community service in mind.
"Being downtown, you get to know so many of the population that live on the streets because you spend a lot of time with them," he said. "And as opposed to battling them and complaining and judging, we probably should just bring them into our community in hopes that they get the opportunity to get off the streets."
During the peak of COVID, Café Moxo routinely gave away meals to those in need, which included direct giveaways as well as partnering with area churches and the Salvation Army. And all of this took place despite the damage caused by the pandemic to Café Moxo and so many of its fellow dining establishments. In fact, on just one day during the pandemic, Café Moxo handed out more than 500 meals to those in need.
But even before the pandemic Café Moxo was community oriented, holding events like Giving Tuesdays where proceeds from the sale of certain items were donated to various charities. In the eyes of the owners, it was about "giving back to the community that's given so much back to us."
Café Moxo also takes care of its community of employees – which is just as important as giving to the community as a whole. Going back to 2009, employees have been paid at least $15 per hour. (As a frame of reference, Illinois' minimum wage doesn't reach $15 per hour until Jan. 1, 2025. It is currently at $12.) Café Moxo also makes sure that its employees enjoy an acceptable work-life balance to minimize burnout and turnover. For example, when Café Moxo was open all weekend, no employee ever worked both days. Keep up the good work, Moxo.