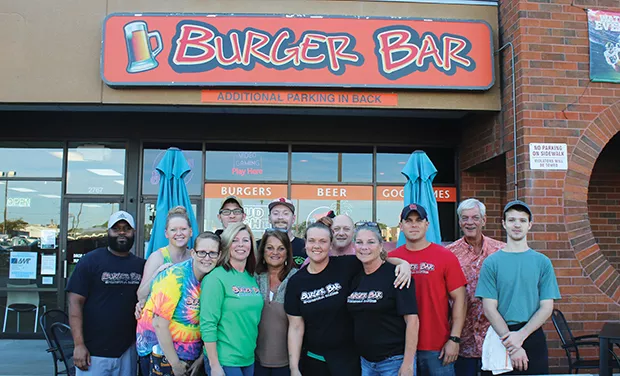 BEST BURGER
Burger Bar and Back Door Lounge

In a bit of an upset, Burger Bar pulled off a well-deserved win for this year's Best Burger. The restaurant offers a vast array of burgers, with an option to either build your own or try one of their specialty burgers. Build your own burgers come in single, double or triple patty options. If beef isn't your thing, don't worry, because turkey and veggie patties are also offered as a burger base. Burger Bar offers your basic toppings with the build-your-own option such as lettuce, tomato, pickle and onion. But they also have premium toppings such as onion rings, fried eggs and grilled onions and peppers that can be added for just 99 cents. There are an assortment of sauces to complement your selections, including sweet bourbon sauce, garlic parmesan sauce and Caribbean jerk sauce. Of course you can also add cheese to your burger, and Burger Bar offers much more than just your American or cheddar cheese options. Offerings include blue cheese crumbles, pepper jack, and for those feeling extra adventurous, ghost pepper jack. If you can't make the tough decisions about which toppings and sauces to choose, Burger Bar offers about a dozen specialty burgers. The Mac n Cheese burger is a standout – a half-pound burger topped with homemade white cheddar macaroni and cheese. If you like it hot, the Nuclear Burger is a must try. It comes topped with pepper jack cheese, chili mayo and hot giardiniera. The menu advises those brave enough to order that they should go home within 15 minutes of eating – so it's definitely not for the faint of heart.

Burger Bar has a shark and beach theme which is said to be inspired by Jimmy Buffett. It holds itself out as a "laid back, no frills, kick back and relax kinda place." Think "Cheeseburger in Paradise." Of course, there are multiple big screens always tuned to that day's various sporting events, so there's no excuse to stay at home. Instead, swing on by to try a delicious burger while not missing any of the big game.

Many patrons come not just for the great burgers but for the karaoke as well. Visitors report that this is a great spot for karaoke, so it's no surprise that Burger Bar came in as a runner-up in the Best Karaoke category. Want something less painful than an off-note amateur crooner? Burger Bar also periodically offers live music to entertain customers while they enjoy their meals. Finally, Springfield thinks Burger Bar's video gaming action is in the upper echelon, leading to a top five finish for Best Place to Feed the Slots. What else could you ask for?