Garvey-Tubman Cultural Arts and Research Center is well ahead when it comes to providing support services to the whole family throughout Springfield. "We are the only organization in Springfield providing services based on cultural, emotional and educational support," said Executive Director Shatriya Smith.
Moreover, the support services Garvey-Tubman provides are crucial and unwavering. Recently, after settling into their new space and making Springfield's east side their home, Garvey-Tubman staff and volunteers are gearing up for a summer of community building.
"We've got people that live in duplexes, and the only people who know each other are the kids. But the adults don't even know each other's names and won't even speak to each other," said John T. Crisp, Jr., co-founder of the organization.
During June, Garvey-Tubman will partner with Motherland Gardens for a community support initiative and door-knocking campaign to share with neighbors its plans to plant a new future and assist with community-building. The goal is to learn more about their surrounding neighbors and understand their desires regarding having a voice in the neighborhood, about security and safety, and how to connect to services such as home repairs.
"We hope to gain traction so that people can come to us if they have questions about how they can access grant funding to get their homes renovated," said Smith. "We can assist with job searches, and although we don't have our summer program this year, we do have access to scholarships from other summer programs we can assist families with securing."
"Garvey-Tubman is a concierge to services that have not been available to our low-income families," said Smith. "One of the things I appreciate doing is introducing our kids to the same things that people come from all over the world to see right here in Springfield."
Additionally, Garvey-Tubman will launch its Sharing Wonderful Artistic Gifts, or S.W.A.G Bag season, this June. Volunteers and staff will provide community members with book bags containing a variety of art supplies, snacks and juice. The goal is to make this service available monthly throughout the summer. The number of bags distributed and the frequency will depend on the organization's monetary and in-kind gifts.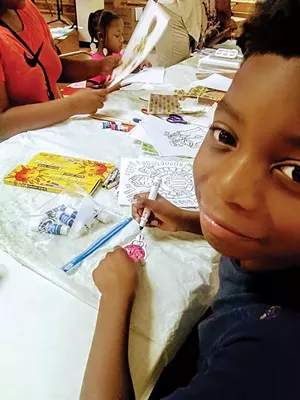 "What most people do with $100, we can get three times as much bang for our buck," said Smith. "We know how to use the funding we receive to make the most bang for the buck in the community and to make sure the kids are getting services that will last them."
These programs and services include Garvey-Tubman's Recycled Arts program for youth. The goal is to assist youth in developing entrepreneurial skills while also supporting environmental initiatives by creating art from recycled material and teaching them the skills to sell the final product.
"We're teaching littles how to be entrepreneurs in the community, how to use their inside and outside voice, how to use the right words to make sales, how to count money, how to engage with people," said Smith. "We are teaching them how to express themselves with a vernacular that will be accepted by all people."
Garvey-Tubman volunteers and staff invite the community to come and try the Recycled Arts program at White Oaks Mall 4-6 p.m. on Fridays in July.
Ultimately, Garvey-Tubman staff and volunteers are looking to expand its footprint throughout Springfield. They want to ensure its economic empowerment programs and support services are fully accessible to families.
"I told the mayor I need a warehouse because we do things that other organizations don't do or are scared to do," said Crisp. "The art program just in itself demands a lot of space, but we are also a communal group that helps the whole family."
The goal is to secure multiple locations throughout Springfield, so the organization can effectively deliver services to families while building stronger communities.
Over the years, Springfield's Black community has been scattered and relocated. "We have taken groups of people and relocated them to the west side – breaking up families, diminishing their voices and voting power, and begging the question why would they speak up in a neighborhood association that doesn't look like them," said Smith.
And safe spaces matter. "You can take our little Black babies, and you say these are the expectations that you can live by, and then you can make them so rigid – as so many spaces and programs are doing – that they feel out of place," said Smith. "Yeah, we know you are Black, but let's not talk about Black history. These programs are not talking about Black history, specific cultural needs, or emotional generational trauma. We are living under the guise of a strict environment that does not facilitate our needs. We need to be able to talk about things.
"Garvey-Tubman provides that space, a safe space," said Smith.
Jamila Wicks is a freelance writer who lives in Decatur and works in Springfield. She holds a Bachelor of Arts in journalism from the Grady College of Journalism and Mass Communication at the University of Georgia.