What's the official bird of St. John's Hospital? The crane.

That silly joke popped up shortly after the towering construction crane began hoisting materials around the hospital in June 2012. The construction is part of the hospital's ongoing expansion project, and two other major health care providers in Springfield – Memorial Medical Center and Springfield Clinic – have since begun their own expansion projects.

Each provider is pouring millions of dollars into improving their facilities with new technology and clever innovations that make visiting the hospital easier, more comfortable and more likely to produce a good outcome. They're doing it with an eye for the environment, too – cutting waste by reusing or recycling building materials, while getting more bang for their energy buck with green designs. And most of the manpower and materials are coming from nearby companies, giving a welcome bump to the Springfield economy.


St. John's Hospital

Using the elevator at St. John's Hospital is like stepping into a time machine. Once you get past the attractive main lobby, tastefully appointed with wood and stone in Franciscan minimalist style, you'll see a typical 1970s-era hospital corridor: sterile and dimly lit, with bland colors and few distinctive features.

Take the elevator to the recently renovated eighth floor, however, and you're transported to a different era. There are warm colors, pleasing textures and distinctive design cues like doorways set at an angle so that less of each patient room is visible from the hallway. The eighth floor just reopened at the beginning of this month after being totally gutted and rebuilt, but it's already full of patients.

On the elevator once more, use a secret code to be taken to the seventh floor, which is temporarily between the old and new designs. The floor has been completely gutted, and it will soon be transformed into a modern space that will hardly be recognizable.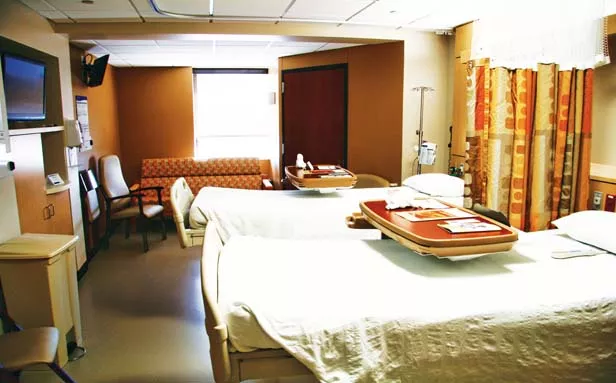 This extreme makeover is part of the St. John's Hospital renovation, which is aimed at not only modernizing the building, but also preparing it for the future. Along with the updates to the patient tower, St. John's is relocating and upgrading its surgery units to make such invasive procedures less invasive for the patient and the family.

All told, St. John's is spending $51 million on the patient tower renovation project and $121 million on the surgery modernization project, for a total of $172 million. The project is funded with about $69.4 million in cash and about $103 million in bonds. The eighth and ninth floors have already been renovated and reopened, and the sixth and seventh floors are under construction. Meanwhile, the old administrative wing was demolished to make way for a new building that will consolidate the hospital's surgery services.



The rooms of the redesigned patient tower are designed to maximize comfort for the patient and visitors. Every patient room will be private, with only one patient per room. The rooms on the already completed eighth and ninth floors feature couches that convert into queen-sized sleeper sofas, multiple TVs, wireless Internet and supply closets that can be restocked from the hallway so nurses don't have to interrupt family moments. All of the doors are wide enough to be wheelchair-accessible, and the bathrooms feature automatic lights, walk-in showers with no lip and toilets with foldable handrails. On the wall of every patient room is a dry erase board listing the patient's goal for the day, expected discharge date, numbers to call for help and a space where the patient or family can leave comments for the staff.

Each floor is arranged with patient rooms along the outside wall and nursing stations in the center. That puts supplies and equipment in a central location and ensures nurses are never far from the rooms they oversee. In fact, each nursing station is arranged to have a clear view of every room under its care. Additionally, certain floors will be devoted to patients with certain types of ailments. The eighth floor, for example, is dedicated to neurology and features special rooms with simultaneous EEG and video recording capabilities so that doctors can determine what is happening in a patient's brain during a seizure.


Because all surgical operations at St. John's will soon take place in the same wing, a patient's visiting family will never be stuck waiting halfway across the building. Instead, a series of new and elegant private waiting rooms close to the operating rooms will keep families nearby.

The new surgery wing will feature 16 operating rooms with a sterilization unit, a pharmacy, office space and space for a future emergency department within the same building. The new operating rooms will feature the latest "smart" surgical technology, with monitors built into ceilings and walls so that specialists can "patch in" and consult with surgeons remotely during procedures.

"We needed to ensure that we had contemporary care," said Dave Olejniczak, chief operating officer of St. John's Hospital. Built beginning in 1878 and renovated in the 1970s, St. John's is run by Hospital Sisters Health System, a Franciscan Catholic organization with 13 hospitals in Illinois and Wisconsin. Olejniczak notes that the renovated patient tower will actually have 77 fewer beds than the current setup, for a total of 204, because medical technology has advanced to the point that many procedures don't require a hospital stay.

The hospital's main entrance, which is currently on the north side facing the parking garage, will eventually be moved back to its original spot on the south side, facing Madison Street. When a patient enters St. John's in the future, she will either go right for inpatient procedures – meaning ones that require her to stay at the hospital to recoup – or go left for outpatient procedures, which don't require a hospital stay.

The construction is scheduled to be complete in February 2014.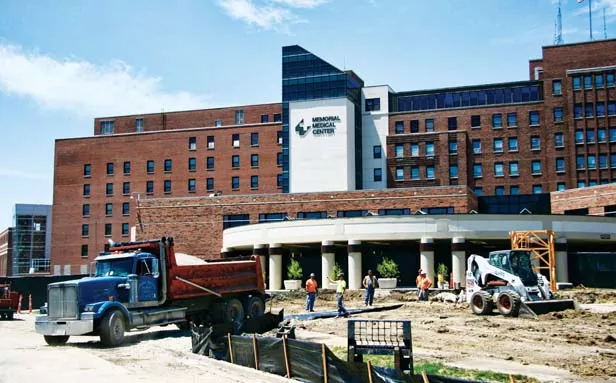 Memorial Medical Center

Though it may be mostly hidden, the front door to Memorial Medical Center is still open, and it will remain open even when a tall construction crane begins stacking three additional patient floors atop Memorial's existing E Building in the coming weeks. The entrance will be protected when the crane begins its work, and even now, a construction crew is preparing the thick concrete pad that will support the crane. Just a few yards away, another crew is preparing to build a new surgical center in a large hole that used to contain the recently-demolished Wedeberg Conference Center, and across Miller Street sits another construction site that will become a teaching center.

Memorial started its construction this spring, and it's scheduled to last until winter 2016. Once it's completed, the hospital will boast an additional 114 private patient rooms, six new operating rooms, and about 100 new jobs. Despite adding about 200,000 square feet of new facility space, the hospital is projected not to use any additional energy because of a major efficiency retrofit to its infrastructure and mechanical systems.

Harry Schmidt, Memorial's vice president of facilities management, says the E Building, which currently holds the main lobby and one floor of patient rooms, was built with an addition in mind from the start. The building is capable of supporting three additional floors, each of which will have 38 private rooms. Schmidt says private rooms are a safety feature because they limit the spread of germs between visitors and patients. Private rooms are also more efficient, he says, because the hospital currently has to take factors like gender and personality into account when placing patients together in a room.

The new patient rooms are designed to be comfortable for patients, with wide doors, wood surfaces, warm colors, patient-controlled lighting and window shades, large TVs and dedicated sitting areas for visitors. Memorial even built a mock patient room to experiment with different designs. Each room will have a mobile computer station for nurses and space for supplies, medications and the patient's belongings.



The hospital's new surgical center, set to open in late 2015, will feature six new "smart" surgical suites with technology like robotic surgery equipment. The new operating rooms will be larger, Schmidt says, to accommodate current and future technology, bringing the hospital's total number of operating rooms to 23. And while the current operating rooms are about 450 steps from the main entrance, the new ones will be just a stone's throw from the lobby, with comfortable and spacious waiting areas for patients' families.

The demolished Wedeberg Conference Center, which used to sit next to the main lobby, must be replaced, but Memorial isn't stopping with just a simple meeting room. Instead, the hospital plans to open its new Memorial Center for Learning and Innovation this summer. The center will be located where there was once an employee parking lot at the southeast corner of Miller and Rutledge Streets, and it will be connected to the hospital's parking garage on Miller Street by an enclosed bridge spanning the road.

The new three-story building will hold a 350-seat conference center, which Memorial plans to use for professional development and community education. There will be several classrooms and meeting rooms, with a lecture hall and a cafe. The most noteworthy feature, however, will be an advanced Surgical Skills Lab that will be used to train medical students from Southern Illinois University School of Medicine and elsewhere. The lab will have computerized mannequins which can be programmed to give birth or exhibit specific symptoms like vomiting, so that students can practice procedures without using a live patient. The mannequins contain sensors that record every action, so instructors can debrief students after a procedure on what went right and what went wrong.


While construction continues at Memorial, part of Miller Street is closed in front of the main entrance. Once construction is complete, however, the main entrance will have three driveway lanes for patient pick-up and drop-off. The lobby will also have a coffee shop and more sitting space for visitors.

In addition to the hospital's feat of expanding without increasing energy consumption, Memorial has already taken steps to cut waste. Debris from the demolished conference center was sorted and recycled, while torn-up asphalt from the old employee parking lot was recycled for a new parking lot elsewhere.

Schmidt says the hospital is using local contractors for most of its construction work, which is scheduled to be completed in early 2016.


Springfield Clinic

In October 2012, several hundred people gathered at a construction site on North First Street to scribble on one of the large steel beams painted bright pink. The people were breast cancer survivors, their families and friends and the families and friends of breast cancer victims. Their scribbles were notes of triumph, encouragement and remembrance for those who have struggled with breast cancer. And the pink steel beam was a symbol of the strength of the resolve to fight that disease.

When construction is complete in May 2014, those pink steel beams will form the hidden structural skeleton of Springfield Clinic's new medical specialty building, named Springfield Clinic 1st North. Between 60 and 70 medical specialty providers will have offices there, providing a variety of women's health services, cancer treatments and surgical services. At four floors and an estimated 132,000 square feet, the building will be a substantial expansion for Springfield Clinic, which already has several satellite offices in addition to the main campus straddling Sixth Street. The new Springfield Clinic 1st North will be connected to the existing Springfield Clinic 1st building via an enclosed walkway spanning Dodge Street, and it will also be connected to its own 600-space parking garage. The new building and the land it sits on is owned by Memorial Medical Center and leased to the Clinic.

The first two floors of the new building will be devoted to women's health while consolidating the Clinic's OB/GYN services in one place. The third floor will be for surgery, especially colon and rectal surgery, while the fourth floor will hold specialists dealing with blood- and cancer-related diagnoses and treatments.

The construction was prompted by Springfield Clinic's rapid expansion over the past few years. They've recently experienced a 67 percent increase in the number of physicians practicing at their Springfield Clinic 1st building, and that space holds more than 100 physicians currently. It was completed in 2006 and is already too full. The expansion will alleviate that crowding and allow Springfield Clinic space to consolidate and reorganize services at other locations.


Health care growing

Taken together, the three expansion projects represent a local response to the trend of growth in the health care industry nationwide. Georgetown University's Center on Education and Workforce released a study in June 2012 saying that health care makes up 18 percent of the U.S. economy, and that number is expected to grow to 20 percent by 2020. The growth is fueled by an aging population, increased insurance coverage due to federal reforms and a decline in the productivity level of health care workers, the study said.

Locally, the medical industry is second only to state government in terms of employment, according to the Greater Springfield Chamber of Commerce. In total, St. John's Hospital, Memorial Health System and Springfield Clinic together employ nearly 9,500 people, the Chamber noted in its 2012 community profile. As demand for health care grows, so will the medical facilities.

Dave Olejniczak, COO of St. John's Hospital, summed it up this way: "We're not building for 2014; we're building for 20 years from now."

Contact Patrick Yeagle at pyeagle@illinoistimes.com.