When Jasper Madonia started working in downtown Springfield in 1939, the downtown was a different place from today.
He describes a bustling place so busy that he had to push his way through the crowds of people during his lunch breaks. His favorite memory of working downtown is the Fannie May chocolate store that used to be next door, in the spot now occupied by Bentoh's restaurant.
Interrupted only by a few years in the Army during WWII, Madonia worked downtown for an astounding 73 years. He spent most of those years as part owner of Bridge Jewelry Co., the downtown fixture on South Fifth Street that recently closed after 90 years of business. He sold his stake in the business before owner Betty Sowarsh made the decision to close.
"We had pretty good business down there," Madonia said. "It was something. There were a lot of people downtown."
Asked if he believes the downtown could once again become a bustling place, he chuckles and says, "I think so."
A lot of other people think so, too, and they're working to make it happen. The SDAT Action Committee, comprised of local architects, business leaders and public officials, is working to bring back the vibrancy and prominence of Springfield's downtown. Short for "Sustainable Design Assessment Team," SDAT is Springfield's iteration of a program started by the American Institute of Architects to help communities become more livable and sustainable. Following a whirlwind visit in May 2012 by urban development experts from across the nation, the SDAT committee has taken the first steps in bringing people back to the heart of the city.
"We believe residents are coming back, and with that will come the stores and such," says Victoria Ringer, executive director of Downtown Springfield, Inc. Ringer says the current trend in population migration is back from suburbs and outlying areas toward city cores. Asked what's causing that trend, Ringer points to several factors: proximity to work, nightlife and a growing lack of desire to own and maintain a car. "Young people are saying, 'I want to achieve. I want art. I want convenience.' But there are also Baby Boomers who want that. The demographics are really across the board."
Pushing progress
Before disgraced ex-governor Rod Blagojevich bled Springfield of state jobs, much of the downtown was filled with state offices. Now, many of those office spaces are vacant, and Springfield architect Charles "Chuck" Pell says that trend isn't likely to reverse itself. Pell, who owns CJP Architects and serves as co-chair of the SDAT Action Committee, says instead of leaving those buildings empty in hopes that the state or a business will suddenly need vast amounts of office space, some of those buildings can be turned into residential space.
"It's a 'missing persons' problem," Pell said. "We need more people living downtown to create the kind of livable, walkable, sustainable neighborhood that people are seeking."
SDAT is working on several fronts to drum up interest in residential space – both from the consumer side and the provider side. To showcase some of the successes and renovation projects downtown, Downtown Springfield, Inc. hosts a yearly building tour, giving visitors a chance to explore buildings they otherwise wouldn't see. SDAT volunteers used the 14th Annual Upper Story Tour on May 3 as a chance to ask visitors if they would ever consider living downtown and what might make them do so. Pell says the survey is one of SDAT's first steps in finding out how to bring people back to downtown Springfield.
SDAT is also identifying empty buildings that are good candidates for residential conversions, with plans to approach the building owners about the idea.
"Some people hold onto properties for a long time, for one reason or another," Pell said, explaining that some buildings are owned by beneficiaries outside of Springfield. "They may not have the desire to do anything with these properties. If that's the case, let's think about moving these properties into the hands of people who have a desire to do something."
Redevelopment in downtown is under something of a time crunch, thanks to the impending expiration of the downtown TIF district in 2016. Pell says SDAT is looking at new ways to supplement redevelopment funds after the TIF expires, while also working with developers to identify and remove obstacles that might keep them from taking on projects downtown.
Success stories
When Abraham Lincoln departed Springfield by train on Feb. 11, 1861, to assume the presidency, he left from the Great Western Depot – now known as the Lincoln Depot – located along the 10th Street rail corridor at 930 E. Monroe Street. It's the last place that Lincoln's feet touched the ground in Springfield, but it was used as a warehouse for many years before a suspicious fire destroyed much of the interior. Restored in the late 1970s, the building was operated as a historic site by Copley Press, the former owner of the State Journal-Register, and Gatehouse Media, the newspaper's current owner, until the National Park Service declined to continue staffing the site because of accessibility concerns. Without the money to update the building, Gatehouse put the depot up for sale.
That's when Ida "Pinky" Noll stepped in. She bought the Lincoln Depot and renovated it with the help of Springfield architect Larry Quenette. By adding a few modern amenities and moving the law practice of her husband, Jon Gray Noll, and her son, Daniel Noll, into the depot's upper level, she ensured the building would remain a relevant historical site and a boon to the city's downtown.
Although the Lincoln Depot is located right next to the 10th Street rail corridor, the noise from trains is minimized by insulation, laminated windows and a custom-designed drop ceiling. And despite having to hook up new electrical and plumbing lines and get the railroad to cooperate, Pinky Noll said the decision to locate the Noll Law Office in the depot was simple: it's close to the courthouse, and it's historic.
"How many people have a chance to buy a piece of Lincoln?" Noll said. "You've got to know in your heart that you're doing the right thing. There's always unknowns. Whether you're building a new house or delving into a new one with 'secrets,' you just have to learn to make adjustments on the fly. I would really encourage people to look at these downtown buildings for office space, because they'll find out how rewarding it is to preserve a piece of the city's history."
On the other side of downtown sits a nondescript building at 118 S. Fourth St. While there's nothing particularly memorable about the outside, the interior is undergoing a transformation that has already yielded some attractive results. Chris Nickell of Springfield owns the building and has made it his home. His large apartment boasts an open floor plan, a well-appointed kitchen and high ceilings – not to mention a 30-second walk to his office in the Myers Building at the corner of Washington and Fifth streets.
When Nickell bought the building in 2012, much of the modernization work like plumbing and heating had already been done. He finished two apartments on the third floor, one of which he and his wife occupy. He plans to finish the nine remaining units over the coming months, and he has renters signed up already for all of them.
"For me, it was just proximity," Nickell said of his decision to live downtown. "My commute went from 30 minutes to 30 seconds."
Larry Quenette, who owns Renaissance Architects in Springfield and who helped the Nolls renovate the Lincoln Depot, finished his own renovation project recently. He rehabilitated the Dunn Building at 201 E. Adams St., turning it into a 12-unit apartment building with office space. All of the apartments are currently leased, and there's even a waiting list.
"I always think of downtowns as being the heart of a city," Quenette said. "Your heart has to be functioning well for the rest of your body to function. I think the same can be said of cities. When you've got a wholesome, inviting, active, financially-stable downtown, it sort of migrates out and helps to sustain all of the other areas of your city."
Projects with potential
Except for Café Brio in the ground floor, the Ferguson Building at 522-524 E. Monroe St. in downtown Springfield is empty. The same is true of the Booth Building at 516-518 E. Monroe St. Rick and Kim Lawrence of Springfield own both buildings, and they're planning a major renovation that could turn these underutilized buildings into a major economic boon for downtown.
"The Ferguson Building always intrigued me, and one led to two," Rick Lawrence said, adding that the couples' purchase of that building got them interested in the Booth Building as well.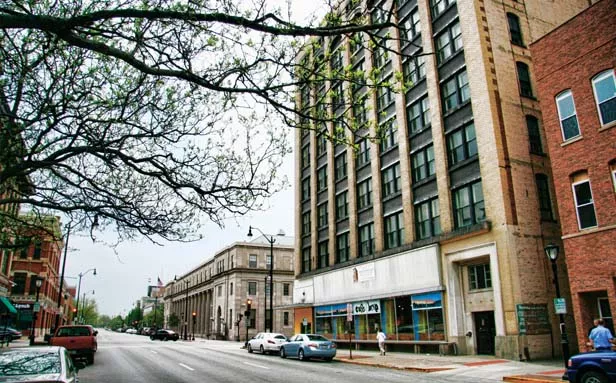 If all goes according to plan, the Lawrences will create large one-bedroom apartments on the second through seventh floors of the Booth Building, with three apartments per floor. They also plan to develop two penthouses on the eighth floor with two bedrooms each. The ground floor of the Booth Building would be commercial space.
In the Ferguson Building, the Lawrences hope to keep Café Brio in the first floor, with a 24-hour fitness center in the second floor. On the eighth floor, they envision a restaurant with rooftop dining, and they plan to connect the remaining floors to the Booth Building. Rick Lawrence says that would allow a business to have office space in the Ferguson Building with access to residential space in the Booth Building.
"This is an investment because we want to contribute to the city," Rick Lawrence said.
There is one obstacle the Lawrences must cross first, however. Currently, the Ferguson Building is in the Central Springfield Historic District, which means their redevelopment would be eligible for a tax credit. However, despite being a stone's throw away, the Booth Building is not in the historic district.
Mike Farmer, director of the city's Office of Planning and Economic Development, says his department is currently gathering information and completing paperwork to convince the Illinois Historic Preservation Agency to expand the downtown historic district and include the Booth Building.
Farmer says he sees several signs that the downtown is making a comeback. He remembers returning to Springfield after college and spending as little time as possible downtown. Farmer says his young son, however, spends most of his time downtown.
"That's a monumental change in attitudes toward the downtown," Farmer said. Additionally, Farmer has noticed substantial investments in the downtown by Springfield's medical, financial, insurance and tourism sectors. Meanwhile, the addition of the County Market grocery store at 210 East Carpenter St. adds a "missing ingredient" to the downtown, which Farmer says should spur further residential development.
"No matter how wonderful your city is, the downtown is the place that people identify and remember when they think of your city. We're going for the 'complete street' concept that is pedestrian and bike friendly. We want the downtown to be more accommodating, more livable, more walkable and more social."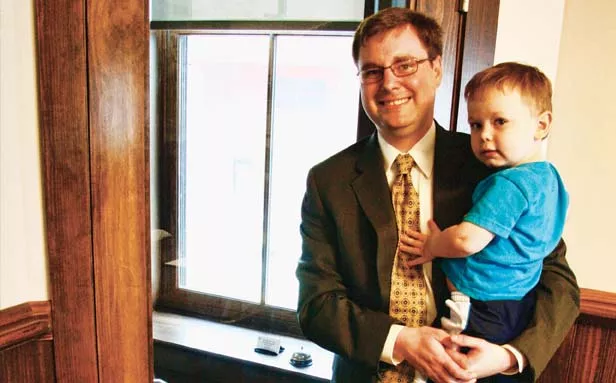 Chuck Pell at CJP Architects points to the growing influence of the medical sector in Springfield as just one of several indicators that the downtown is ripe for a rebirth. He says as the volume of medical jobs increases, more people will be seeking a place to live near the medical district with convenient transportation, shopping and nightlife – in other words, an "urban environment."
"People who are coming to town are asking these questions of realtors," Pell says, adding that the idea isn't to compete with the city's prosperous west side. "The more we can say yes, the more we can grow the pie. It's not about moving people back from the periphery and readjusting the pie. It's about making the pie larger."
Pell says successes like Larry Quenette's apartment conversion and the already-established Lincoln Square apartments – both of which are constantly full of tenants – are proof that there is demand for residential property downtown. And as the city begins repairing the crumbling streets and more residential space is available downtown, Pell expects the area to support more businesses, including those that will stay open on Sunday evenings.
Victoria Ringer at Downtown Springfield, Inc. says the downtown is at a critical point because the economy is slowly recovering, and disposable income is growing among young professionals. She hopes the renovation of the city's core will especially attract "artists, creatives and intellectuals."
"What we focus on now is personality and experience," Ringer said. "When you come downtown for dinner, you're not pulling into a parking lot and never seeing the outdoors. You're looking at 150-year-old buildings where Lincoln or Douglas may have walked, and on your way, you've gone by three or four more 150-year-old buildings and the kinds of shops you'd go to when you're on vacation."
Ultimately, Chuck Pell says the push to revitalize the downtown has a lot to do with sustainability. Driving less is one of the best ways to be "green," Pell notes, adding that living and working in the same area reduces driving miles.
"We have some issues in our city, like the notion that we're going to do $90 million worth of infrastructure repairs because we have more centerline roads than most communities," he said. "We need to think about that every time we plow up a corn field and put up a structure. We need to think about that when we have existing structures in the city's core."

Contact Patrick Yeagle at pyeagle@illinoistimes.com.