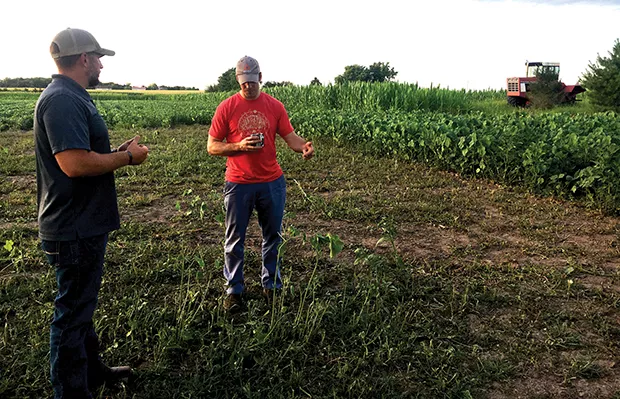 The Illinois Stewardship Alliance promotes eating local, wholesome foods and supports local food producers. The Buy Fresh, Buy Local Central Illinois campaign – to connect farmers with eaters – is just one example of how the organization works to connect local farmers with community members, restaurants and retailers.

Proceeds from the group's annual Harvest Celebration are used to further the Illinois Stewardship Alliance's efforts to cultivate a local food and farm system that is economically viable, socially just and environmentally sustainable.
There are numerous obstacles to small, sustainable, diversified farmers making a living and all people having access to locally grown food at an affordable price. The Illinois Stewardship Alliance is actively involved in the policy arena to change that. They go beyond advocacy and are community organizers, building coalitions to address policy issues at the local, state and federal levels. Their issues include encouraging famers to adopt more conservation practices, educating consumers about where they can buy locally grown food and advocating for food production policies that are healthy for people and the planet.

There were some recent successes at the Statehouse. Legislation was enacted to add soil health practices to the list of resources that Soil and Water Conservation Districts can provide to farmers. Changes were made to the definition of local food that will give Illinois state agencies the ability to purchase more local food to help meet the established goal of 20 percent local food by 2020. And, funding was included in the FY 20 state budget for the Illinois Department of Agriculture to provide incentives to farmers to plant cover crops.
Cover crops are planted after harvest and represent an important soil conservation tool. The Illinois Department of Agriculture received $300,000 for the "Fall Cover for Spring Savings" program, modeled after a program in Iowa. As an incentive to plant cover crops, farmers can receive a $5 per acre reward for crop insurance premiums on every acre covered. The program will be rolled out later this year. Reducing soil erosion, improving soil health, reducing pests, improving soil microbiology, increasing nutrient recycling, helping weed control and protecting water quality are among the many benefits of cover crops, according to the USDA Natural Resources Conservation Service.

When the legislature is back in the session, the Illinois Stewardship Alliance will pursue a $500,000 state appropriation for the Healthy Local Food Incentives Fund, which is designed to help needy individuals stretch their dollars to purchase healthy foods at farmers markets. The Supplemental Nutrition Assistance Program (SNAP) is a federal program that assists needy families in purchasing healthy food. SNAP Match programs at farmers markets provide win-win benefits by helping vulnerable populations purchase fresh fruits and vegetables while keeping federal SNAP dollars in the pockets of family farmers.

The Old Capitol Farmers Market received a grant from USDA to enable low-income individuals to double their SNAP dollars at the farmers market. However, the market has had to apply for increased funding each year to meet demand. In addition, many markets don't have the capacity to apply for these limited grant funds. Last year the Illinois Stewardship Alliance, in collaboration with groups across the state, helped pass the Healthy Local Food Incentives Fund, which created a statewide fund for farmers markets to offer a SNAP match for produce. The legislation passed unanimously with bipartisan support, but no funding was appropriated. With a state appropriation of $500,000, Illinois could apply for a federal match, bringing a total of $1 million to the program, thereby benefiting local farmers and consumers.

Low-income families don't always have the means to afford fresh, healthy fruits and vegetables at farmers markets. "It's cheaper to buy Doritos than wholesome food," says Molly Gleason, communications director for the Illinois Stewardship Alliance. "For many low-income consumers, SNAP Match programs are a way to stretch a dollar and feed a growing family wholesome local food."
These are just a few of the policy issues being pursued by the Illinois Stewardship Alliance. For more information about the Illinois Stewardship Alliance and the Sept. 29 Harvest Celebration, go to https://www.ilstewards.org/.