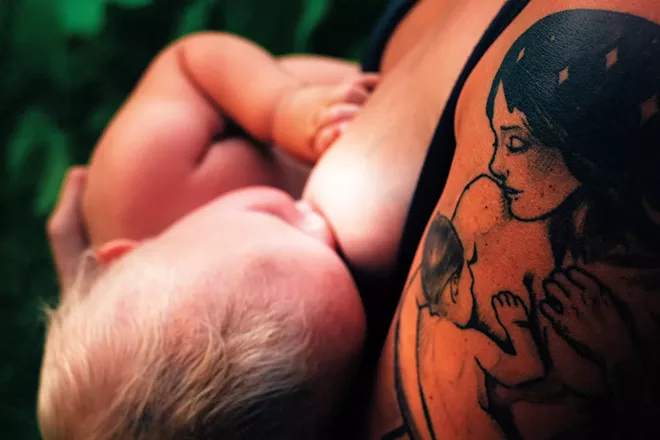 There are many health benefits to breastfeeding, and new mothers are encouraged and assisted more than ever. According to the Centers for Disease Control and Prevention (CDC), more than half of American babies are breastfed through six months of age, and more than a third are breastfed until at least a year old. Mollie Ringer has breastfed two sons, ages 2-and-a-half years and 11 months. Her breastfeeding journey did not begin easily, as her oldest was tongue- and lip-tied. The lactation nurses at HSHS St. John's Hospital were able to provide the assistance she needed to overcome these obstacles and to nurse successfully. With her second child, "I was more proactive; I asked a lot more questions," and she says she had a much easier time.
Previously employed full time before COVID-19, with her sons in daycare, Ringer has now transitioned to being a stay-at-home mom. "I love having the boys home with me," she states. Working and breastfeeding brought its own challenges, as pumping is not always easy for some women. "I went back to work with my oldest after three months. I was able to nurse him once a day and pump twice a day. With my second, I was able to pump as needed."
Ringer advises newly breastfeeding moms to not to be afraid to ask questions, even if they seem silly. "I'm still learning with my second. Lactation consultants are so helpful."
Amaya Henderson had it in her mind that she would breastfeed because of the health benefits. Son August Brisbon, age 8 months, made it easy as he latched on without assistance as he was on her chest right after birth. "I just kept doing it!" she laughs.
After four weeks of breastfeeding, her supply waned, and it became apparent that August wasn't getting enough milk. Henderson supplemented with formula for about a week while she worked to get her milk supply up in order to meet August's needs. Working while breastfeeding was a challenge, nursing her son a few times a day, and pumping extra while at work. August followed his hearty early interest in table foods with verve and weaned himself recently.
"Do it!" says Henderson, when asked what she would advise new breastfeeding mothers. "Breastfeeding is not just about the health benefits; it's a chance to bond. They know you. They smell you when you walk into a room and want you. It's a great feeling."
Nicholle Godar nursed all three of her children: sons Jace (5) and Blake (3) and daughter Sunny, 11 months. Jace was born at 34 weeks gestation, and was in the Neonatal Intensive Care Unit (NICU) for two weeks. "I was nervous, and felt pressured by the NICU to use formula, as it was easiest for them," said Godar. She persevered and was able to breastfeed, continuing to breastfeed Jace after Blake was born, which is referred to as tandem nursing.
Besides the rough start to nursing Jace, Godar hasn't encountered many obstacles since. But having and nursing three children in succession has meant that Godar hasn't been away from her children more than a few hours in their lives. Flexible work hours have allowed her to focus her time on her children.
Godar advises new moms to rest even – and especially – when they feel good. "In no world should new moms be expected to get up and host people," she says. She also acknowledges that breastfeeding can be really hard for many people. "The postpartum part is the hard work of having a child. We all struggle, but we should talk about it."
Terra Stiltz has breastfed both her daughter, Josie Grey, age 7, and her son, Jarrett Stiltz, age 16 months. She breastfed "because of the closeness and bonding I received when I first started." Jarrett began life with a lip- and tongue-tie, which had to be addressed. "There was a lot of pain and issues in the beginning," she says.
Being a full-time employee of Blue Cross Blue Shield, Stiltz feels one of the biggest challenges was keeping the balance after she returned to work. "It's been hard to keep up my supply while pumping at work." Stiltz advises new mothers: "Trust yourself. If it hurts or doesn't feel right, follow your mom instincts and seek out the help of a lactation consultant. We need to trust our bodies and trust ourselves."
Many mothers who desire to breastfeed have not been able to, through challenges beyond their ability to meet. As Ringer asserts, "However you're able to feed your baby is the best way to feed your baby." She notes, mothering is not a competition, but a connection, and we support one another in raising healthy and happy babies, however we individually may do so. Carey Smith is a Springfield mama who struggled to breastfeed. She and her son finally figured it out with the help of many lactation consultants when he was 11 weeks, continuing to breastfeed for another three years.