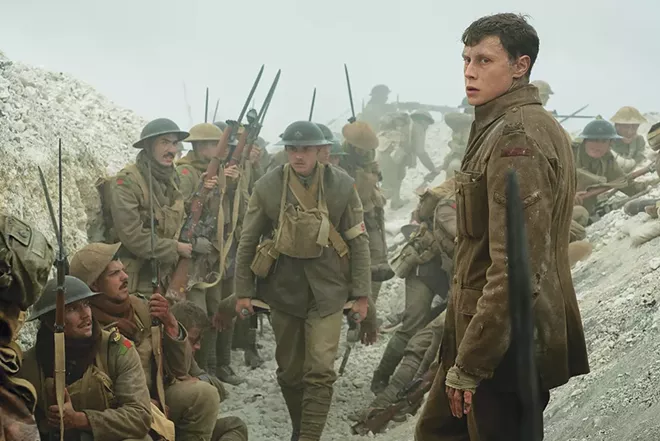 On paper, Sam Mendes' 1917 seems to be a foolhardy endeavor. Intending to shoot his World War I epic as if it were one continuous shot is an approach that, one would think, paints the filmmaker into a corner. Not only does he have to contend with the difficulties in achieving it but the approach must be transcended; the audience must become so engrossed in the film, they forget the technique being used to convey it. Thankfully, this proves to be an inspired approach as it puts the viewer in the shoes of two young soldiers who embark on a suicide mission, allowing us to simultaneously experience the horrors they encounter, dropping us into a terrifying war-torn arena in a way few other movies have.


Based on stories his grandfather told him, the script by Mendes and Krysty Wilson Cairns is an exercise in narrative simplicity. Two young soldiers, Blake and Schofield (Dean-Charles Chapman and George Mackay), are given a mission to cross enemy lines to deliver a vital message – two battalions are set to fall into a trap in less than 24 hours which will likely lead to the death of over 1,500 Allied troops, Blake's brother among them. They must get orders to Colonel MacKenzie (Benedict Cumberbatch) to call off his attack before disaster ensues.


What ensues is a journey through a blighted, ravaged landscape, a nightmarish world replete with miles of barbed wire, rotting corpses and scores of rats in which they must contend with sniper fire, enemy planes and German soldiers as frightened and desperate as they are. The film's first hour is an unrelenting assault as one horror trips on the heels of another, Mendes' camera providing us with a you-are-there perspective that proves intimate and powerful. Roger Deakins' dour cinematography creates an overcast tint to the movie that effectively underscores the oppressive nature of the environment in which death is around every corner and hope is hard to find.


The movie's spell lasts a little over an hour when a discernible break occurs. Unfortunately, the film fails to regain the momentum Mendes had so masterfully created as the story then stumbles through one incongruous moment to the next. Plot points occur that are improbable or far too convenient, while one particular decision by Schofield in the third act proves especially grating, seeing as the movie is predicated on being a race against the clock. While Mendes's purpose for this scene's inclusion is well-intended, it proves to be a narratively frustrating moment that belies the film's intent.


Amidst the bombast and technical wizardry at play, it would be easy to overlook the efforts of Chapman and MacKay. Just as the cameraman and technical crew must be on their toes for extended shots, so do these two fine young actors who are more than up to the physical and emotional challenges their roles demand. They become the faces of their generation, not simply fighting for survival, but battling to retain a bit of humanity in a world gone mad. The emotional gamut these two run suck us into their plight in a way fancy camera movements never could.


In the end, 1917 doesn't tell us anything we don't already know about war. Yet, the horrific intimacy with which it drives home its message is what elevates it to become a superior genre effort, one that is, regrettably, timely and likely to be ignored by those intent on embarking on yet another campaign of insanity.
Contact Chuck Koplinski at ckoplinski@usd116.org.