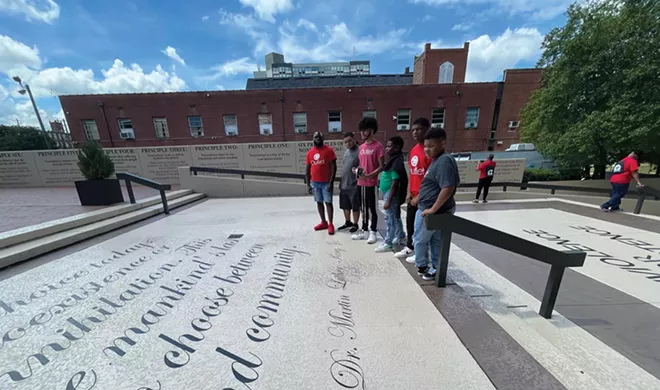 Michael Phelon birthed The Outlet in 2005 and has nurtured it ever since. His vision was to provide an outlet for young males to plug into something positive. The Outlet serves males ages 8 to 22 who are from single-parent homes. Its mission is to help boys develop the capacity and skills to make responsible life decisions, acquire and maintain meaningful spiritual and ethical values, explore their gifts and talents, and recognize their dreams and aspirations. The Outlet provides one-on-one mentoring, group mentoring, social and emotional learning, career development, life coaching and college preparation. The Outlet didn't shut down services during COVID, but responded to the increased need in the community, moved programming online, went to boys' houses and increased the number of mentors and mentees.
Until recently acquiring the former St. Joseph's Home on South Sixth Street, The Outlet was based in a small building at 2525 S. 12th Street. Currently, The Outlet serves 100 youth and 210 family members. The Outlet's reach includes children and families in Springfield, Lincoln, Decatur, Jacksonville, Sherman, Auburn and Chatham. Phelon's goal is to add another 200 boys and their family members by the end of next year. Families hear about The Outlet by word of mouth, through social service agencies, from Springfield Public Schools District 186 and the Department of Juvenile Justice. Phelon is working to onboard boys who are ages 10 or 11. Getting boys engaged early provides greater probability that they will stick with the program than those who enter when they are in high school. The younger they start, the longer they stay. Nine students involved in The Outlet graduated from high school this past year.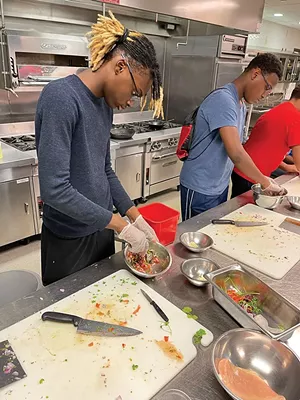 Not every young man is a success story. There are some who go a different path, are doing time and experiencing the consequences of making a dumb mistake. "It is heartbreaking when we can't save them all," says Phelon.
Until recently, The Outlet was all volunteer-based. Phelon resigned from his position at Lincoln Land Community College (LLCC) during the COVID pandemic to become the official executive director of The Outlet. At Lincoln Land he led the Open Door Mentorship Program and Workforce Equity Initiative. Previously he worked for the Springfield Urban League and was program director at the Boys and Girls Club. Now The Outlet has five full-time staff and seven part-time staff. Staff growth is the result of strategic partnerships with District 186, law enforcement, the Dept. of Juvenile Justice and other partners.
Mentorship is the heart of The Outlet
The Outlet pairs young men with mentors from the community who want to have a positive impact on the life of a young boy. Mentors regularly cite the benefits they receive in return from this relationship. Phelon was a first-generation college student. While at the University of South Alabama he was involved in Campus Outreach, a Christian organization based on discipleship with a mission of working with young men and women on campus. Two men mentored him, which he credits with helping him develop into the man he is today. He also learned about giving back to the community from his aunt, who operated a soup kitchen in Jacksonville. These powerful experiences are the inspiration for his calling to mentor other young men.
Justin Blandford is president of The Outlet's board of directors. Blandford also experienced the positive impact of male mentors in his own life. The Outlet's commitment to mentoring prompted him to get involved. "We need men in the community to step forward as mentors," says Blandford. "That work never goes away."
Impacting the community through strategic partnerships
Blandford has also seen the broader impact The Outlet is having on the community. One example is Phelon's commitment to community safety and a "bridging the gap" initiative to bring youth together with law enforcement in a fun and friendly environment. The Outlet is also a key partner with the Department of Juvenile Justice in making a difference in the lives of young men and their families who need positive influences. "What I love about The Outlet is that it goes deep into the community," says Blandford. He credits Phelon for his visionary leadership and his tremendous team who care deeply about youth.
After working together informally, The Outlet and Springfield School District 186 now have a more intentional, strategic partnership, initially made possible through federal funding targeted at academic recovery and students who had learning challenges during COVID. Douglas School is an alternative school serving middle and high school students who have struggled in a traditional classroom setting. The Outlet is providing two dedicated success coaches onsite at Douglas School. The Outlet provides mentoring, wraparound services for students and opportunities to participate in The Outlet's extensive programming outside of school. Jennifer Gill is Superintendent of Schools for District 186. She says the school district's work with trauma is well-aligned with the mission of The Outlet. "The Outlet provides much more than a place for boys to hang out; it helps them see themselves as successful members of the community," said Gill. She is committed to a long-term partnership. "We are holding the door open and can widen it quite a bit," said Gill.
Students at Douglas School have had the opportunity to participate in The Outlet's career development programs and trips outside of Springfield. For several years The Outlet has taken boys on trips to Memphis and Atlanta to see civil rights sites and visit Historically Black Colleges and Universities. At one time, Phelon lived 1½ hours south of Selma, Alabama, but he says they never talked about Selma's role in the civil rights movement in school. Many of The Outlet's boys have never been outside of Springfield or the state. Phelon understands how important it is to broaden their horizons and give the boys the opportunity to travel and visit places of importance to civil rights history. Phelon has seen the boys' eyes light up by having these enriching experiences, and the trips help build community among the boys.
Learning to serve
The Outlet also engages its young men in service, through sock drives, food drives, serving Thanksgiving dinners and other ways of giving back to the community. Michael and Rikeesha's two children have been active participants in The Outlet. "The only way to teach our kids to give back and be servants is to have them see this in action," says Phelon. They've been at all The Outlet's events to help out since they were young. Phelon encourages mentors to bring their own kids to events. "This is how we develop the next generation of leaders," says Phelon.
Dreaming big
When asked what surprises him the most, Phelon responds that he didn't think they would be here in this expansive space. He's more used to being in a basement, more underground. "Wow! We are leaving a mom-and-pop organization and becoming a full-fledged agency," says Phelon. He has big dreams. He would love for The Outlet to have a presence in every ward in Springfield and to go statewide, with its "forever home" as home base. He wants to have a greater presence in Decatur and beyond and believes the Outlet's model can be duplicated easily.
Some ask if Phelon will expand beyond serving young males. He says there is no lack of boys that need their services, and focusing on young boys and young men is their sweet spot. Phelon gets emotional when he talks about the people he serves and the vast campus they now occupy. "I've cried every day I've been here," says Phelon. "Mr. Mike, is this all ours?" the boys ask him. "Yes," he tells them. This evidence of community investment is inspirational to the boys. Phelon emphasizes that "ours" also means the facility belongs to the entire community. Phelon believes The Outlet in its new forever home will be transformational for the Springfield community, helping build the next generation of adults and community leaders. He invites others to share in the vision and dream big. – Karen Witter