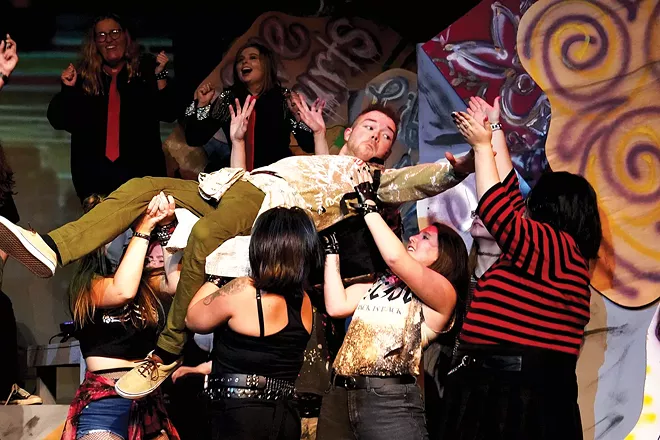 The Springfield Theatre Centre has given us an early holiday gift, a theatrical version of Green Day's American Idiot, a powerful, courageous show that you must experience for yourself.
Green Day's American Idiot (at the Hoogland through Sunday) is a musical like no other. A vigorous reimagining of the seminal punk band's 2004 album, which sold 12 million copies worldwide, the show deconstructs Broadway-musical architecture, merging it with rock 'n' roll performance practice into a dynamic new form. It's a thought-provoking rocking time in the theater.
Through the evergreen story of teen ennui, it forces all of us to confront our escalating love-hate relationship with media, social and otherwise. The lyric "Don't want to be an American idiot / One nation controlled by the media," foreshadowed our social media morass by nearly two decades.
Three disaffected youths, Johnny, Will and Tunny, leave suburbia ("this hurricane of fucking lies") in search of themselves. In the big city, Johnny finds drugs ("I walk this empty street / On the Boulevard of Broken Dreams"), Tunny joins the military and is broken and disabled, and Will gets a girl pregnant and ends up on a sofa, passively consuming media and drinking himself to death. By the finale, all three are back together in suburbia. "This is how I'm supposed to be / In a land of make-believe / That don't believe in me."
Billie Joe Armstrong, Green Day's lead singer and guitarist, who co-wrote the book for the show, aims for the same kind of swift narrative leaps that the songs make on the album. Jumping between vivid, fragmentary moments, letting sensation substitute for psychology, American Idiot provides a narrative experience akin to hitting the forward button on Spotify. The energy of the music and its unflinching view of wasted youth holds us in its grip.
The album debuted in the wake of 9/11. The Broadway premiere came in 2009, after the economic collapse. Springfield Theatre Centre brings it to us while we are still in the embrace of pandemic, in a nation more divided than at any point in 160 years. The media Armstrong railed against is massively more intrusive and powerful. While showing its age, this show is more important than ever.
Director Mark Wheeler and the STC have brought together an impressive cast. As the three friends, Jakob Hankins (Tunny), Gregory Runyard (Will) and Dylan Leach (Johnny) have strong voices and give affecting performances. Hankins' physical feat of transition to the broken shell of a disabled Iraq War veteran is shocking and heartbreaking.
Like the first-person narrators of most pop songs, the simplistic characters are what listeners project on them. The women especially are stereotypes – a couple of the main characters don't even have names. But it is the female actors in this production who come closest to the essential theatrical nature of American Idiot, embodying its transgressive qualities, breaking past the familiar "musical comedy" performance mode into something with real power.
Casting the charming and threatening Ariel Rhodes as the drug dealer St. Jimmy (a role closely associated with Armstrong) is a smart, bold choice. Erica Metzger as Extraordinary Girl and Alayna Currie as Heather are simply terrific. Lydia Tate as Whatsername gives us plenty of something this show demands and could use more of – a true rocker's attitude.
Disillusionment and despair are universal, but in this case, voices were excluded from the discourse. That American Idiot in 2004 ignored the toxic legacy of racism is a sad reality, one this production unfortunately sidesteps. Our stages must reflect who we are.
And yet American Idiot and this production bravely and clearly show how our political climate has corroded American culture and is eating away at our values, and at our democracy. Apathy and alienation are no longer options.
The band is fine (additional orchestrations by Wheeler) and the sound mix is quite good and the vocals mostly clear, which is a big accomplishment. But it just isn't nearly loud enough.
Wheeler is billed as designer as well and the central projection screen is a powerful tool. A screen was also used in the STC's Arsenic and Old Lace last month. Effective, but the placement in both productions imposes staging challenges, in this case limiting the entrances and exits to the sides. The choreography by Susan Wheeler, with punching, kicking, jerking, hunched bodies, captures anger and fear, all the more impressive as the program indicates that this is her first time in that job. Kristin Wheeler's costumes are great.
If you love Green Day, if you love theater and, yes, if you love America (with all its faults), you owe it to yourself to go see American Idiot playing through Sunday at the Hoogland. Tickets seem to be in demand.
American Idiot is not for young children, but most teens should be fine. There is offensive language, suggestive drug use and in-your-face heavy drinking. There is some uncomfortable gunplay, as well as a (non-realistic) suicide by handgun.
Audience members will be asked to wear masks. All seats are available for sale and there is no social distancing in the auditorium.
Dennis Thread is a freelance writer, director and producer experienced in theater, opera, immersive experiences, public ritual, film, TV and institutional and corporate communications. dthread@creativethread.com