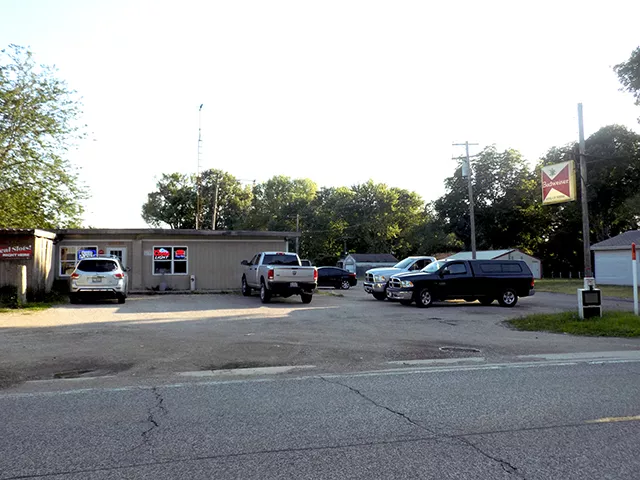 The Last Chance Saloon in Salisbury, like the unincorporated village surrounding it, is a small place, lacking both paved parking and pretension.
On a recent Monday, there is lament at the lack of Budweiser Select – just one bottle is left. The walls are mostly bare. Fireball, served in shot glasses, appears to be the liquor of choice, but most folks stick with beer. During a 90-minute stretch, three customers walk in.
It wasn't always this way, patrons say. Years ago, there also was a bar across the street in this no-stoplight town. Now, there is just the Last Chance, which, by all rights, should be called the Only Chance, seeing as it is the sole place in Gardner Township where it's legal to buy alcohol.
Prohibition never left Gardner Township when the Eighteenth Amendment was repealed in 1933. The Last Chance notwithstanding – once within the borders of dissolved Salisbury Township, it was grandfathered when Gardner Township absorbed Salisbury in 1989 – it is, at least in theory, easier to get a permit to sell bud, the green kind, than Bud, the wet kind, in the township west of Springfield. Some folks want to change that. The list of backers includes former state senator Larry Bomke, current senator Steve McClure and several business owners.
Supporters of a referendum to repeal prohibition in Gardner Township insist they are not drunks too lazy to drive to Springfield, nor does anyone want to give the Last Chance a run for its money. Rather, says Terry Farmer, who runs a photography studio, it is a matter of convenience and economic development.
"Gardner Township is behind the times," declares Farmer. "We don't have any corner gas stations. A lot of places like Hucks and Qik-n-EZ, they won't build unless they can sell some beer, too."
Already, Farmer says, a would-be gas station developer who wanted to build near the intersection of West Jefferson Street and Bradfordton Road abandoned plans upon learning no alcohol could be sold. The Knights of Columbus, he figures, might have been built in the township instead of east of the Gus and Flora Kerasotes YMCA if alcohol sales were legal. Bar and restaurant owners at the very east of the township, he says, can be annexed by Springfield and absorbed by Capital Township, where liquor flows, if not freely, at least for a price. "We're losing money that's going to Springfield," Farmer said. "A group of us were talking one day and said 'This is crazy.'"
Boozing up Bradfordton and environs is not a new idea. In 2012, township voters in a nonbinding advisory referendum recommended that prohibition be repealed, with 60 percent of voters favoring alcohol. "This is strictly to see what the citizens' feelings are on this," township supervisor Percy Stephens told the State Journal-Register before the 2012 election. "We'll work from here."
That the township bothered with an advisory election seems weird, given that there must be another referendum, this one binding, before prohibition can end. Referendum backers must gather signatures from 25 percent of the township's 4,000 registered voters to make the ballot, and they have four months to do it. Those aren't shoo-in numbers anywhere, and especially not in a township where folks like their acreage and there are few stores or gathering spots, due respect to the Last Chance and the Bradfordton grain elevator. Backers say they'll start collecting signatures on Aug. 18. Farmer figures on planting signs. Should sufficient signatures be realized, the question will be put to voters in the spring primary, with election day, auspiciously, falling on St. Patrick's Day.
While Gardner Township mulls alcohol sales, details are emerging about plans for a homeless center on 11th Street that would include 130 shelter beds, plus social services. Proponents that include social service agencies, city officials, Memorial Medical Center and Southern Illinois University School of Medicine are discussing a "sobering unit" and a recovery center that would be housed in the building but would not be part of the shelter proper. Both would be open 24/7, with the detox center having room for 10 people who might otherwise wind up in jail or the emergency room. They'd stay as long as 10 hours while sobering up safely. The 16-bed recovery center would help folks with both mental health issues and substance abuse problems. They would remain at the center for as long as a week while detoxing and receiving mental-health treatment. Ward 2 Ald. Shawn Gregory, who says he hasn't yet decided whether to support the center proposed for his ward, said he has known that the center would include services for the mentally ill and people with substance abuse issues, but he hadn't been told how many such people might be served until I called. "Those are some numbers that I wasn't told," Gregory said. "I probably should have been."

Contact Bruce Rushton at brushton@illinoistimes.com.