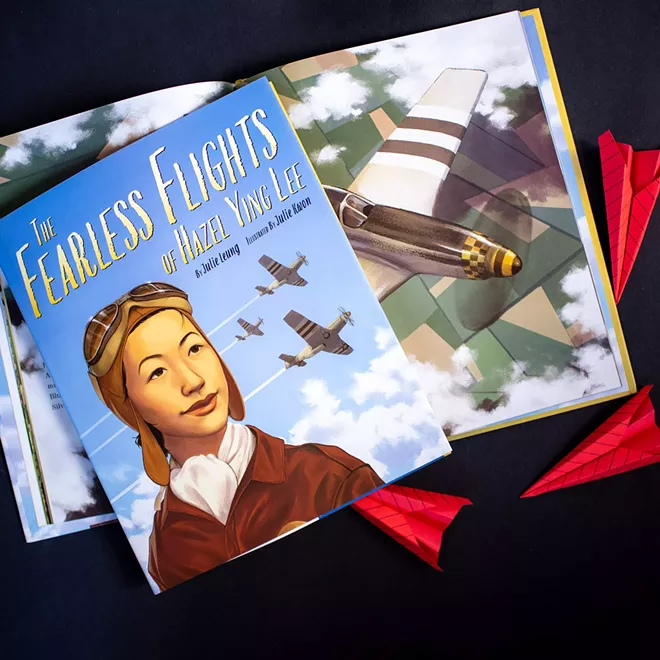 May is Asian American Pacific Islander (AAPI) month, which means it is a time to celebrate the achievements, contributions and influence of Asian Americans to American culture. To that end, one way to help increase awareness of and celebrate this month in your own household is to share books with your children that feature Asian Americans. Below are a couple that I would recommend.
The first title I would recommend, released in 2021, is The Fearless Flights of Hazel Ying Lee, which was written by Julie Leung and illustrated by Julie Kwon. This is a nonfiction picture book about the first Chinese-American woman pilot, Hazel Ying Lee. Leung's biography about Hazel is one that I would consider to be a "hidden figure," a person in history that accomplished great things, but that most of us do not know much about.
Thankfully, the beautiful illustrations by Kwon help to paint a picture of Hazel's yearning, even from a very young age, to want to be in the sky as a pilot. Due to discrimination because of her race and gender, and even resistance from her own family, it was not an easy path for her to become a pilot. However, Hazel became part of the WASPs (Women Air Force Service Pilots) during World War II, serving her country and reaching her dreams. Leung does a great job of not shying away from the discrimination that Hazel faced, but at the same time, she tells of the discrimination in a way that is clear and not over the heads of young readers. As a result of that and the fact that I enjoyed learning about Hazel myself, I think that The Fearless Flights of Hazel Ying Lee would be appropriate for readers of all ages.
Another title that I recently finished features a half Asian American character and is titled Prairie Lotus, written by Linda Sue Park and published in 2020. This chapter book is a historical fiction novel that takes place during the 1880s. This book was yet another one where my eyes were opened, since this time period is one I am not well versed in, particularly from the perspective of an Asian American.
In the main character Hanna's story, she shares her experiences as she and her white father move into the area known as the Dakota territory. This fictional story takes place about 50 years prior to Hazel Ying Lee getting her pilot's license, and Hanna also experiences discrimination based on her ethnicity, in her case in her efforts to attend school in her new town. Also like Hazel, Hanna runs into family resistance from her father for her goal to become a dressmaker. Given the time period and the setting of the story, it is not surprising that there are also Native American characters in this book who play a part in Hanna's story. Prairie Lotus is a story of determination and drama that also broadened my understanding of history in America. I would recommend this book for readers in fourth grade and up.
Although any time is a great time to learn about the experiences of Asian Americans and Pacific Islanders in America, reading either The Fearless Flights of Hazel Ying Lee or Prairie Lotus during AAPI month is a good start.
Deana Metzke is a literacy coach at a Springfield elementary school and a mom of two. For more children's book recommendations, follow her on Twitter @DMetzke or visit her blog at http://raisingreaders.site.