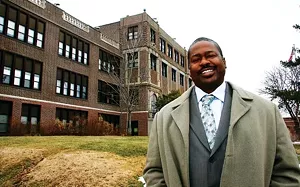 The most accident-prone intersection in Springfield is at 1900 West Monroe Street where the corridor to the boardroom crosses the corridor to the superintendent's office. There was yet another pileup at that spot when the District 186 board bought out the final year of Superintendent Walter Milton's contract.
Bought out? Bought off is probably a more apt phrase. The good doctor had some good ideas, but then I have some good ideas, you have some good ideas – your sixth-grader has some good ideas. He also seemed indecisive and irresolute, careless about paperwork and confused about money matters. He presided over, if not caused, problems from botched hirings and budget snafus to ill-considered school closings and continuing poor performance in the classrooms. To get rid of him, the board gave Milton a cash settlement of $178,000 plus a year's worth of insurance and pension benefits – everything except an offer to pack the U-Haul for him.
Milton leaves having made few friends in Springfield, but the 186 board has lost many more. Hiring and evaluation of the superintendent is probably the most important thing a board does, and nothing – nothing – about the way the board handled Milton's contract bears scrutiny. (I use "the board" here to mean the voting majority of those individuals sitting on it; not every member has been equally culpable in the fiasco of the Milton regime.) If a better board would never have hired this superintendent, a better superintendent would never have agreed to work for this board.
Most of us take more effort checking out which movie to go to than the board seems to have done picking its new superintendent. A simple Google search would have turned up news reports of the findings of a State of Michigan comptroller's audit that the district then under his leadership had "extensive problems" of oversight and management. Nonetheless he was offered a base salary nearly as generous as that paid the super of Chicago's public school system to run a system 25 times the size of Springfield's.
The board performed just as poorly in ridding themselves of their guy. It agreed to a generous severance package (which they don't yet know how to pay for) rather than simply wait and accept his resignation after he signs on with his next district. And if he wanted out early, shouldn't Milton have paid District 186?
A confidentiality agreement signed between the parties means that what happened on Monroe Street stays on Monroe Street. But while the board prefers to not tell the truth to Springfield, it is perfectly content to tell lies to other places. It gave Milton a going-away gift in the form of a letter of recommendation that praised his performance at 186 in spite of its having decided it didn't want him around because of bad performance. Call me old-fashioned, but doesn't this make the board party to a fraud committed against the taxpayers of whatever barren shore he washes up on next?
Mediocre superintendents come, mediocre superintendents go. It's a tradition, and not only in Springfield. They get passed from town to town, like losing baseball managers who keep getting hired because they have experience running a big league team, even if they ran it so poorly they got fired.
The most important job of a school board is hiring and evaluating the person who actually runs things. To do that well, members need to know enough about management and finance themselves to evaluate the claims of candidates, or to judge the fitness of consultants they might hire to advise them. (It really does take one to know one.) The problem is that electing board members the way we elect aldermen – by geographic sub-districts – reduces the chances of even one candidate in each sub-district possessing such managerial expertise are slim to none.
Not that many voters would pick such a candidate anyway. Some voters see board members as ombudsmen, some as spending cops, some as mouthpieces. All expect their own board member to protect favored programs and personnel from the decisions of the superintendent and teaching staffs.
Do I exaggerate? It will take at least five years for even a great superintendent to turn around a district like 186. Imagine a superintendent who demanded competence from all her staff, and backed teachers who held students to meaningful standards, and principals who expected teachers to learn how to teach children and not the lessons. That's five years of late night phone calls to board members from p.o.'d parents. No, I take that back. After even one year the crowds would clog Monroe Street, with parents carrying the feathers and the union members warming up the tar. As long as board members see their role as serving their constituents and not the students of District 186, they will, in effect, prevent even a good superintendent from doing her job.

Contact James Krohe Jr. at krojr@comcast.net.