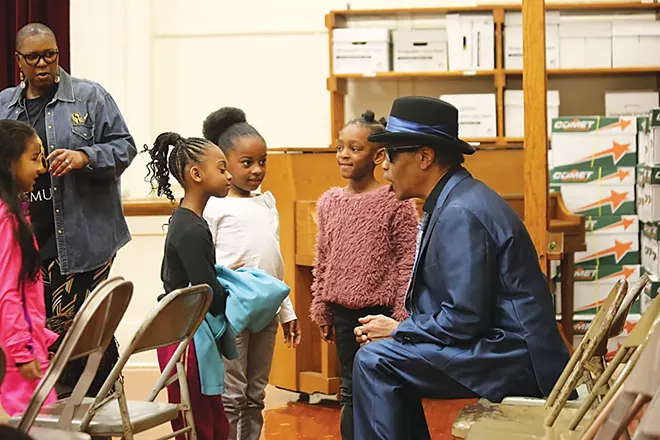 The blues man begins by looking over the students in the room. It's dead silent. James Armstrong is cool, presenting himself in a John Lee Hooker style three-piece suit and black shades. He talks to the kids about music, the instrument he plays, the places he's traveled and why he plays blues music. He performs a series of songs, answers questions from the students and at the end he invites several enthusiastic kids on stage to help strum his guitar.


"Bringing live music to the schools seems to be a very special activity," explains Michael Goza, president of the Illinois Central Blues Club. "It's amazing to observe the reaction from both students and teachers."


Goza is a lifelong Springfield resident and has been the Blues in the Schools coordinator since 2010. "The program introduces elementary, middle and high school students (and teachers/administrators) to the blues music genre via live music," Goza explains. "Blues is an original American music that does not get much attention from modern-day media."



Blues in the Schools programs started in the mid 1990s as a way to create a deeper appreciation and greater awareness of blues music and its rich history. "BITS can involve classroom curriculum too," Goza explains, "geography, language, art and social studies."


The hope is that the students enjoy hearing the live music and that some of them will want to pursue learning to play an instrument or study music. The program also brings about cross-cultural understanding and breaks down barriers between ethnic groups.


Blues in the Schools pulls in some of the best blues musicians central Illinois has to offer. Presenters include local talent such as James Armstrong, The Backpack Jones Band, Mary Jo Curry and Robert Sampson.
"Robert makes sure to include audience participation in his presentation, and some schools allow students to get up and 'dance' during some of Robert's songs," Goza explaines. "There are at least two Springfield elementary schools where Robert has been a repeat BITS presenter."


"Robert's performance was well organized and between songs, he gave us a brief overview of the historical significance of the song and a timeline as to where the music fit in with our study of black history," explained Karen Frost, music teacher at Owen Marsh Elementary. "He drew parallels between different genres of music and different musicians of the time."



Over the years the Blues in the Schools programs have expanded to include settings other than schools. "Any community organization or school can request a BITS activity," Goza explains. "There is no charge." The venues have been as varied as the zoo, library, churches, juvenile detention centers, rural art fairs and neighborhood parks.


Blues in the Schools operates through the spring semester months and has several more performances scheduled through May. James Armstrong will make a Blues in the Schools presentation at Illini Central Elementary School in Mason City on Tuesday, March 10, at 12:15 p.m.


You can find more information about Blues In The Schools at www.icbluesclub.com and the Illinois Central Blues Club on Facebook @icbluesclub.


Joseph Copley is production designer for Illinois Times and co-publisher of Activator, the music and arts magazine.