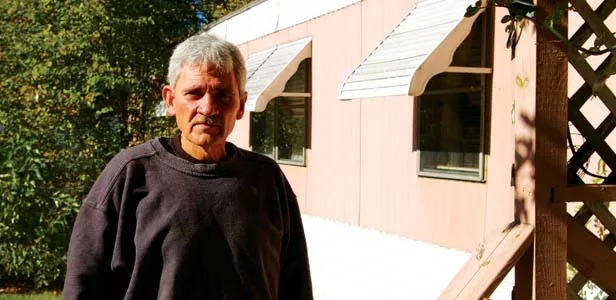 On April 2, Scott Humphrey was visiting his next-door neighbor Sandy when she looked out her kitchen window and noticed that an unfamiliar man and woman were standing on his front porch. Humphrey stepped outside and called across the yard to them, and the man replied that they had been looking for him. When Humphrey met the pair at the fence between his and Sandy's mobile home lots, the man pulled out his credentials.

"I looked at it, but I really didn't look at it. I was going through sensory overload," Humphrey says. "I said, 'Well, sir, what would the FBI want with me?'"

Deep down, Humphrey — a 57-year-old model-railroading enthusiast who works part-time jobs at an area hobby shop and bookstore — knew why the Federal Bureau of Investigation had dropped by his north-end home (the Springfield FBI wouldn't confirm that this visit occurred).

A month earlier, on March 7, the State Journal-Register published an op-ed called "Don't blame Israel for civilian deaths," by George Sisk, who was then chairman of the Springfield Jewish Community Relations Council. Later that same day, American Everyman, a blog dedicated to discussing political issues, including, "the plight of the Palestinian people," posted a rebuttal of Sisk's column. Humphrey was an avid blogger on the Web site and joined in the ensuing debate. He used it to draft his own response to Sisk's column.

Humphrey's letter to the editor — "Israel is not blameless for Gaza civilian deaths" — ran in the SJ-R on April 1. He wasn't surprised that the FBI knocked on his door the next day, he says, because other bloggers on American Everyman had already told him that speaking out would get him into trouble.

"Up until that point, I hadn't considered these issues before," he says. "I'm not an anti-Semitic campaigner for the destruction of Israel. I just don't support what they're doing."

According to Humphrey, the man who identified himself as an FBI agent told him that they were investigating a series of possible threats that had been made against Sisk. When Humphrey told the pair that he did not threaten or intend to harm anyone, he says, they left.

Three months later, on July 13, he was visited again — this time, he says, by two men, one who identified himself as Steve Gudgel, a special investigator with the Sangamon County state's attorney's office. Humphrey says the men accused him of making threats against Sisk on the American Everyman Web site and expressed a concern that someone would bomb the local synagogue. Humphrey again answered that he did not threaten or intend to harm anyone, he says, and they left.

Gudgel, accompanied by a deputy with the Sangamon County sheriff's office, returned to Humphrey's home and arrested him on Aug. 26. He was taken to the Sangamon County jail and charged with two counts of harassment through electronic communications and two counts of disorderly conduct.

According to the official complaint, one count of disorderly conduct relates to a blog posting he wrote on March 7 about Sisk's column; the other three charges relate to a blog posting he wrote on April 9 about a rat he encountered while working another part-time job. The post included the name "George."
Sisk told Illinois Times that he does not wish to comment on this pending criminal investigation.


Think of the Internet as a giant megaphone.

Sandra Baron, executive director of the Media Law Resource Center in New York City, says in the past, individuals who had something to say about public figures, employers or their friends were not often subject to litigation, let alone criminal charges.

"The reach of their statements was relatively modest," she says, "but that's just not true anymore."

The Media Law Resource Center monitors hundreds of cases across the country in which bloggers have been sued for state and federal libel, invasion of privacy and related claims, or have been subject to criminal investigations and prosecutions. While bloggers have the right to freedom of speech — the right to speak without censorship or limitation — Baron says that doesn't mean the Internet is a "law-free zone." There will be serious repercussions, she says, if bloggers don't recognize that they're subject to the same state and federal laws as any other publisher or speaker.

"Increasingly we're going to see people stop speech, which used to be virtually unheard of in this country," Baron says. "We're seeing it more on our Web site, that people are using lawsuits and criminal [charges]."

As states like Illinois pass cyberbullying laws and as Congress considers enacting a similar federal statute, more legislators are contending that online speech can inflict harm on Internet users. As a result, Baron predicts that the number of cases relating stalking and harassment charges to online statements will also increase.

"Individuals do in fact feel threatened or undermined by material posted online," she says, "and they are going to look for legal vehicles to stop publication of that which they feel is threatening."

The Media Law Resource Center has already compiled a list of 15 cases nationwide that allege harassment. Some involve requests for restraining orders, as shown in two recent California cases. In San Francisco County, a female online sex columnist filed a request for a restraining order against two individuals after they allegedly sent her threatening e-mails and posted disapproving statements about her on several Web sites. The restraining order was denied. In Shasta County, a reporter for a Redding newspaper requested a restraining order against a former friend, who allegedly ridiculed her on a blog. Her request was also denied.

The organization's list includes several civil complaints that involve harassment. In a 2007 case in Pennsylvania, the Justice Department sought a permanent injunction against an anti-abortion activist who allegedly threatened in his newsletters and blog to harm clinic patients and doctors. The district court granted the injunction and forced the removal of the statements.

The Media Law Resource Center also highlights five criminal cases that allege harassment, including a case in Ohio where a female high school student posted a picture of a female classmate on MySpace with the caption, "molested a little boy." The student was charged with violating the state's criminal telephone harassment statute for allegedly intending to harass her classmate via the Internet. The student was convicted, but the appellate court reversed the decision based on a lack of evidence.



Back in Springfield, Humphrey posted $500 — or 10 percent of his $5,000 bond — to get out of jail. He faces four criminal misdemeanor charges for two specific online statements that he made on the American Everyman Web site. If found guilty, he could spend more than a year in prison or pay up to $6,000 in fines.

Humphrey read Sisk's March 7 column in the SJ-R and, after chatting with his fellow bloggers on American Everyman, decided to send a response to the daily newspaper. At 8:34 p.m., he posted:

"George Sisk has never heard of me. He doesn't know I exist and live in the same city he does. That's about to change. [The moderator] warns me this will bring me great trouble. I'm no hero people. But battles are fought by individuals who would rather be someplace else. Here, in my own backyard is a battle that has to be waged, a battle to the truth against the great lies."

According to the state's complaint, Humphrey was charged with one count of disorderly conduct for transmitting this Internet post "in such an unreasonable manner as to alarm and disturb George Sisk and provoke a breach of the peace."

Humphrey, a Vietnam veteran, admits that he doesn't have a normal attitude about political situations. When he came home from the military in 1972, he says, his first job was to put the past few years behind him. But he began reading about the Palestinian-Israeli conflict and other current events and last year joined in conversations at American Everyman.

"I think talking is a proper alternative to fighting," Humphrey says. "I think that's what's wrong in the world — there isn't enough talking."

According to Humphrey, people who blog on American Everyman are not allowed to make any type of threats. Swear words are allowed, he says, but not as a direct insult to another person.

On April 9, a week after Humphrey says he was first visited by the FBI, he found a rat in a trash can while working a part-time construction job in an area neighborhood. Humphrey debated whether to kill the rat or to let it go, and relayed his decision to American Everyman at 6:05 p.m.:

"So, I stood there looking down at this…RAT…and pondered its fate. We all damn well know what rats are all about. They're no f—g good…. Killing this rat f—k would serve in the best interests of society. Isn't that right, George? See, everyone, George, agrees that I should kill this rat….

"Here is what I decided about the rat I had life or death over. It ain't my f—n' job to kill the rats over there."

In addition to a second count of disorderly conduct for this post, Humphrey was charged with two counts of harassment through electronic communications. According to the state's attorney's complaint, he posted obscene written materials that implied that Sisk was a rat that should be killed. The state's attorney also alleges that Humphrey threatened injury to Sisk, "knowing that Sisk viewed the Web site."

Humphrey says he's never met Sisk or spoken to him. When a reporter asks him if he intended to threaten Sisk, he responds: "I don't know what a threat is anymore. I wrote a story about a rat. It's a genuine story, and I can prove it."

The Harassing and Obscene Communications Act, enacted in Illinois in 1998, was amended in 2001 to include harassment through electronic communications. The law criminalizes any obscene comment made with the intent to offend and any electronic communication used to threaten another person, among other measures.

The American Civil Liberties Union of Illinois has openly opposed this law and its most recent amendment, the Cyberbullying Act that passed in 2008. This law makes it a felony for someone to harass another person using electronic means on at least two separate occasions or to create a Web page that harasses another person.

Harvey Grossman, the Illinois ACLU legal director, maintains that it's difficult to attach criminal harassment charges to communication on the Internet. It's more appropriate for one-on-one communication, he says, after someone sends an e-mail to a specific person or uses the telephone to repeatedly call them.

"One of the big questions that is frequently at issue, in cases in which people single out other people [on blogs or Web sites], is whether or not the communication is directed toward that person or directed toward third parties," Grossman says.

To his knowledge, Grossman adds, the state's harassment through electronic communications statute hasn't yet been tested in court.


Thinking of speech as objectionable or indecent doesn't come close to qualifying it as obscene, says Steve Helle, a journalism professor who specializes in media law at the University of Illinois at Urbana-Champaign.

To determine if speech or expression is obscene, Helle says, it must meet all three of the following provisions: it must appeal to prurient, or lewd and lascivious, interest; lack literary, artistic, political or scientific value and be offensive according to community standards.

After considering Humphrey's case, Helle doesn't believe that the content in his blog posts qualifies as obscene. For that reason, he says, the posts don't seem to fit the state's charges.

"If what this person said constitutes electronic harassment," he says, "then Rush Limbaugh ought to be in prison for life."

Robert Cox, the president of the Media Bloggers Association, a New York organization that provides legal support services to bloggers who face legal threats, decides what constitutes harassing speech on a case-by-base basis.

"If someone is a public figure, and you're writing nasty things, like you think they're corrupt, I'm sure they wouldn't like to be the recipient of it, but it kind of goes with the territory," Cox says. "It doesn't classify as harassing speech."

In any free speech issue, he adds, there will be arguments between interested parties. As long as they're not being threatening, he says, bloggers like Humphrey have every right to be expressive and colorful in their language.

"It's not often that someone's arrested for what they wrote in a blog," Cox says. "It is an unusual case and should be a cautionary tale to anyone who sits down to use a computer."

After he was arrested, Humphrey enlisted the help of his friend Robert Jackson, the former executive associate dean of the Southern Illinois University School of Medicine. Jackson paid Humphrey's bail and has now hired Springfield attorney James Elmore to represent Humphrey's case. Elmore did not return calls seeking comment for this story.

Jackson first met Humphrey in the late '80s and connected with him over model railroading and their shared military background. Not only are the charges against Humphrey irrational, Jackson says, but they violate his constitutional rights.

"What has [happened] to Scott is very scary in the abstract," he says. "It says things to people like me, well, be careful of what you say. This is not such a free country after all. You can't just speak your mind.

"And even if you speak it in a non-threatening way, but a vigorous way, you could have the FBI coming down on you."

Humphrey entered a plea of not guilty to all four charges and will appear in court on Dec. 7.

"The fact of the matter is," Humphrey says, "I would have been willing to sit down with Mr. Sisk and drink coffee and talk.

"See what I mean? We can talk, but instead someone wants to do it the hard way."

Contact Amanda Robert at arobert@illinoistimes.com.