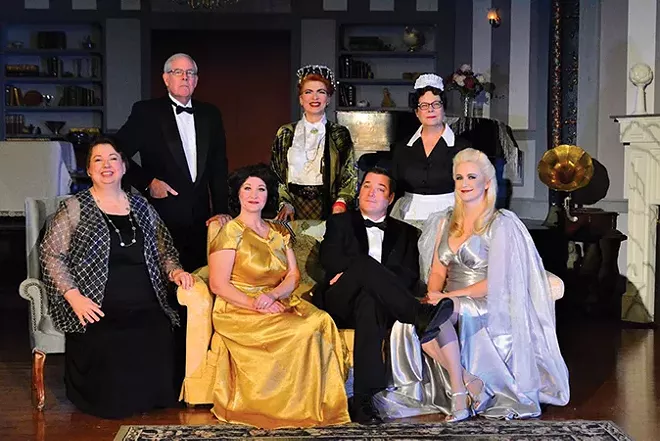 Noel Coward remains one of the giants of 20th century theater who combined Art Deco glamour, 1920s sexual frankness, witty dialogue, high style and seemingly endless martinis with his personal courage and barely concealed sexual orientation.
Blithe Spirit is one of Coward's most famous comedies, a joyful, brilliantly written and constructed romp finding hilarity in unintended consequences.

Coward wrote the play, one he described as a "very gay, superficial comedy about a ghost," over six days in 1941 at the height of World War II. "Superficial" was a misnomer; there's a hidden depth to everything Coward touched.

While he wrote, the Germans bombed British cities night after night, raining death and destruction from the air. Blithe Spirit was a comedy about death that would resonate with audiences who were, in real life, facing death every day. It was a huge hit both in London and New York and has remained in the repertoire ever since.
Without drawing a direct comparison to the horrors of World War II, the times are dark again both in Brexit-anxious London and in starkly divided America. It's just the right time for Coward's hilarious, sexy, and yes, thought-provoking meditation on love and death. In England, the release of a new film version staring Dame Judi Dench is imminent.

And here in Springfield, count yourself lucky to be able to take in the brand-new Spencer Theatre Company's delightful production at the Hoogland Friday-Sunday, Feb. 28-March 1.

Successful mystery writers Charles Condomine (played to the sophisticated hilt by Joe-Michael Jackson) finds himself in the middle of an uncanny and hilarious real-life ghost story when he invites Madame Arcati, an eccentric medium and clairvoyant, (played by the equally eccentric and oddly touching Sherri Mitchell) to conduct a séance at his English country home. During the evening, Madame Arcati unwittingly materializes the ghost of Charles' late first wife, the mischievous Elvira (played by the delicious Julie Staley). Elvira can only be seen and heard by Charles, who says of her, "I remember her physical attractiveness, which was tremendous, and her spiritual integrity, which was nil." The sudden appearance of Elvira causes immediate problems with his very-much-alive second wife, the briskly efficient Ruth (played by the subtly domineering Carrie Kincaid). Initially alarmed and then charmed by the ghostly Elvira, Charles quickly gets caught between the two.

What ensues, in the words of New Yorker critic John Lahr, is a "psychic ménage a trois," with chaos, ghostly apparitions, accidents, murder and more.
It's great to see such an evenly matched ensemble. Under the direction of Ginny Racette, the cast is tight and plays exceptionally well together – they all seem like old friends. Also featured are Mike Rogers as a skeptic physician, his charming and charmful wife (Nancy Cole) and, last but not least, Felicia Coulter as Edith the maid, who turns out to be something much more than she seems.

In this first effort, the new Spencer Theatre Company is to be commended for its efforts in re-creating the glamour of Coward's age, which makes it curious that no one is credited as set designer. While the décor is fine, the lighting doesn't do much to improve things, with harsh shadows falling on the walls of the sets. The lovely Theatre III at the Hoogland is a challenging space to light, especially when it is used, as it often is, in the semi-thrust format, with much of the action taking place in front of the proscenium arch.

For the all-important costuming, hair and makeup, Spencer Theatre again gets an "A" for effort but the results are uneven. Some elements here are fine, some not so. This is a problem common for theater in Springfield in general. At its essence, theater is about the presence of the actor. Sets are important, but costume and makeup are key to the creation of character and vital to the maintenance of the necessary intimacy between audience and performer. Giving costumers, designers, hair and makeup personnel – and actors – the resources they deserve should be a top priority in every production.

Despite these minor caveats, the new Spencer Theatre Company's Blithe Spirit demands to be seen. Blithe Spirit is at the Hoogland Center for the Arts, Friday and Saturday (2/28-29) at 8 p.m. and Sunday (3/1) at 4 p.m.

Dennis Thread is a freelance writer/filmmaker/creative director with experience on Broadway, television, opera, documentaries, and in corporate and institutional communications.