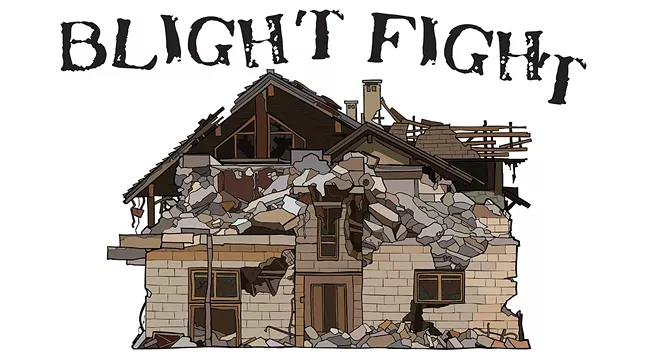 Public officials long have sought solutions to dilapidated buildings blighting Springfield with broken windows, sagging porches, rats and worse.
Many still sit vacant and crumbling despite plans and promises. Here's a snapshot.
Poplar Place
The future looked bright just two years ago for one of Springfield's ugliest neighborhoods.
Poplar Place was so bad that Governing magazine featured the Ward 3 housing project in a national story about racial segregation and how Springfield has historically herded minorities into horrible housing, whether through public policy, racism, neglect, indifference or a combination of all three.
Potholes in Poplar Place's privately owned streets threatened axles. Roofs leaked. Windows were boarded. Trash bins overflowed. Crime blossomed.
No more, Mayor Jim Langfelder declared in 2019, when the city council approved $1.2 million in public money for street repairs, on condition that living quarters first be fixed up. Iceberg Development, an Iowa-based company that specializes in low-income housing, converted one of Poplar Place's battered duplexes into a sparkling single-family home to demonstrate the firm's commitment and the area's promise. Within months of the city approving money for streets, the Illinois Housing Development Authority came through with $15 million in tax credits critical to financing the planned $22 million rejuvenation.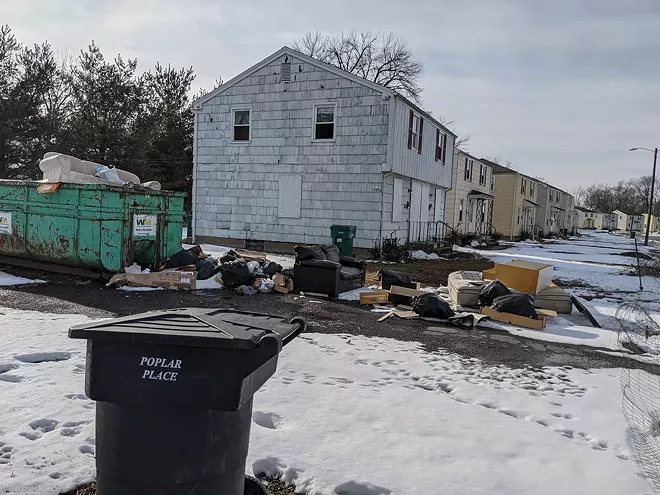 "I think it's 90 percent of the way there," the mayor told
Illinois Times
nearly two years ago, when IHDA announced its decision to award tax credits for Poplar Place.
The facelift has flopped, with IHDA refusing to issue promised tax credits. There won't be any work done anytime soon at Poplar Place, which resembles a ghost town, a mix of boarded-up buildings amid ones that appear on last legs.
"The project is no longer moving forward," said Jon Davidshofer, vice president of Rock Island Economic Growth Corp., which helped put the deal together.
It's complicated, says Jim Bergman owner of Iceberg Development. "I would characterize it more as stalled," Bergman said. "It needs to be totally reconfigured."
A legal problem that Bergman describes as rare and esoteric is rooted in a 1999 deal between IHDA and a previous owner of Poplar Place, then known as Evergreen Terrace, who was granted tax credits for revitalization. The agreement calls for the development's owner to provide more than 200 living units for 30 years; Bergman wants to demolish buildings and create fewer than half that many, according to IHDA, which refused an interview request but provided an email in response to inquiries from Illinois Times.
"Unfortunately, despite everyone's best efforts, the parties could not come to terms about how to proceed with the financing given the nuanced risks related to the elimination of well over 100 units of affordable housing as part of the proposed redevelopment," IHDA spokesman Andrew Field wrote.
That Bergman had planned on reducing the number of units was no secret. Before IHDA granted tax credits in 2019 that were rescinded in December, the developer said that he would level dozens of duplexes and create single-family homes and townhouses out of those that remained, with monthly rents ranging from $400 for a one-bedroom to $800 for a house with four bedrooms and three bathrooms.
The goal of agreements such as the one IHDA made more than two decades ago is to help ensure that the public gets its money's worth from developers who create housing with government subsidies. The upshot for Poplar Place, however, is stagnation and deterioration, according to city officials. Langfelder says that IHDA is hung up on a technicality: The goal should be quality housing, and boarded-up duplexes don't qualify. Better to have fewer homes that are habitable, the mayor says, than empty buildings until the 1999 financing agreement expires.
"It's a tangled mess," the mayor says. "Those units are problem properties. Nobody's in them – if they are, they're squatting. Is that the decision, you let them languish for the next 10 years, as-is?"
Officials from The Related Companies, current owner of Poplar Place, could not be reached for comment. Zerkle says that IHDA, under the 1999 financing agreement, could force the subdivision's owner to correct building code violations and fix streets.
Zerkle points to clauses in the document stating that the owner agrees that units will remain suitable for occupancy and that local health, safety and building codes will be taken into account. The agreement gives IHDA power to inspect premises to evaluate the condition of units, Zerkle says, and if the agency determines that the owner has failed to keep units in habitable condition, the agreement says that improvements must be made within 90 days.
"They (IHDA officials) have acknowledged that they have the authority to do it," the city's attorney says. "They have a clear obligation to enforce those agreements for the benefit of the people who are living there, and they are the only party that can enforce that agreement against Related."
IHDA says it's working on it.
"IHDA remains concerned about the state of operations at Poplar Place Apartments," Field wrote. "The owner is required to provide decent, safe and sanitary housing, and all the units at Poplar Place apartments must be maintained in a rentable and tenantable state of repair. To that end, IHDA is working diligently and in real time with the current owner."
Langfelder says that the city will keep trying.
"It seems like we're almost back to square one again," the mayor says. "But I haven't given up."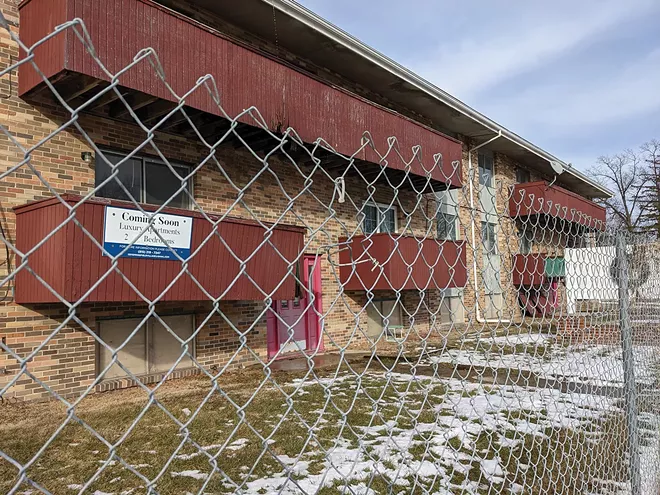 Bally Vaughn
Back in the day, Bally Vaughn, an apartment complex on Washington Street, was the place to be.
"It was one of the nicer apartment complexes in town," recalls former Ward 8 Ald. Kris Theilen. "When I got out of college in 1995, Bally Vaughn was right up there with Chatham Hills and other apartments that young people wanted to live in."
No more.
Built in the 1960s, Bally Vaughn since has been marked by crime, loud parties, complaints to police and chain-link fence, which went up after the complex shut down seven years ago. Vacant ever since, Bally Vaughn went into foreclosure before being sold at auction in 2017 to a Florida owner who vows better things.
A rezone proposal to rescue Bally Vaughn is now before the city council, which narrowly rejected a similar bid in 2018 that had been recommended by the city's Planning and Zoning Commission. The issue is parking – there are insufficient off-street spaces for the 68 units contemplated.
The current owner, David Rodriguez, is in negotiations with nearby Sacred Heart-Griffin High School, which knows firsthand the challenges of rehabbing property in old neighborhoods. In 2012, SHG bought the shuttered west branch Springfield library from the city for $40,000, with hopes to renovate and add an additional building to campus.
It didn't pan out. The library now is slated for demolition. A tentative deal between SHG and Rodriguez calls for the developer to pick up costs of tearing down what was once a learning center and converting it into a parking lot for the high school.
"Over time, we realized that not only would the (renovation) project be cost-prohibitive, but the need to utilize more square footage on our campus simply isn't there," Sister Katherine O'Connor, SHG president, wrote in an email to Illinois Times. "We've also tried to partner with other businesses and nonprofits to utilize this space, but the building would have required a costly overhaul, and those attempts did not garner much interest. Throughout the years, we have maintained the building, but it has become increasingly clear that the building is falling into disrepair and the safest and best option, sadly, is demolition."
SHG and the West Side Neighborhood Association opposed the 2018 rezone proposal for Bally Vaughn, which failed on a 5-5 city council vote – Ward 9 Ald. Jim Donelan, an SHG board member, abstained; Langfelder, an SHG graduate, voted against the rezone, which could not be reintroduced for 18 months. A second council vote is expected next month.
In 2018, Theilen argued for approval, saying that he'd checked into properties owned by Rodriguez in other cities. "Everything I've seen has been above-board," Theilen, who is now on the Springfield Park Board, told colleagues and Rodriguez three years ago when he voted for the rezone. "From what I see from your track record, you resolve the issues, after there's been a finding, very quickly."
In his unsuccessful plea, Rodriguez told the council that he fell in love with Springfield after visiting for two days shortly before buying the complex from a bank. "At the time, I didn't know this was the home of Abraham Lincoln – I was very excited," the Florida developer told the Springfield City Council in 2018.
Three years ago, Rodriguez told the council Bally Vaughn apartments would be rented to "hard-working people, not to riffraffs." In addition to managing more than 1,000 apartment units – his lawyer says that he has properties in New Jersey and Florida – Rodriguez told the council that he'd built a 7-Eleven store and was working on a Dollar General.
"It's a family business," Rodriguez told the city council in 2018. "I kid you not: I actually live in one of my buildings. I swear on my daughter's life, I live in my complex. It goes to show how good I treat my apartments." He promised new balconies, windows and doors for Bally Vaughn.
"Hopefully, I'll make it very beautiful," Rodriguez said. "It will pretty much be a gut job. I want to make everybody happy. It's hard to do that. I try my best."
Three years later, Ward 8 Ald. Erin Conley says that concerns about parking and the number of units remain. "If I had been around last term, I would not have encouraged this developer to move forward the way they have," she said. "I understand the concerns about the density of the apartment complex." She also acknowledges that the status quo isn't good.
"It's a drain on the neighborhood," Conley says. "What we're looking for is to see the apartments fixed up on a high level. ... It's a delicate balance. I understand the developers want to make money – I respect that, absolutely. These older neighborhoods are really an iconic part of our city, it's part of what gives us that hometown feel. It's really important that we have a development that's respectful of that."
Don Craven, Rodriguez's Springfield attorney, said that extensive renovation, all privately financed, remains the game plan, with one thing certain.
"They will come up with another name, and it will not be 'Bally Vaughn,'" Craven promised.


Here, there and everywhere
Administrative court, held several times each month at city hall to hold building code violators accountable, convened at 8:30 a.m. and concluded at 11 a.m. on Feb. 17.
There was lots of down time – not more than a half-dozen accused violators showed up in more than two hours. No fewer than a half-dozen city employees, including an armed cop stationed in back who stayed the entire time, were present.
Problems were myriad and mostly dispensed with in short order, with scores of problems deemed abated during recent inspections and $150 fines issued to defendants who've resolved matters and aren't here. Garbage. Missing gutters. Cockroaches. Rats. No smoke detectors. An unsealed natural gas line. "I moved the car – it runs," says a defendant with multiple issues that remain unsolved. Do you have proof of heat, someone with the city asks a woman whose east side house has several deficiencies.
Another woman cited for unsanitary conditions is fined $450 and told that the city will rescind the punishment if her home on East Monroe Street passes inspection before March 10. This is her 10th court date since 2019, according to city files. The oldest case on today's docket is a Poplar Place duplex with code violations documented in 2014. The matter is continued with no action taken, as are cases involving Bally Vaughn, which was cited in 2017.
Afterward, Judge Roger Holmes says that there are success stories, but that can be in the eye of beholders. "If you're the neighbors, it's going too slowly," he says. "If you're the property owner, they're pushing too hard."
Nearly a decade after buying a vacant house on North Sixth Street, George Petrelli, a Springfield lawyer who's made unsuccessful runs for Congress and the Springfield City Council, is still shooting for an occupancy permit. Code violations documented since he bought the home in 2012 for $1 from Enos Park Development Corp., an arm of the Enos Park Neighborhood Improvement Association, date to 2014, when he was first called to administrative court.
"I've had a couple setbacks through the years," Petrelli says.
Petrelli says that he originally planned on fixing the house up with labor supplied by folks eager to learn construction skills. Once finished, he said, people who did the work would move into the home, plus others he planned to buy and renovate. The plan didn't materialize. He says that work has progressed, and he hopes to get a temporary certificate of occupancy next month. The city, he says, has offered to forgive fines if he brings the property up to code. Once it's fixed, Petrelli says he'll either rent the home or sell it, perhaps via a contract for deed.
"It's taken a lot longer than it should have," Petrelli says. "The city's been good. I've been working with them."
Neighborhood activists say that the city has been too patient.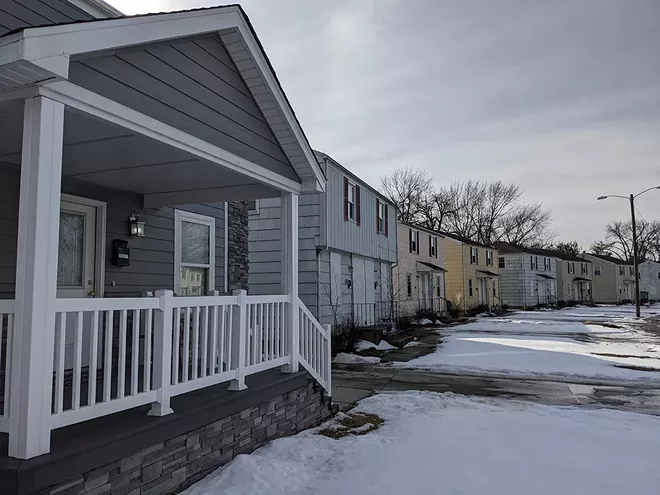 Concerned that cases drag on too long, Inner City Older Neighborhoods is attempting to measure the problem, but getting meaningful information, including what code violations have been found and what's been done about them, requires Freedom of Information Act requests, and it can take two weeks for the city to respond. Why not, ICON leaders ask, link notices of violation and subsequent inspection reports to cases on the online administrative court docket so that neighbors can easily find out what's being done about dilapidated buildings?
"It is so difficult to find out the status (of properties)," says Carol Kneedler, who sits on ICON's problem property committee. "We've been working on this for years, and we still have trouble finding out the status. The average person gives up – it's too complicated to find out. They do want the house next door fixed up, but they have no idea how to go about it."
Beyond making information more accessible, the city needs to get tougher, says George Tinkham, another member of ICON's problem property committee. Tinkham says that he knows people who've spent years trying to fix up houses. "Your heart goes out to them, but look at the consequences of letting them do very little," he says. "At that point, you've got to decide: Is it better for the neighborhood, is it better for the city, to just pull the plug and say 'You've had your shot, this is something you can't handle.'"
Tearing down houses, Tinkham says, should be a key part of anti-blight strategy. "Demolition's important," he says. "If you have a derelict house sitting there, you have a slum. The threat of demolition forces the landowner to get off dead center."
Demolitions have plummeted.
Between 2012 and 2014, the number of demolitions shot from 26 to 109. The decline began in 2015, when 75 buildings were demolished. In 2019, the city tallied just six demolitions; between Jan. 1, 2020 and February of this year, the city recorded 16 teardowns. "Most of these things boil down to the budget," says Darryl Harris, deputy public works director. During a recent budget hearing, public works director Nate Bottom told the city council that his department plans 30 demolitions during the coming fiscal year.
The city, Tinkham says, should set firm deadlines for getting work done and put liens on properties if deadlines aren't met. If a new owner takes over, the city should require a construction schedule. Too often, he says, absentee homeowners skate. "If somebody's trying to make money and they're not equipped for that particular business, then they're in the wrong business, and that's when the city takes on the responsibility of ultimately causing the thing to change ownership, and the new owner needs to be held to a certain level, also," Tinkham says. "All we need is the will, the political will, in this city to make it work."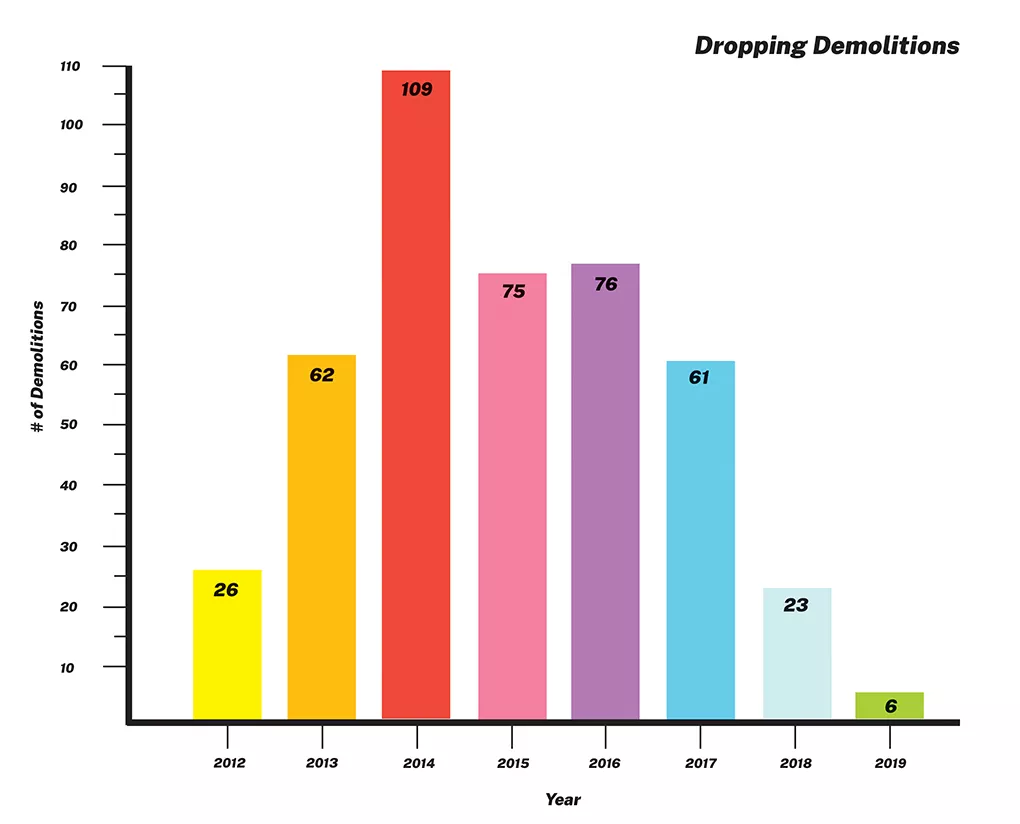 Ward 5 Ald. Andrew Proctor says that activists raise good points. "I agree with ICON: Things aren't getting done as quickly as we'd like," Proctor says. Beyond putting owners of crumbling buildings on three-year schedules to effect repairs, the city needs to do a better job of prioritizing cases so that the worst problems get the most attention, he says. Housing inspectors, he adds, should find problems on their own rather than wait for neighbors to call. The city plans to hire an additional building inspector, which would bring the number of inspectors to six. Proctor says that 10 would be better.
"The process is broken to the point that it's only a complaint-driven process," the alderman says. "I think it's more about the city being proactive every day. ... There are multiple tools to address this. I just don't think it's coordinated."
Contact Bruce Rushton at brushton@illinoistimes.com.