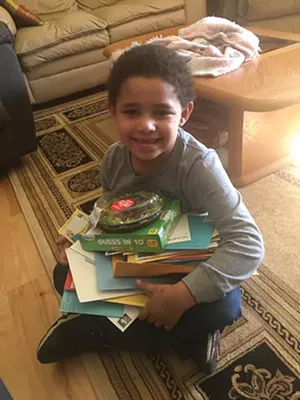 Birthdays aren't the same during COVID times. With ramped-up mitigations and public officials calling for no socializing with those outside immediate households, get-togethers are increasingly rare – or at least should be, to slow the rate of infection.
Over the past several months some have taken to birthday parades. The birthday girl or boy (or adult) can sit outside their home and wave to passersby. Sometimes participants decorate their cars with banners or balloons. Gifts and well wishes can be exchanged from a distance.
But that wasn't so possible for Jayden, who lives in rural Pawnee with his mom and two siblings. "I just had a feeling with COVID, it was just going to get worse. And I knew that we weren't going to be able to go do anything for his birthday. He wanted to go to the bounce house and all of that, but I knew nothing was going to be open. I figured, he likes getting the mail," said his mom, Marissa Henson, of Jayden's recent birthday. The mail option seemed more reasonable than asking people to drive by their house out in the country.
So she put a call out on the "Springfield Families Helping Families" group on Facebook. She had used it in the past to offer diapers and clothes her own kids had outgrown. "I would rather donate it to somebody than take it to Goodwill and have them resell it." And she had gotten some clothes for her own children through the group as well. So for her son's sixth birthday she asked if anyone might want to send him a card.
Days after his birthday, the cards were still pouring in – more than 100 in all. A day care class had sent cards they decorated. Someone made and sent him an origami dragon. He even got a letter from Mrs. Santa Claus. Marissa said she was brought to tears by the generosity of strangers.
On Jayden's birthday, Marissa put all the cards together in the mailbox so he could find them all at once. "He ended up dropping half of them on the ground because there were so many." When asked which was his favorite card to open, Jayden answered, "Every single one."
The past months have been a challenge. Marissa works at Meijer in Springfield where she stocks goods in the dairy department. Jayden started kindergarten in a strange new world. Some elementary students in Pawnee have learned remotely as well as part time in the classroom. It's not the way Marissa would have preferred Jayden to begin school, though the family is making it work. Marissa's mom helps with child care.
The family just got out of quarantine after awaiting test results, having been exposed to an infected person. They were negative. The influx of mail has been a bright spot. While Marissa hadn't asked for money, senders were generous with cash and gift cards. Enough so that she decided to start a savings account for Jayden with the funds received.
Springfield Families Helping Families continues to serve as a virtual communal aid group, with a heavy focus on stocking micropantries throughout the Springfield area. The group is organized into "units" – there's a thank you section where people like Marissa can share their gratitude. There's a place for those looking for work. Some have been able to find help getting food donations delivered if they lack transportation to micropantries and other charities.
Going into the holiday season – a time our better nature tends to shine through – families will be seeking ways to share the spirit of goodwill, from afar. And people will be needing it, said Scott McFarland who started the group. With a surge of COVID-19 cases, he anticipates "more folks are going to be, unfortunately, stuck at home. More folks are going to be laid off or unemployed and need more help." Springfield Families Helping Families has been a glowing example of how to help others, from a distance, since its inception in March.
Contact Rachel Otwell at rotwell@illinoistimes.com.