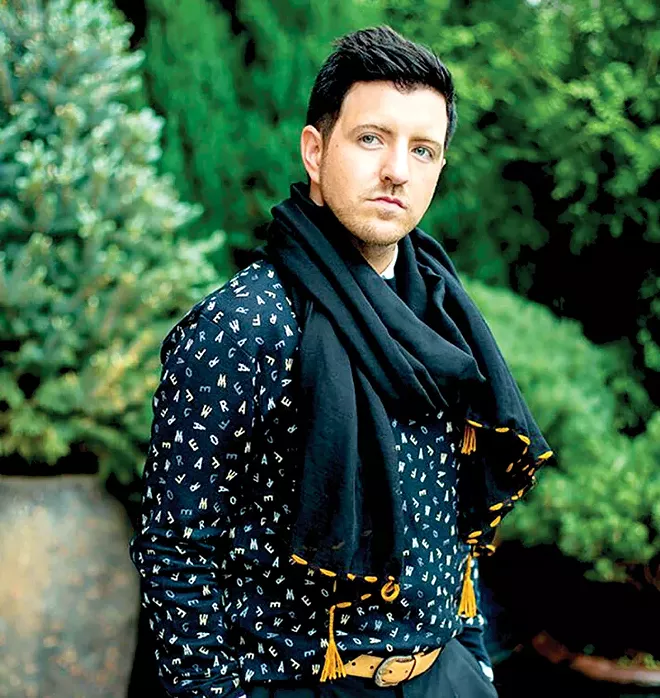 When a 12-year-old Billy Gilman captured the hearts of Americans back in 2000 with hits like "One Voice" and "Oklahoma," he was the youngest singer to ever have a platinum-selling record, among other first-time accomplishments. He never quite captured that huge success again, but he's stayed busy in the business and is now back on the road touring regularly, with new music coming out in the fall.
As one might imagine, Billy was a singer from a very young age, "humming the theme from Jeopardy! at 18 months old" and doing his first professional shows by age seven. Ray Benson, longtime leader of acclaimed western swing band Asleep at the Wheel, was the first professional person to take notice of Billy's extreme talents and introduced the nine-year-old entertainer to some music business folks. The meteoric rise of his first album allowed for young Billy to achieve many incredible experiences, including singing at the Clinton White House, performing on Michael Jackson's 30th anniversary prime time television show and receiving a Grammy nomination for Best Male Country Vocal. But as happens with all young people, puberty hits and changes come, and within a few years Billy took a break to let his voice catch up to his age.
During that time, he worked a lot with the Jerry Lewis MDA Labor Day Telethon, first as a performer in 2001, then serving from 2003 to 2008 as the Muscular Dystrophy Association's national youth chairman and continued into 2017 as the celebrity ambassador for MDA, while still performing on many of their charity drives. He released a few albums during the mid-2000s and he spent years working in Nashville, co-writing songs while learning about the business of the music business. And in 2014, through a YouTube video, Billy announced he was coming out as gay. Then his appearance on NBC's "The Voice" in 2016 returned him to national prominence as he burst back on the music stage through television screens all over the country..
"They asked me for three years about being on the show," he said, "and finally I thought, what do I have to lose? I was ready to sing songs again."
"The Voice" is designed for artists to pick their "coach" and by choosing to work with Adam Levine and his team, Billy became the first runner-up for the entire 2016 season. Through iTunes and YouTube versions of his program pieces, he accumulated huge online numbers and millions of fans, basically putting him back in the prime time. He began touring regularly again, singing his old hits off the platinum album of 2000, along with the popular songs from "The Voice" appearance, plus other tunes that struck his fancy, including self-penned and co-writes from the Nashville days. Throughout Gilman's career, he has had relatively strong creative control of his professional choices, something many entertainers, and especially those who start so young, don't always achieve. Even during "The Voice" performances, Billy chose the material and the direction he wanted to take, and that allows for a deep satisfaction of self-determined success.
"The songs I sing really have to mean something to me. They come from organically within and you harbor them in your heart," he explained. "For example, I just never get tired of singing Oklahoma. It means something to me and to my audience and that's what's important."
For now, he's doing the good work he feels compelled to do and has done for most of his life, singing songs for the enjoyment of audiences. He's traveled with a full band for certain shows and kept up a busy touring schedule, most recently completely a run out on the East Coast.
The Legacy Theatre show will be a stripped down, intimate, acoustic performance, featuring Billy singing his songs accompanied by a musician alternating on piano and guitar. He's intent on doing all the songs folks want to hear, citing a personal experience of years past that taught him the lesson of "doing the things that got you here" as a guiding light in leading setlist decisions.
"I'll definitely be doing "One Voice," "Oklahoma" and "Say You Will," plus some Michael Jackson, Adele and a medley of the songs I did on 'The Voice,'" Billy said. "I can promise that I will entertain you."
Billy Gilman: An Intimate Evening at the Legacy Theatre, happens Saturday, April 23, at 8 p.m. Tickets available at www.atthelegacy.com.