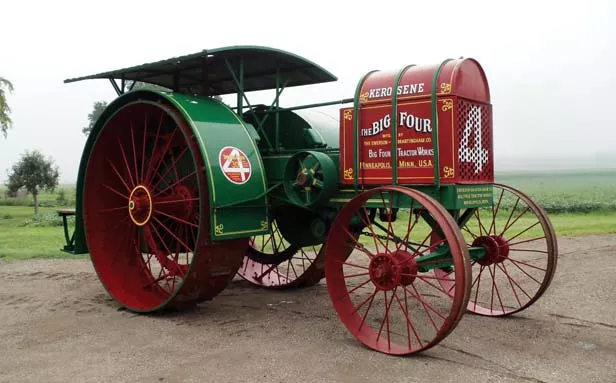 While many are gearing up for the Decatur Farm Progress Show Aug. 30-Sept. 1, lovers of old iron are bent on heading to the former Chanute Air Force Base to see machines built 50 years ago work the soil. This year's Half Century of Progress show takes place Aug. 25-28 at the National Aviation Center in Rantoul.

At the 2009 Half Century of Progress, the attractions were everything big: the Big Bud tractor, the largest farm tractor in the world, the Big Foot truck and, waving boldly overhead, the Big Flag. So for 2011, how are they going to top that? The answer is to bring agricultural pioneer Jon Kinzenbaw's "Double Trouble" tractor. The one-of-a kind custom-built tractor consists of two JD 5020 chassis. Kinzenbaw, CEO of Kinze Manufacturing, built Double Trouble, also known as "Big Blue," to demonstrate the new DMI Hydra-Wide plow at the 1974 Farm Progress Show near Fort Dodge, Iowa.

Besides John Kinzenbaw's Double Trouble, Steve Bauer will be on hand with the Big Four and the 14-bottom plow, which are 99 years old.

Jon Kinzenbaw is the owner of the Kinze Manufacturing that makes planters, grain carts and an array of farm machinery. "Double Trouble" is powered by two 8-71 Detroit Diesel engines with each engine controlling an axle independently. Weighing in at 20 tons, the tractor was designed for the testing of DMI's large implements. In 1988, "Blue" was used for a field demonstration in Amana, Iowa, but has not been back out in public since. Kinzenbaw looks forward to bringing the tractor out of retirement. In the words of Kinzenbaw, "When in doubt, build it stout."

This year's show will highlight equipment from the year 1961. In 1961 East Germany built the Berlin Wall, the average cost of a new house was $12,500 and the average income was $5,315 a year.

Visitors will see vendors, displays and demonstrations. In 2009 the show brought more than 100,000 people to Rantoul. For show information, visit the website at www.halfcenturyofprogress.org, email info@halfcenturyofprogress.org, or call 217-595-5000.