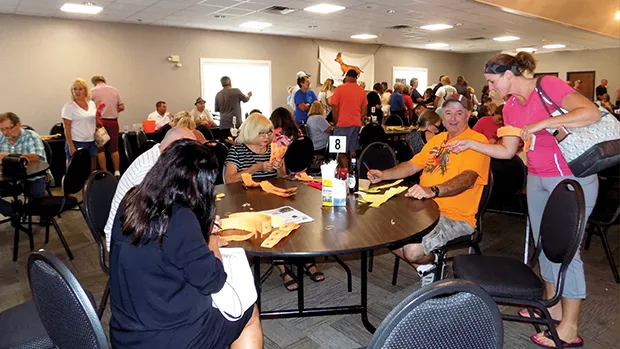 Terry Farmer doesn't like being called a crook, but that comes with the territory when you run a raffle that's grown like a major league ballplayer on steroids.
Should someone get lucky in tonight's weekly drawing sponsored by the Knights of Columbus, he or she will win more than $625,000. The board started with 100 squares, or chances, more than two years ago. There are four squares remaining.
Even now, the odds of winning are slim. First, you'd have to have your name drawn, and good luck with that, given that 140,000 or so tickets will be in the hopper. Secondly, once your name is chosen – and you must be present to win – you'd have to pick the winning square. At this point, that's a one-in-four shot. By contrast, Las Vegas blackjack parlors have a one percent advantage, or edge, over bettors; video gambling machines return 93 percent of all money fed into them.
In short, the savvy gambler would be better off at a casino than plunking down $5 for six tickets at the Knights of Columbus. But try telling that to hundreds of people who buck the odds each week at the fraternal organization, which sells PINs to players so they can simply write down a few numbers instead of risking writer's cramp by jotting down their name and phone number on the back of each ticket.
As the jackpot has grown beyond anyone's expectations, Farmer, who sells tickets and otherwise helps run the raffle, says he's heard the rumors – that the board was made in China and there is no winning number, so the person whose number is drawn at the very end will get the prize without the number being revealed.

Organizers are lining their own pockets. "Somebody told me, 'I guess you're driving a new car now,'" Farmer says.
None of it is true, Farmer says. The board was manufactured in Indiana and Farmer drives the same Toyota pickup truck that he's owned for years. But rumors and whispers persist.
"People have basically said, 'This is fixed,'" says Larry Johnson, a certified public accountant and member of the Knights of Columbus who helped design the game. Johnson and Farmer say officials with the state gaming board paid a surprise visit about a month ago and examined the board with the help of a bright light. "These folks are 100% serious, because they're used to dealing with bad things," says Johnson, who recalls the visit lasting about an hour.
A call to the gaming board wasn't returned, but the raffle goes on. Farmer figures the visit came after someone complained – the raffle isn't popular with everyone, including neighbors whose streets are clogged with parked cars every Thursday, when the drawing is held. "I think there are people who would like to shut us down," Farmer says.
The game operates under a license issued by Sangamon County, which is entitled to a 1% cut. "There's an accounting procedure to it," says County Clerk Don Gray. The success of the Knights' raffle appears to have inspired others. Last year, the county issued eight licenses for raffles of the sort run by the Knights of Columbus, Gray said. So far this year, the county has issued 10 licenses. "We've certainly had more inquiries about them," he said.
There also is the matter of the Internal Revenue Service, which each year requires the Knights of Columbus to file paperwork showing revenue and expenses. Filings reveal a hand-to-mouth organization that relied on savings in recent years as expenses have outstripped revenue. In 2017, the most recent year for which numbers are available, the Knights took in $85,000 and spent $69,000, according to IRS records – it was the first year since 2014 that the club didn't lose money.
The first raffle, held in 2013, began with a $1,000 pot that club members augmented with their own money so that the prize would increase by $100 each week, Farmer says. The first jackpot was won in five weeks, he recalls, and five months passed before members no longer had to subsidize the pot so that it would increase by at least $100 each week. Until now, the largest jackpots have been $16,900 and $15,000, and the previous record before a winner came along was 67 squares opened.
"I've been shocked every week for about 70 weeks that someone hasn't won," Johnson says.
Farmer considers the current game an aberration, albeit a lucky one that has helped turn around the organization's finances. "Fraternal organizations are dying," Farmer says. "It's been great for our club." The building no longer is for sale, he said, and profits from the raffle have paid for maintenance that had been deferred. "We had to buy a money-counting machine, too," he says.
Half the money from ticket sales goes to increase the jackpot, Farmer said, and 40 percent goes for building maintenance, mortgage payments on the building and charities that range from Special Olympics of Illinois to the Washington Street Mission. So far this year, the organization has donated nearly $79,000 to charities, Farmer said. The remaining 10 percent of proceeds are set aside to build a jackpot for the next raffle, he said.
Nine bars, restaurants and fraternal organizations have set up satellite locations so players won't overwhelm the Knights building on Meadowbrook Road any more than already is overrun with bettors. Patrick Timoney, owner of the Corner Pub that serves as a satellite location, uses the term "frenzy."
"It's like St. Patrick's Day every week, crammed into a few hours," he said.

Contact Bruce Rushton at brushton@illinoistimes.com.