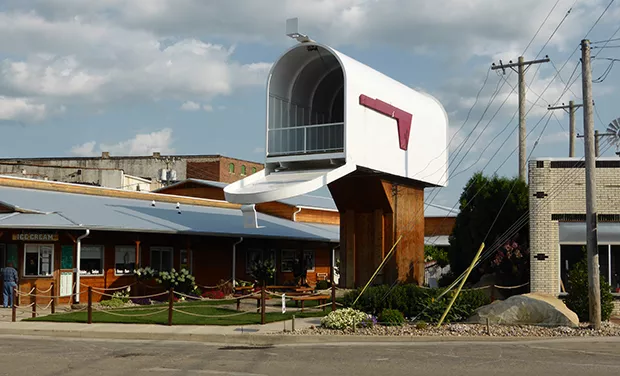 "Big Things/Small Town" is a no-brainer marketing slogan for Casey. The southeastern Illinois town of fewer than 3,000 people offers eight world-record attractions with more to come in late September.

Want to make a 54-foot-tall wind chime gong? How about craning your neck to see a 46,200-pound rocking chair? Climb a set of stairs to gaze over downtown from inside a 32-foot-high mailbox with a working red flag?
No problem, Casey has those covered. It also boasts the Guinness Book of World Records' largest golf tee, knitting needles, crochet hook, pitchfork and wooden shoes.
On Sept. 28, Guinness officials will be in town to certify the world's largest teeter-totter, barber pole, Chevrolet truck key, twizzle spoon and golf driver, according to Dave Liebenow, head of the Casey Chamber of Commerce.
To qualify for the world record, an item must be able to perform its regular-sized function. So theoretically, if Paul Bunyan turned off I-70's exit 129 to visit Casey, he could sit in the rocking chair, listen to the wind chimes and knit a coat for Babe while the Blue Ox tried to teeter-totter.
It would take someone Paul-sized to tee off at the Casey Country Club, but you can climb stairs to the working mailbox to send a letter home or gather 14 friends to stand inside one the 2,500-pound wooden shoes at Casey's Candy Depot behind the mailbox.
The 60-foot pitchfork outside Richards Farm Restaurant is the first to hold the world record. Because there was no previous pitchfork record, Casey organizers had to build one 10 times the usual size to qualify.
The town also has other large items on display, including a yardstick, ear of corn, pencil, bird cage and bookworm, but they don't make world record status. They are worth a peek and a picture, nonetheless.
Casey's obsession with large things started with businessman Jim Bolin, who was looking to attract visitors to frequent the tea shop his wife and daughter wanted to start. "I decided if we are going to do this, we would have to think outside of the box," he said in an interview for Casey's visitors' guide.
Bolin runs several local businesses, including trucking and oil field support companies, and used their extra materials and workers during slow times to build the giant wind chime next to the tea shop.
Once it was finished in 2011, residents started noticing more out-of-state license plates and international visitors. Soon the town added other structures, built with Bolin's help, and got Guinness certifications for eight of them.
Most have biblical passages inscribed on or next to them, reflecting Bolin's faith. "He personally picks out the verses," Liebenow said. He notes that the items are not on city property, thus avoiding any government-religion clashes.
Many of the items have found fitting homes. The bookworm lives in front of the library, the golf tee towers over the country club course and the knitting needles and crochet hook are in the window of a yarn boutique, whose owner worked yarn onto the giant utensils.
The town provides maps to the free attractions and tries to draw more attention by adding new items. "We hope to have a welcome center open next season," Liebenow said.
Casey is also home to the USA Softball of Illinois Hall of Fame Museum in Fairview Park. The free museum, open from 9 a.m.-3 p.m. daily, bursts with softball memorabilia, trophies, plaques and hall of fame inductees' names. "Casey was known as the softball capital of the world at one time," says Kim Brasier, one of the museum's directors.
The park is a good place to picnic, camp, play ball or let the kids climb on the playground equipment. The park also will host the 32nd annual Popcorn Festival with live bands, a car show, entertainment, a fish fry and chainsaw carvers on Labor Day weekend.
Casey's main street was part of the historic Cumberland Trail/National Road, the first major road built to carry settlers west. In nearby Marshall on the Indiana/Illinois border, visitors can learn more about the National Road at a welcome center and museum. Bolin also created the large wooden gavel at the Clark County courthouse there, the only one of the big things outside of Casey.
For an interesting dining experience, try Richards Farm Restaurant in an authentic restored barn; the Greathouse of Pizza, named as serving one of the top 10 Chicago-style pizzas in Illinois; or the Moonshine Store in nearby Martinsville, popular with motorcycle riders.
Casey is 117 miles from Springfield. For more information, go to www.visitcaseyillinois.com or www.bigthingssmalltown.com.
Mary Bohlen of Springfield writes about things big and small throughout Illinois.