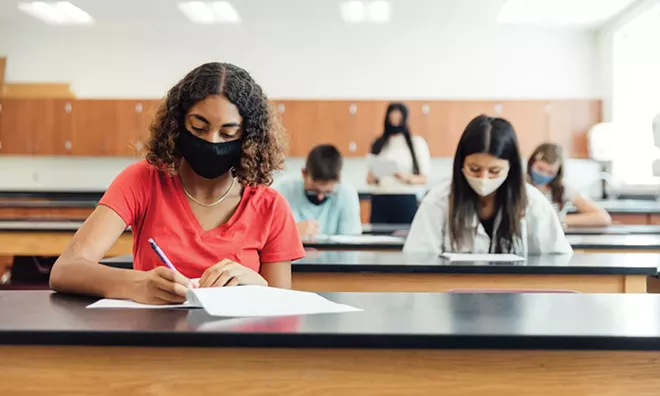 TaRael Kee is Collinsville High School's assistant principal and president-elect of the Illinois School Counselor Association. During his 10-year career as a school counselor, Kee has watched students struggle with standardized evaluations like the ACT and the Scholastic Assessment (SAT).
"We've had kids puke during testing and have had to step out because of anxiety," said Kee. Others fully "shut down," he said. "They are feeling like they've worked so hard for these four years and then this is the moment, this is the one thing that can stop them" on their path to higher education.
Shayla Scruggs graduated from Midwest Technical Institute in Peoria this year. Before becoming a college student, Scruggs completed the ACT four times. She paid for three of the tests and attended an extended preparatory course. "I got tired of taking it," said Scruggs. Scruggs graduated from high school with a 4.7 grade point average. She was involved in various performance arts groups and was a student athlete. She played a stringed instrument and was inducted into the national honor society. Scruggs was also a member of the honors college while attending the University of Illinois in Chicago.
Scruggs now works and lives in Springfield. She's a clinical coder at Memorial Medical Center. She said taking and preparing for the ACT did not make her any more intelligent. And it didn't make her more prepared for college. Scruggs said the tests and prep course were a waste of time and money. Most of all, the tests "caused me so much unnecessary stress my last year of high school," said Scruggs. "I cried over that test more than I would like to admit."
A new measure would help ease test anxiety. It passed both chambers during session and awaits a signature from the governor. Public colleges and universities in Illinois would no longer require applicants to submit test scores. Colleges could not deny any student admission solely based on standardized test scores.
State Sen. Christopher Belt, D-Swansea, was a sponsor of the bill. He said the bill eliminates barriers for students who don't have access to college preparatory courses or private tutoring. Belt said the bill will also "encourage public universities in Illinois to come up with an alternative or alternate admissions criteria."
Belt said because of social distancing, many universities in Illinois have adopted the admissions model already. Schools like Illinois State University in Normal made submitting the scores with applications optional earlier last year. Belt said the schools that have gone that route are better for it. Incoming student bodies for these colleges have changed. The colleges are reporting increased diversity among student bodies, "increases in first-generation students, low-income students and rural students," said Belt.
Meanwhile, Kee said parents and their students, teachers and administrators across the state have been anxious about the testing mandates and potential setbacks because of COVID-19. This year, state legislators called on the U.S. Department of Education to allow states to opt out of administering all mandated tests.
Kee said several of his students experienced fears related to exposure to COVID-19 – the admissions tests are taken in person – and test anxiety. Some of Kee's students opted not to take the test. When the state announced the tests were still to be administered, Kee said, "We had parents who were terrified to send their kids to school." The state sought waivers but Kee said he was powerless over the decision.
The science behind the legislation is clear, according to Kee and Belt. "Grade point average is a better indicator and everyone knows it," said Kee. If tests aren't optional, especially for college admission processes, "you get poor kids who are ending up further in debt than the kids who have money," said Kee. That is because scholarship opportunities offered during the admission processes are also frequently dependent on standardized test scores.
"I think that your test score should add to your resume, but it shouldn't take away from your admissions profile," said Kee. This year, Kee has seen more of his students receive nearly full ride scholarships who "would have never gotten them before and all you have to do is remove the test score."
Kee said if the measure becomes law, spending in the future on standardized testing to assess college readiness would be a waste of money. Kee also said the tests put students through more stress than warranted, and that the ACT and SAT scores are better indicators of wealth and status rather than college readiness and likelihood of program completion.
Contact Madison Angell at mangell@illiniostimes.com.